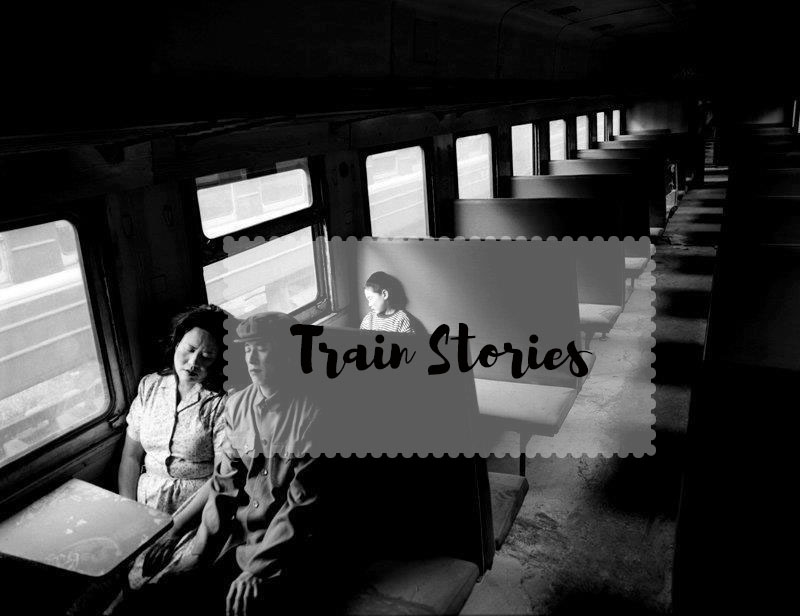 Αthens by night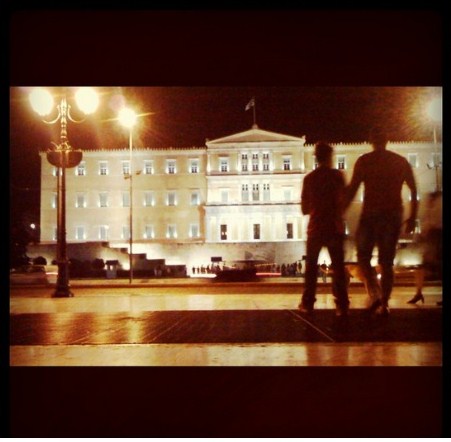 See you at 20.30 at Kapnikarea street!
I, that every time I come back always adopt the "take your time" Athenian style and being always late to my appointments, this time I decided to catch the train almost half an hour before the agreed time!
So I took  the train from Nea Ionia station with final destination  Monastiraki. I don't even remember the last time that I've entered in such a breathtaking wagon. My face was stuck in the curly hair of the girl standing in front of me and my ass was complaining as it was squeezed and stuck at the door. Unfortunately I wasn't able to take a closer look  at the other  passengers although I felt that we were developing a special relationship due to the close-literally-contact we had in there. So I only noticed the misspelled English warning which was saying that the doors opens automatically. And then it is said that in Greece we speak very good English … Yes, sure!
I got off the train at Omonia station as I couldn't continue until Monastiraki because I was  feeling due to die from lack of oxygen, so after thinking well, I decided to walk until the Kapnikarea street … For a minute I hesitated to walk at the streets of Omonoia  because I didn't have my greek identity but only the Italian one and wondered what would happen to me if mister  Sweeper*- who is the Guest Star of the last days- would had stopped me! I decided not to get stressed as Omonia and the surroundings were always my second home since I was a little kid! Language institutes, shopping and coffee breaks always there at the city center! I own this place, I will not be afraid of the Guest Star who decided to appear only the last 5 months! Where was he the last 10 years when I was crossing Omonia Square with my eastpack  watching the drug dealers  talking to kids and other strange figures who were approaching me asking for money or strange substances.
So, I left Omonia behind me and walked  the Panepistimiou Street until Syntagma so as to get down Ermou Street. Without music ,without mobile on my hands only enjoying the slow walk during this hot night. I started playing in my mind the game "find the differences". How many shops were closed, how many shops had been  opened as souvlaki fastfood, how many national monuments were still in place, how few people have been walking the Panepistimiou … Eventually I decided that I wanted to eat something stupid while I was walking, but the 6 kiosks-periptero in greek- which I've passed by were all closed! I reached  the only open kiosk in front of Zonar's Restaurant but the expensive meals and the well dressed people seating in front of me made me hesitate to buy crisps with oregano from the kiosk!
I turned my back to this ridiculous luxury  and arrived at Syntagma Square, I looked at my watch-wasstill early-, I took some pictures of the few tourists in front of the monument of the Unknown Soldier and walked to Ermou Street- the most famous shopping street on Athens. The shops were closed but the music from the street vendors (Iavoid the word beggars) was creating a beautiful and happy atmosphere and the people who were walking and laughing or shouting made me feel as if everything was still the same since I was a daily visitor of the center of Athens!
I arrived at 20.15 at Kapnikareas Street where my appointment was and as no one of my friends was there I sat next to a church watching the people who were passing by eating a kebab-souvlaki or the new trend ice yogurt . As I was listening to the people around me I felt a little depressed because I realized that all that, once was my daily life…and now  I experience it only as a tourist.
But I realized something very important that made me feel better, seeing Athens with the eyes of a tourist, made me love that city everyday more and more, made me capture only the good pictures the beautiful ones …  and this made me also keep inside me Athens as I always knew it before leaving it: dirty floors, smell of souvlaki, dogs without owner, kiosks open 24 hours a day! A tired Athens and every time a little grayer, but sunny, vibrant, colorful and nocturnal like its residents … who by the way are still being late to their appointments. Yes, some habits can not be changed easily!
It's 21.00 and I'm still waiting for my friends ….
* The Sweeper or Epixirisi Skoupa in greek, is the rediculous(?) attempt of the Greek Police to send away all the foreign people who live in Greece without legal documents.
Comments
comments