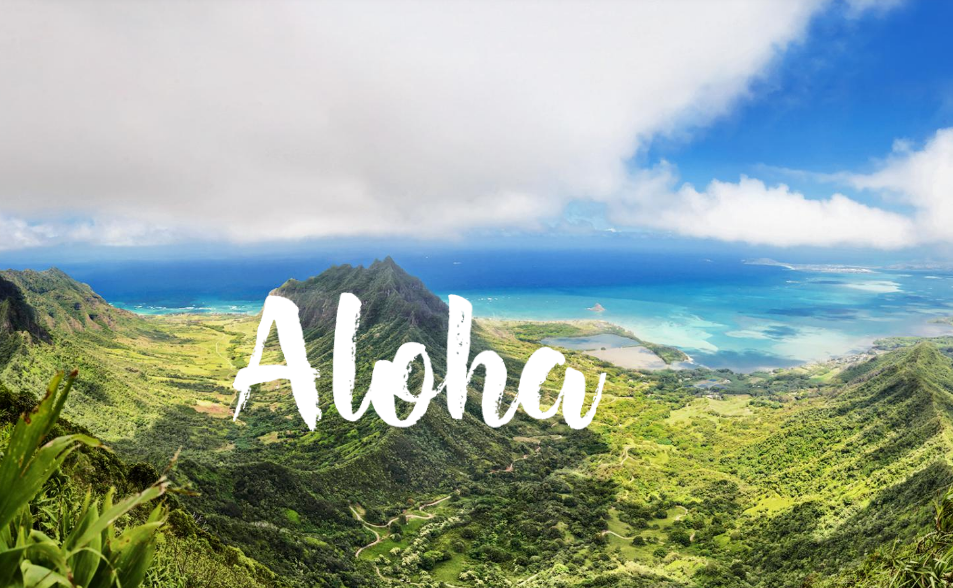 "Dreams have deeper meanings and you should never ignore them. By remembering your dreams, you better understand yourself." That's what my grandmother used to tell me when I was a little girl.
Imagine my confusion when a few days ago,  I woke up in the middle of the night, sweaty but happy as a clam – I was dreaming I was in Hawaii. Yes, that's right: Hawaii!
It was wonderful: I had just landed in the most recent of the United States of America, lost in the Pacific Ocean with my husband (I was married in my dream – and with an American it turns out!). We had a car waiting for us at the airport in Honolulu to transfer us in the villa we've rented in Maui – this would be our base for further exploring Hawaii.

Next thing I remember, I was walking barefoot and happy by the pool in a mansion in Hawaii with a cocktail in my hand gazing across the waters of Turtle beach right in front me.Right behind me, my husband and our friends – I can't tell how they got there but I remember them having fun with us at the villa.
I blinked and it was gone. I woke up and I realised that the smell of the ocean wasn't there anymore and instead, I was back in my house somewhere in downtown Athens.
So, was the deeper meaning? What did my dream try to tell me? That I need to visit an exotic destination? It's been less than a month from my trip to Puerto Rico.  Or that I should get married maybe? But I don't have a clue where my "Mr. Perfect" might be. Or maybe that it's been a while since I've had a non-business trip? Well, that's true! I was so intrigued by my dream that night, I started looking for travel info about Hawaii – I want to be prepared because…you never know!
https://www.facebook.com/Hawaii/videos/10150828659794943/
Hawaii
Hawaii is a group of islands in the central Pacific Ocean with high volcanic activity. The islands of the Hawaiian Archipelago were actually forged by the power of volcanoes millions of years ago. Six of the islands are permanently inhabited with tourism being a major industry in the country.
There are three active volcanoes in Hawaii at the moment. You'll find Maunaloa and Kilauea at Hawaii Volcanoes National Park on the island of Hawaii. The Volcanoes National Park is the highlight of the island in my opinion compared to its many beaches – there are countless places in the world with incredible beaches but only a few rare places where you can come face to face with an active volcano!
https://www.facebook.com/Hawaii/posts/10150871568529943:0
Hawai'i – The Big Island
Hawai'i or the Big Island as it is often called, is the largest of the Hawaiian islands. From the volcanoes to tropical forests, snow-capped mountains and deserts, the island's landscape is the epitomy of nature's magnificence with the Hawaii Volcanoes National Park being on top of the must-visit list when on the island.
Follow the 18km hiking trail to Kilauea's crater and reward yourself with a dive into the exotic waters of Punalu, the famous black sand beach!
Oahu
Oahu is famous for its nightlife and some of the biggest resorts in Hawaii. The worldwide known Waikiki beach located on the island is one of the most popular destinations for surfers all over the world. To get a small taste of the Hawaiian culture, you can visit the former royal residence – the Iolani Palace or the Bishop Museum, Hawaii's museum of natural and cultural history.
Maui
Although Maui reminds me of that brand with the shark logo everyone used to wear a few years back, when we're talking Hawaii, Maui is another tropical paradise worth visiting and exploring. It has a chill island vibe and features a captivating combination of tropical jungles, white beaches and vast valleys that will leave you in awe. I've heard that one of the most popular beaches on the island is Kaanapali – who am I to disagree? I'm taking notes for the day my dream comes true!
Kauia
The pristine island of Kauia is the ultimate destination in Hawaii to explore nature's raw beauty – some of Hollywood's biggest blockbusters were filmed there with Jurassic Park being a characteristic example. Long beaches, cliffs and the jungle are a small part of the island's landscape. If you like adventure, you'll definitely love a helicopter ride over Kauia, going river kayaking or mountain biking in a gorge!
Getting Around Hawaii
How will you actually explore the Hawaiian islands? Island hopping is part of the local lifestyle so getting from one island to the other is actually easy: multiple 40-50 minutes short flights everyday (over 200) with Hawaiian Airlines or Molulele Airlines. Ferry rides are available – from Lahaina to Maui there is a 30-minute ferry ride with stops at Lanai and Molokai. From what I've read, travelling with a ferry is worth the ride since there is a great chance you can see a whale while out on the sea. How exciting is that?
Aloha
Time to say goodbye – or as the locals would say "Aloha". Aloha is not just a typical hello or goodbye – it has a much deeper meaning : it means love and peace and represents the Hawaiians philosophy of kindness and carefree attitude they're known for.
P.S: What about you? Have you ever visited Hawaii? Or at least… have you ever dreamed of that paradise?
Comments
comments