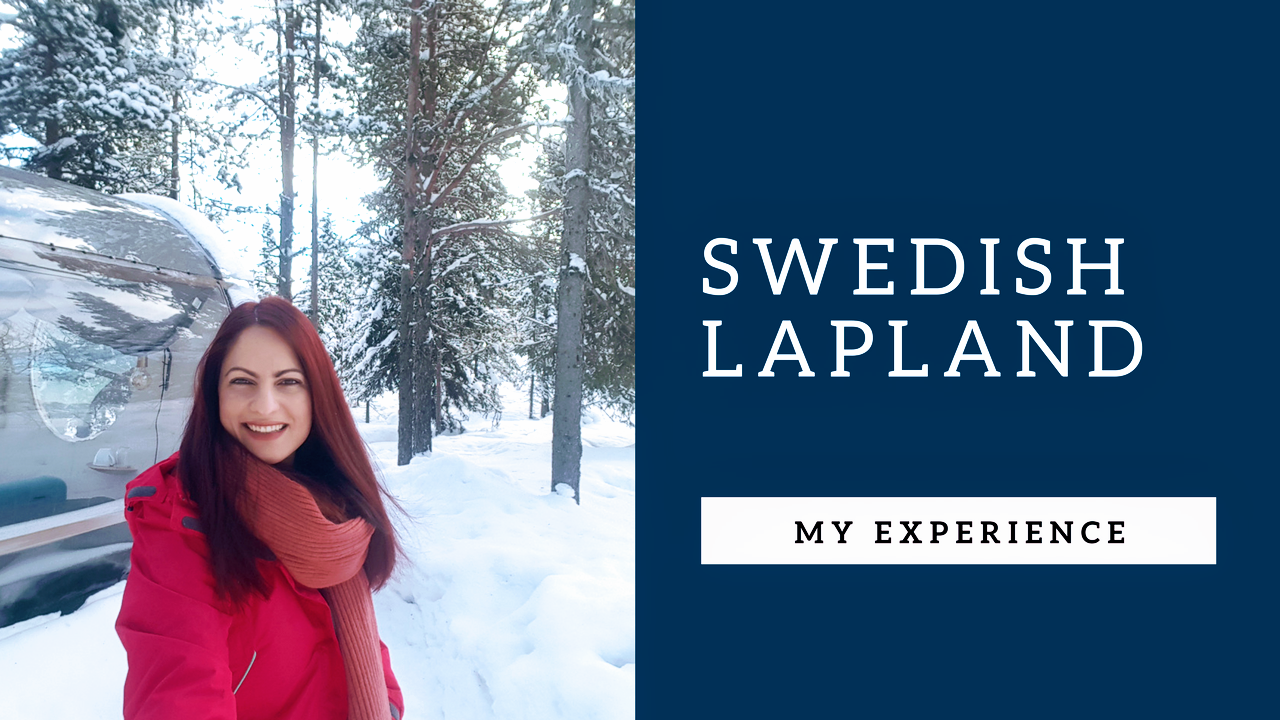 SkyNest: My experience in Northern Sweden
If a trip to Lapland makes you think about a winter wonderland in the northern part of Finland, the hometown of Santa Claus,  freezing cold and snow, you might not be entirely correct. There's more than that actually. In reality, Lapland splits between four countries – Norway, Sweden, Finland and Russia – and offers a wide variety of experiences to its visitors.
This year, I decided to visit the Scandinavian north, on a last-minute trip I combined with an exciting rail trip to the Arctic. After doing some online research, I decided I would fly to Sweden, explore Stockholm and then, I would take the night train from Stockholm to Kiruna – the northern part of Sweden near the Arctic Circle. From there, I would take a flight back to Stockholm.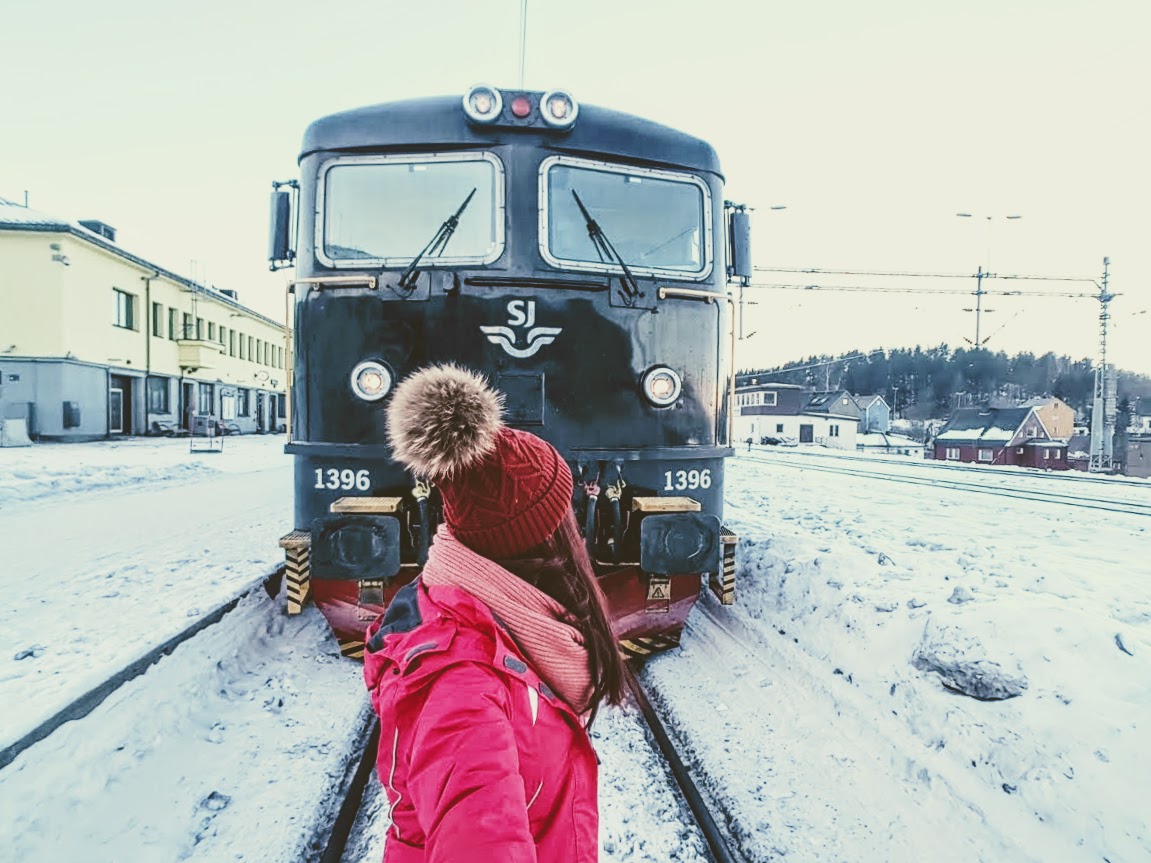 One of the reasons I decided to take this trip was in order to experience staying in one of those hotel rooms designed to look like capsules made entirely of glass!
Kiruna
It was about noon when I arrived at the train station in Kiruna where a member of the SkyArk – SkyNest team, the innovative hotel I would spend the night at, was already there, waiting for my arrival. To begin with, he showed me around for a while to get an idea of the city – and a pretty good idea of the freezing cold, let me add.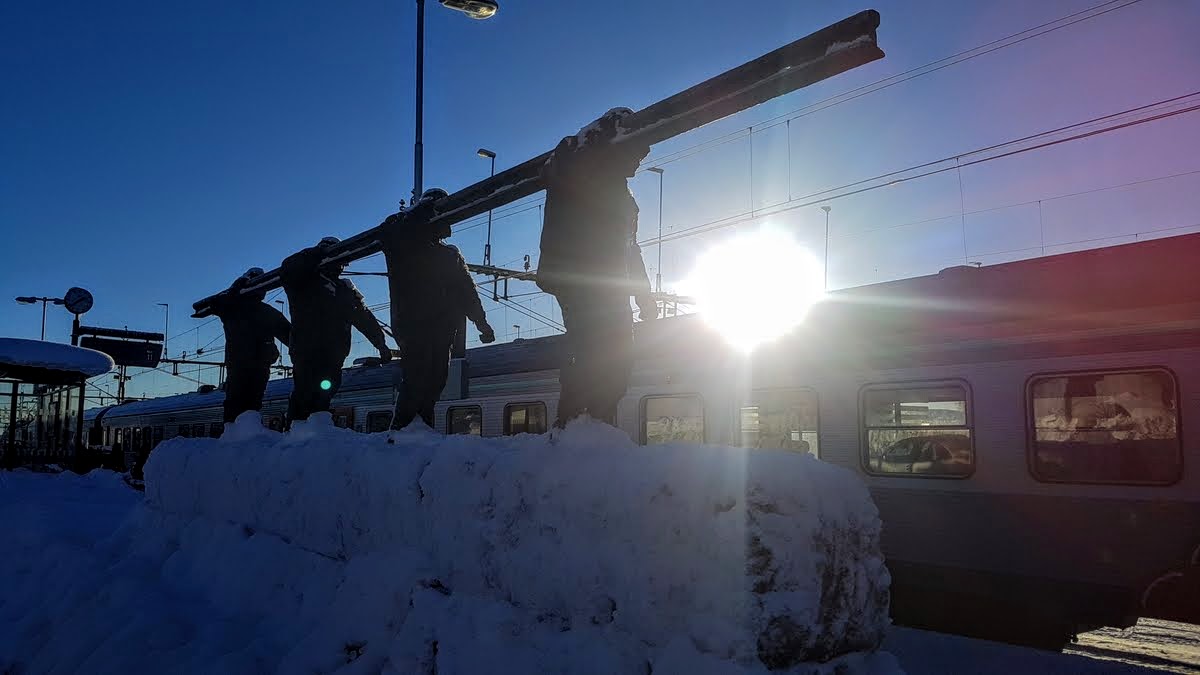 The temperature was at –20 Celsius and the sun was shining when our walk began. "You're lucky", Cedric from France told me, "The sky is clear today so you will be able to see the Northern Lights tonight". How could I be lucky when it was freezing cold and I couldn't even bare taking off my gloves to take pictures, I thought to myself. At least it was sunny and that helped a lot.
Kiruna is the northenmost town in Sweden where almost 90% of all iron in Europe is mined from. Being such a large mining town has its downsides though. In 2004, news broke that Kiruna's city centre sitting atop of the largest iron ore mine was unstable, as cracks appeared around town. This meant that the city had to move! So, in 2014 the relocation of the city centre a few kilometers away, far from the mining site, finally began. Some of the town buildings were moved in their entity while others will be build again in the new location. For more info, check out this video. Awesome, right?
Walking around town, I learned a few more interesting facts about Kiruna: from a brief history on the culture of the Sami, Kiruna's natural inhabitants and the reindeer breeding to the life in the arctic circle – how is life in a snow-covered city all year long with darkness covering the city for six months and the midnight sun shining for another six? Another interesting part of my tour was seeing the mesmerizing snow sculptures in the town centre – well, they have to find a use for all this snow as it's literally sitting in mountains all around the town square!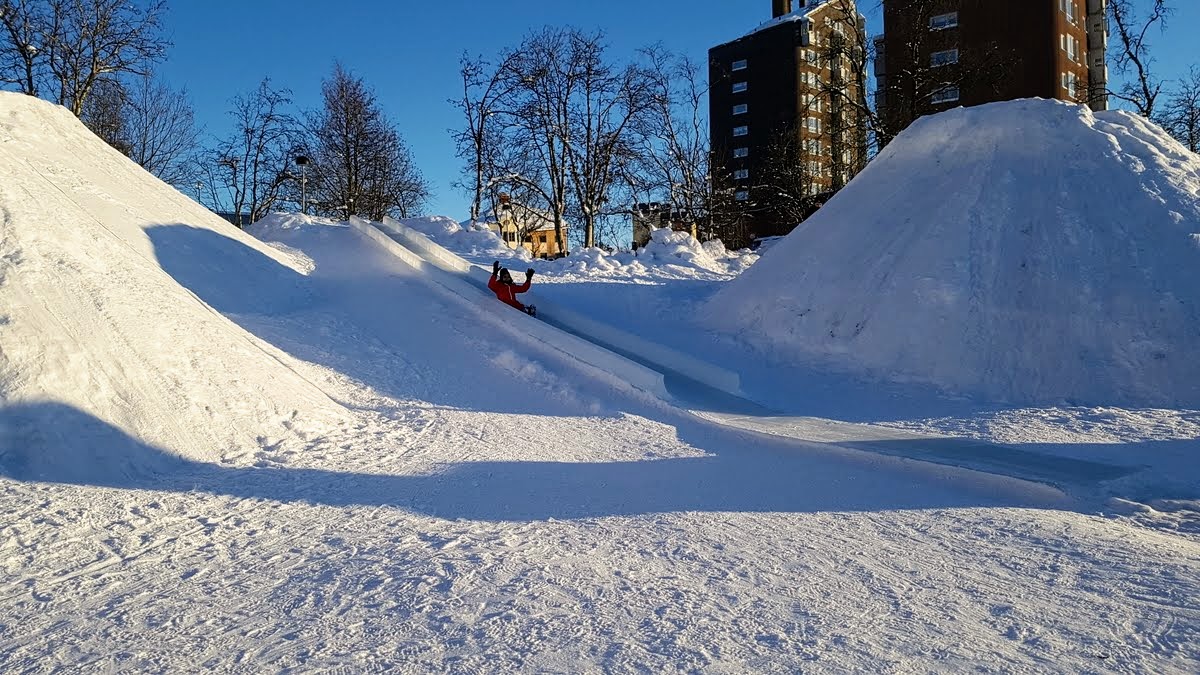 Before heading to the car for the hotel, we stopped for fika; that's the Swedish term for coffee and various pastries – usually cookies or pies – shared with friends.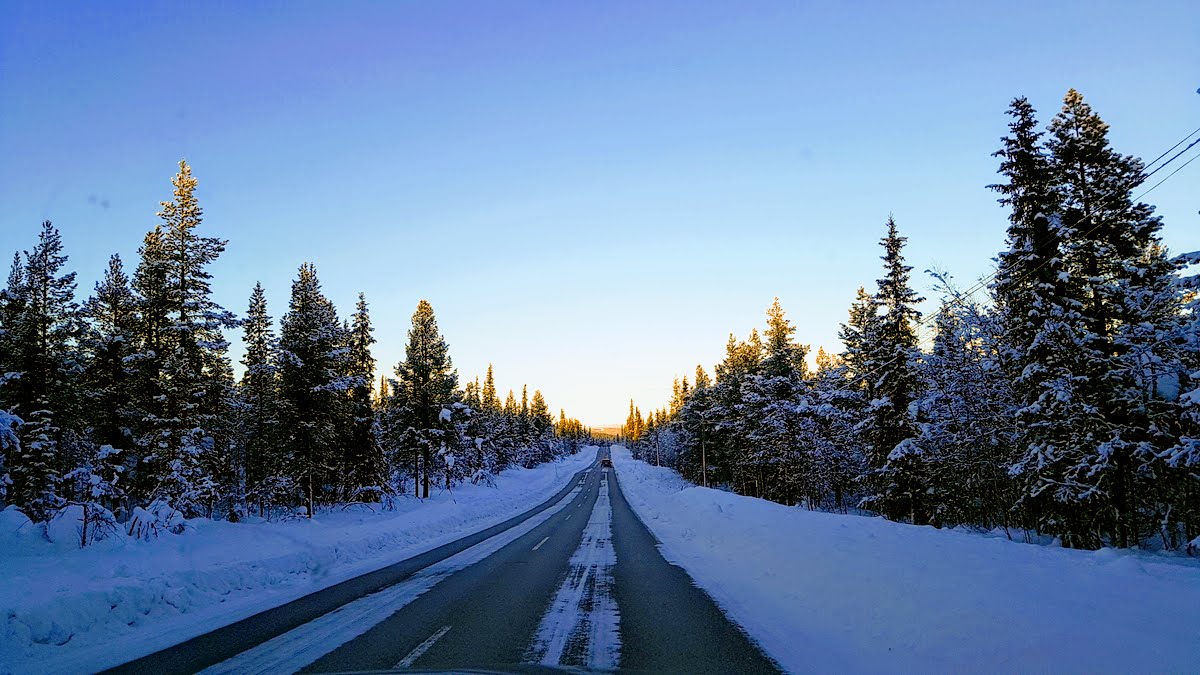 We left the city behind and headed to Kurravaara, a small village 15 minutes from Kiruna with an average of only 60 inhabitants. The breathtaking landscape with the sun shining above us and the crisp white of the snow covering the trees looking even brighter under the light, was truly captivating.
Arriving at the SkyArk Hotel
The car stopped in what it seemed like the middle of nowhere: a forest covered in snow with trees to where they eye could see, a main wooden house where the owners lived and smallers houses around – two of which were used as bathrooms for the glass capsules where I would stay.
SkyNest
A 4-minute walk and I was there: the 10sq design room I recently came across and decided to visit, is an amazing eco-friendly accommodation that blends perfectly with its surroundings, creating a cozy nest in the forest.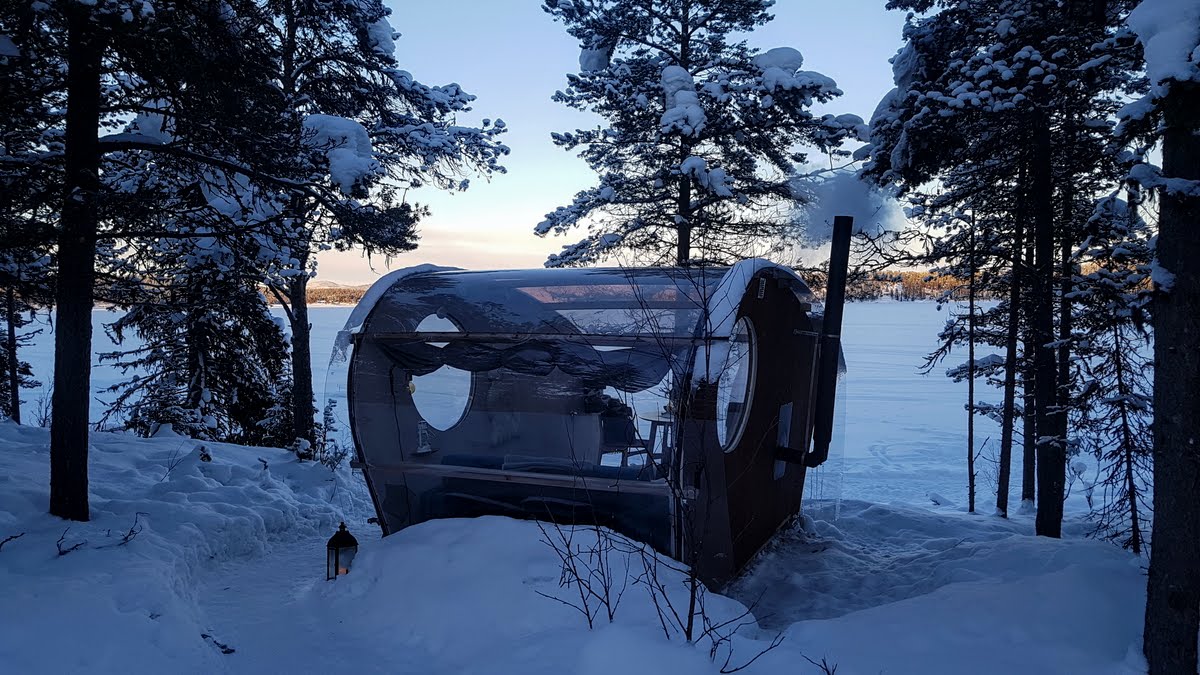 This little jewel of a hotel was right there in front of me and I couldn't help but admire its unique design and the one-of-a-kind experience it offers to its guests travelling all the way to the Arctic in northern Sweden to visit it. Guests who will feel the luckiest people alive when they look outside their window only to see the world's most majestic view; a frozen lake and the stunning beauty of nature all around – that was exactly how I felt at that moment!
Τhe room offers a comfortable stay and features a small, yet highly efficient fireplace, more than four radiators for extra heat and added coziness, warm and soft rugs, a large sofa-to-bed and a small dining table to enjoy breakfast at. The glass ceiling is undoubtedly the highlight of the room with the 360-degree view of the wild Arctic nature never seizing to amaze the visitor.
The beauty of this place is unrealistic, I was at a loss for words. After a while, Mats – the hotel's owner – visited me to check if everything was ok and whether my accommodation was as warm as it should. Mats vision was to design an innovative and modern accommodation at a scenic landscape and in order to make his dream come true, he moved with his family from Finland to Kuraavaara. We chatted for a while and he shared his future plans with me that include adding a few more SkyNests – there are two operating as exclusive accommodations at the moment. After making sure I had enough firewood, he left me to enjoy the view and my room.
I decided to take a walk to the frozen lake, totally ignoring the fact that it was freezing cold! I felt like a small child – everything was new to me and I had to see, touch and smell everything. Cedric, who is also a guide for the Northern Lights Tours, brought me the necessary equipment: snow boots and a bright pink jumpsuit. I felt weird, ugly and funny-looking all at once – "hey, at least it's warm"I thought.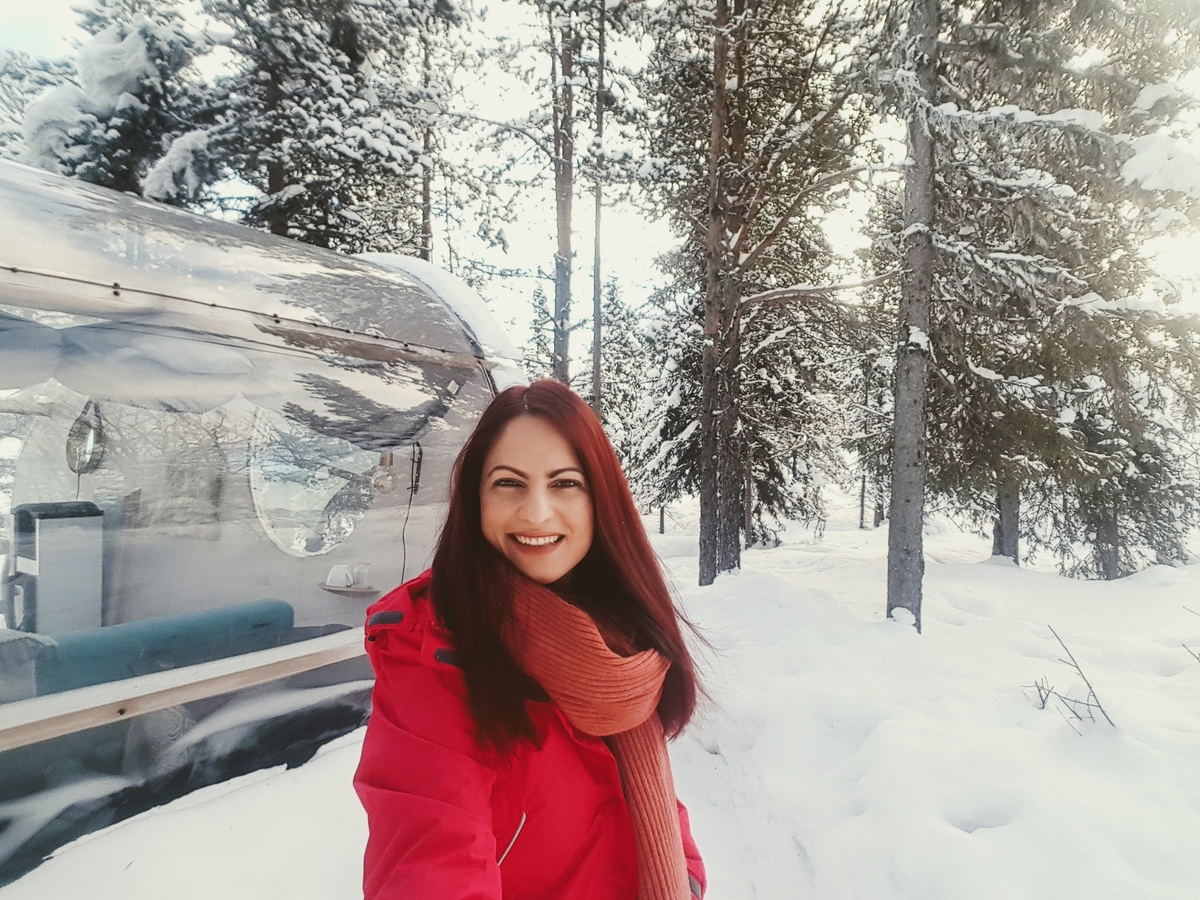 Walking around was a difficult task but the sound of my feet on the snow as I made my way through to the center of the lake was so relaxing that I decided to keep going. The temperature was dropping and I found it hard to speak or breathe. It was at –30 degrees Celsius. It was the first time in my life experiencing these temperatures and as I realized that, I got so emotional with tears streaming down my face. It was at that moment I looked down and saw the tips of my hair had froze! It was surreal – my hair and eyelashes were white!
It was getting darker and colder and I decided to head back to my room. The "nest" was exactly that at night: a cozy nest you wish you'd never leave!
At around 10pm, I was ready to sleep when I noticed a dim green light in the night sky that turned brighter and brighter by the second. It was an amazing sight! I couldn't believe that right there, in the middle of nowhere in that unique hotel room in the Arctic, I had the chance to watch Aurora Borealis in the clear night sky!
It was a magical experience and I couldn't believe how lucky I was! It was a few days ago when friends of mine told me that they had spent 10 days in Scandinavia and didn't have the chance to watch the Northern Lights – I was there only for a few hours and here it was! I was so convinced I wouldn't be able to watch, I didn't even bring a proper camera to capture the moment. I was so frustrated but I decided to enjoy the rare sight and keep the memories for myself instead of worrying. And I felt so happy, I started crying!
I woke up at sunrise, felt ecstatic one more time with the view and took my breakfast – which I ordered the day before by filling a questionnaire – in the cozy nest.
I took an exciting ride on the SkyArk before heading to Kiruna's airport, one of the few airports in the world whose airway is covered in snow almost all-year round!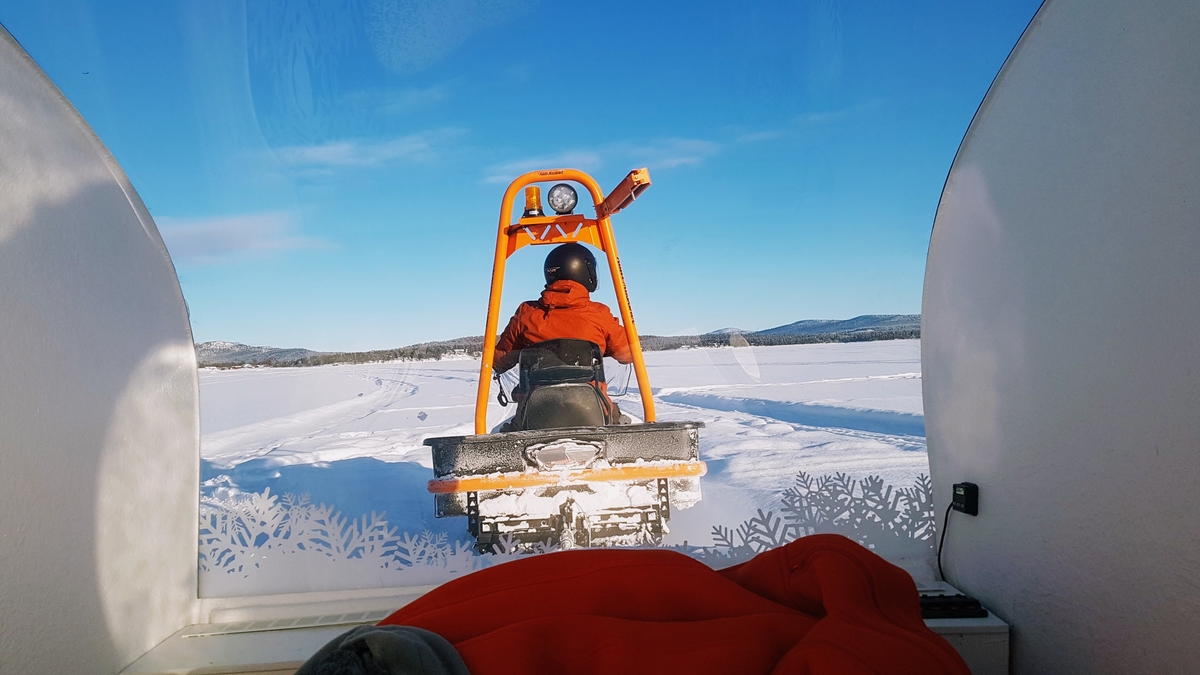 SkyArk
The SkyArk is a small, protected sleigh – designed as an alternative to the traditional snowmobile created by the SkyNest owners. You can enjoy a tour to the wild and enjoy the Northern Lights, warm inside the SkyArk, driven around by a snowmobile. Its name and design were inspired by a fishing technique used by the locals to fish in the cold.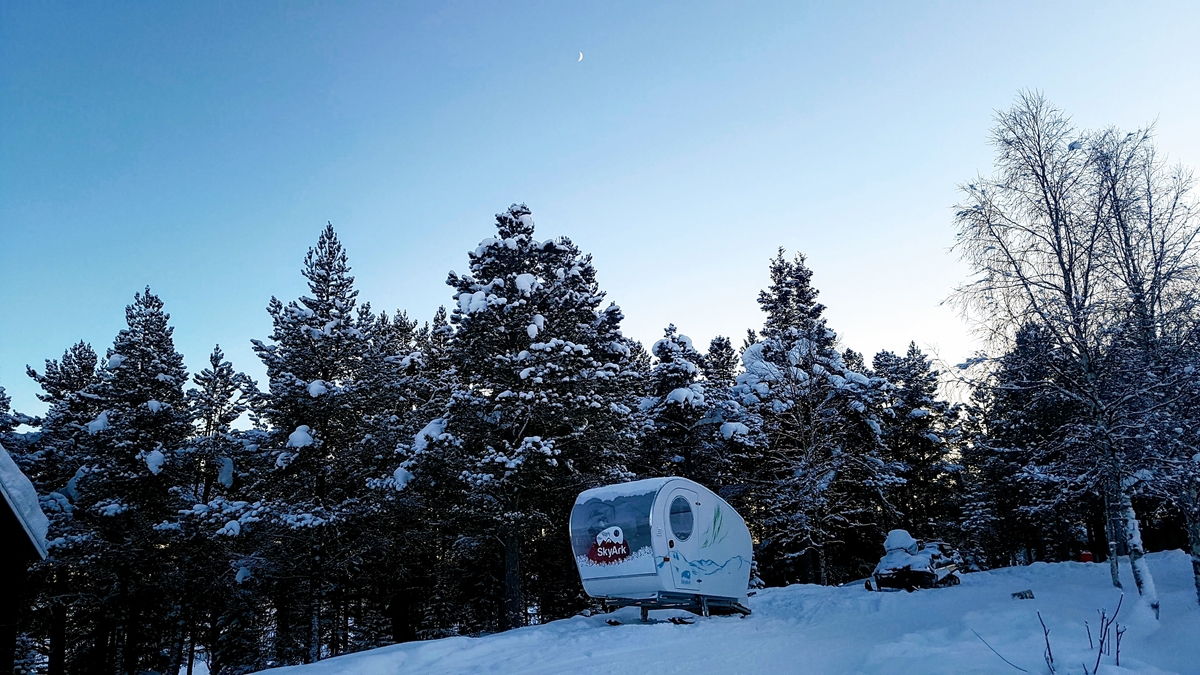 There are different tours and experiences offered depending on the month or the season you visit SkyArk to get the maximum out of the life in the Arctic. From ice fishing trips and Northern Lights dinners during the winter and spring to boat trips and fishing under the midnight sun during summer! You can check out all the cool experiences offered here.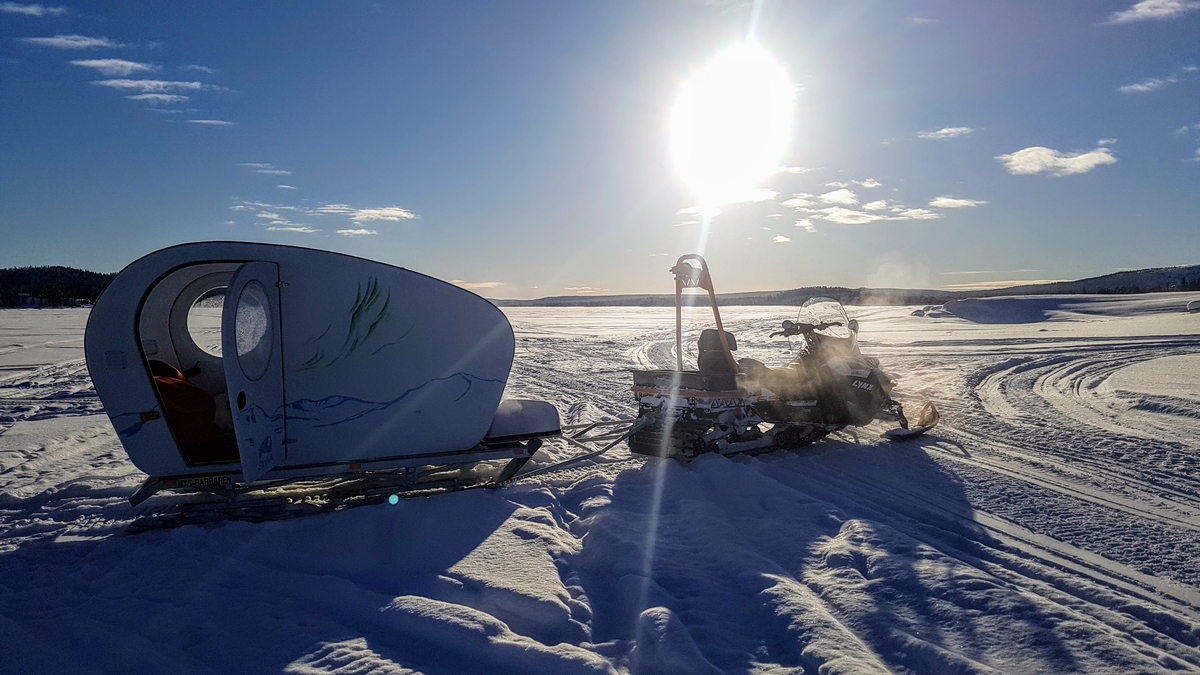 Useful Info
How to get there:
You can reach Kiruna either by taking the night train from Stockholm (18 hours) or a direct flight to Kiruna's airport (1.5 hours with Norwegian or SAS) and the SkyArk team will pick you up from there!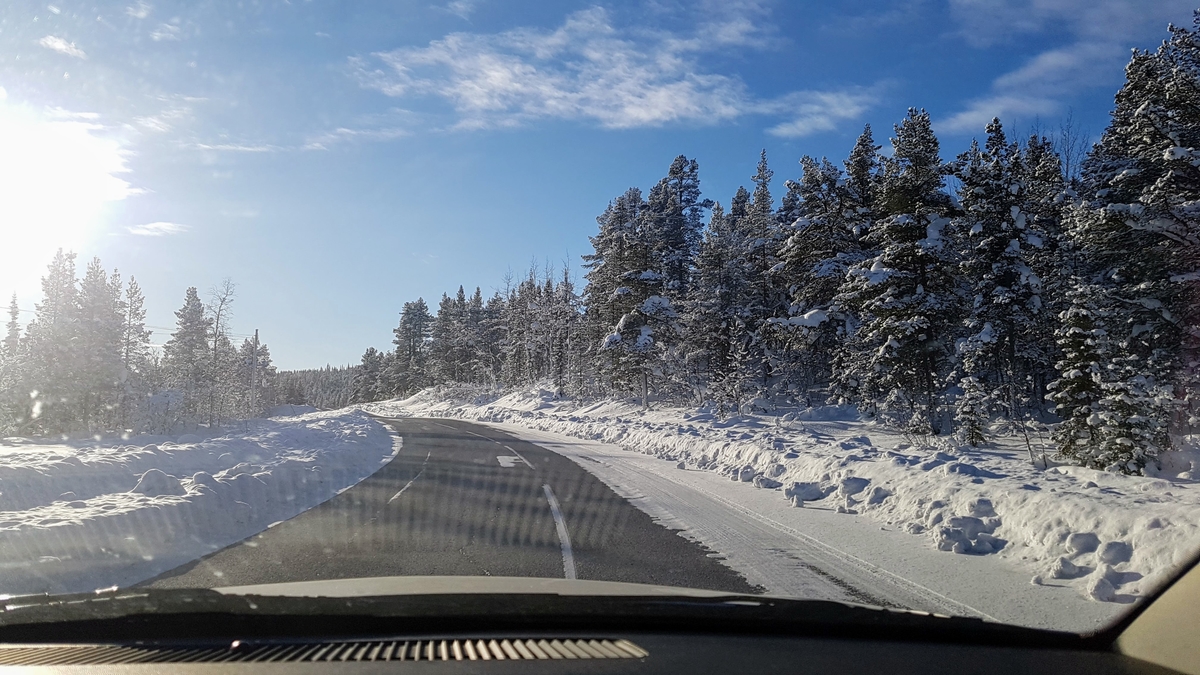 Coffee and eating spots
Since lunch or dinner is not yet served at the SkyNest, I would recommend you'd bring something with you. Bjöhrns Kaffee at Kiruna is great for coffee, Cafe Oscar is decent too and as for pastries, Cafe Safari is a good choice. Stejk street food is great for a quick bite and SPIS Mat & Dryck if you'd like something fancier. COOP has groceries and Systembolaget is the government-owned chain of liquor stores – the only store you'll find alcoholic beverages with more than 3% alcohol by volume.
When to visit
The best period to watch the Northern Lights is from December to March (prepare for freezing cold temperatures!) while the midnight sun can be seen from May to August.
It was a unique experience that made me reconsider everything I knew about Sweden. I can't wait to be back in summer to watch the midnight sun!
Check out the video of my trip:
More about SkyArk:
SkyArk- SkyNest
Διεύθυνση: Vasikkaniemvägen 15, 981 46 Kurravaara
E-mail: skyarkab@gmail.com 
Comments
comments