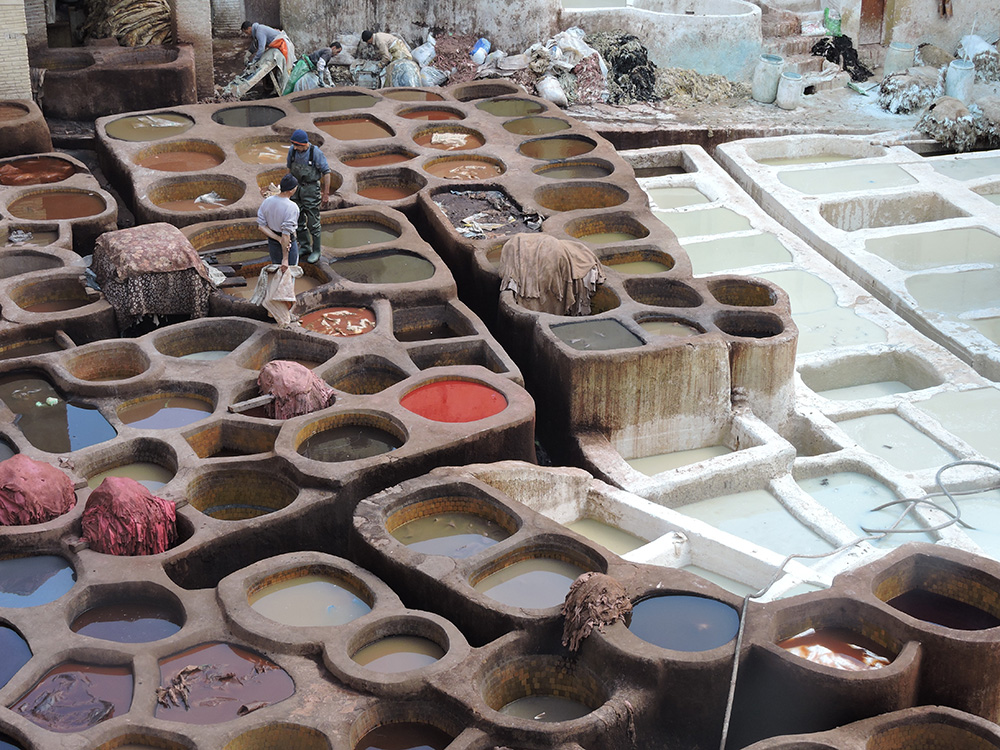 It was back in March 2016 when me and my best friends headed to Morocco by plane and even though I wouldn't think of visiting the North-African country again, I have to admit that it was one of the funniest and most exciting trips of that year. I had so many great experiences and took so many photos, I had to share with you!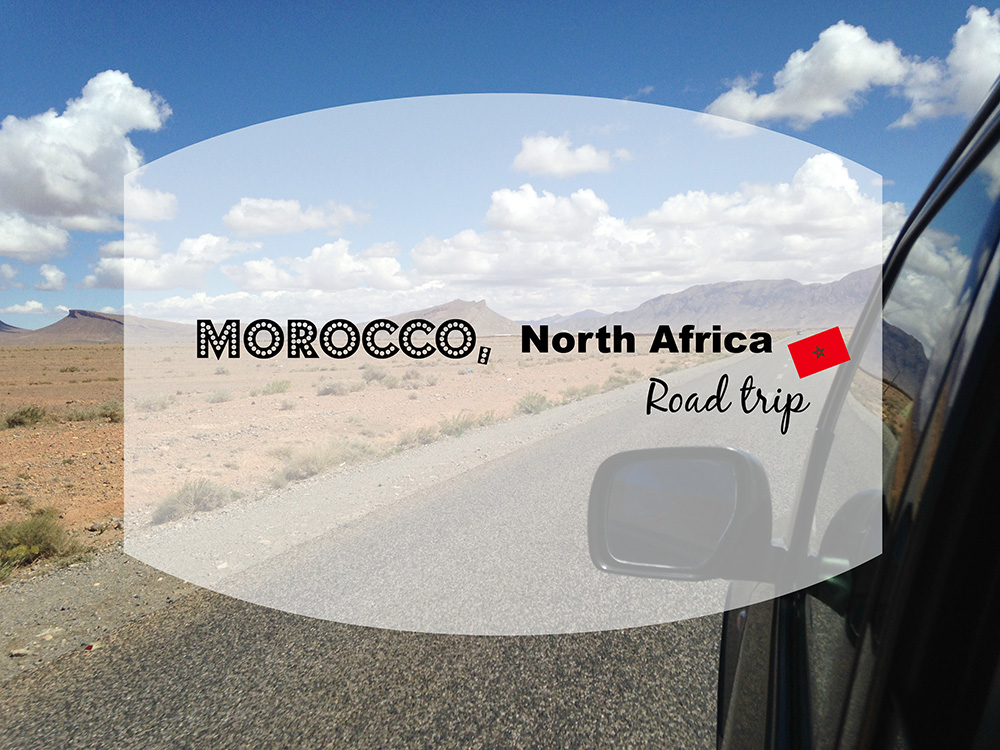 This was a really special roadtrip for me – for many reasons.
First of all, I would be traveling with company after a long time (No, I wouldn't suggest traveling solo to Morocco). This would also be my friends' S. first trip by plane. I hadn't had the chance to travel with friends for a really long time and all the laughing, jumping on beds, socializing with locals, finding yourself embarassed in front of a group of strangers makes a trip with friends more than great. It makes it EPIC!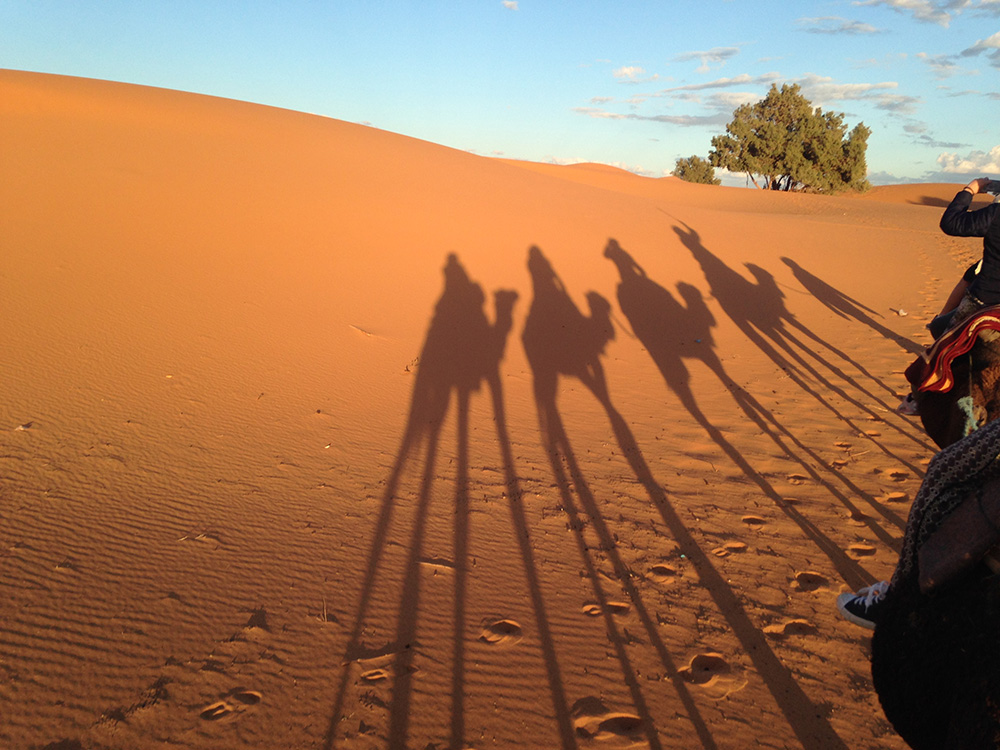 Marrakech – The first and last stop of the roadtrip
We landed in Marrakech on a Sunday noon with the heatwave and humidity welcoming us at the airport. Hamid, our driver, was waiting for us there to introduce us to our new "home" for the next week – his jeep.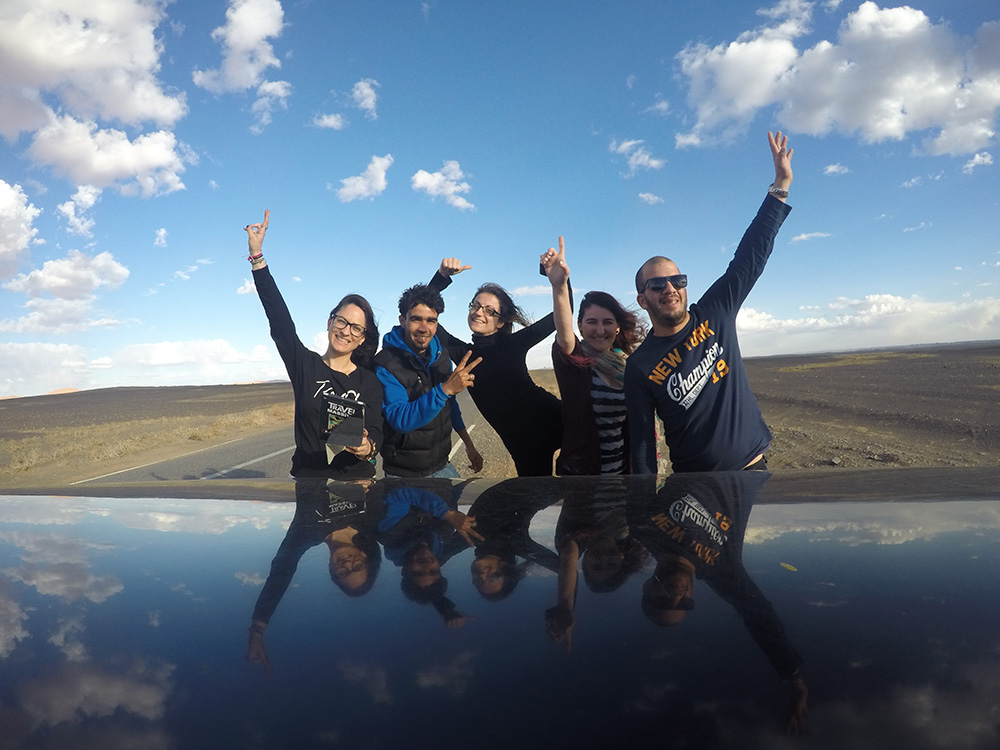 The 20-minute ride to Marrakech turned into 45 minutes on the road due to the heavy traffic jam. The characteristic palm trees by the city's entrance  (said to be over 30.000) made us feel the African vibe of the country. And so did the old cars and motorbikes with no plates running around us like crazy!
The riad (the traditional Moroccan house) we were staying was located inside the medina where no cars were allowed. We left the car,  took a cart with our driver and headed to the small alleys leading to our hotel.
We had a traditional Moroccan mint tea – which I loved even though I'm not a big tea fan – and after our friend L. joined us, we all headed to Moroccos main square, Djemaa el-Fnaa.
The smell of spices, traditional pies and cooked meat were the first impression we had of the square. It all looked straight out of a fairytale: snake charmers, street sellers, oracles, fakirs and everything you could imagine.
We then headed to Koutoubia Mosque, a landmark and the largest mosque in Marrakesh where we enjoyed the sunset in awe. Going back to the medina was a nightmare since the busiest road in Marrakesh didn't have any traffic lights and I was so worried I wouldn't survive to see another day!
We continued our day with a little shouq exploring. In Marrakesh, each souq specializes in something: textiles, spices, silk, leather, baskets etc. Inside the medina you'll discover a charming maze of little alleys and roads without names. Don't worry – keep the main square as your reference point and you'll never get lost. Beware of the pickpockets.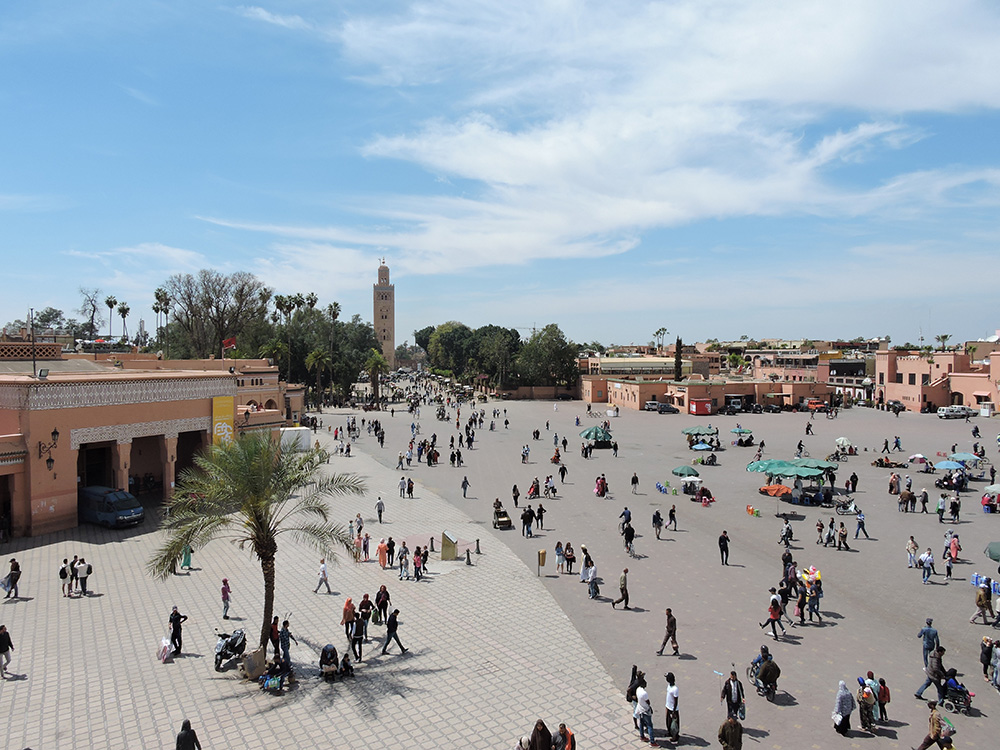 We stayed in Marrakesh two days: the day we arrived in Morocco and the day before we left. To fully explore the city and feel its' vibe, you'll need a total of four days in my opinion.
https://www.instagram.com/p/BDdO3RyE1BY
My favorites: Le grand balcon du café glacier at the main square is perfect for a cup of coffee enjoying the view from its terrace. Earth Cafe and Clock  are also great choices for coffee or tea. Disco Paradise is perfect for a night out to dance. Rue Dar el Bacha is great for a walk while at Roti D'Or is the place-to-be if you're craving a burger.
https://www.instagram.com/p/BDdjnbUk1Mc
The Bahia Palace is a dream to explore and if you're a graffiti lover, you'll want to turn right at the palace entrance and take some snaps of the best street art in the city.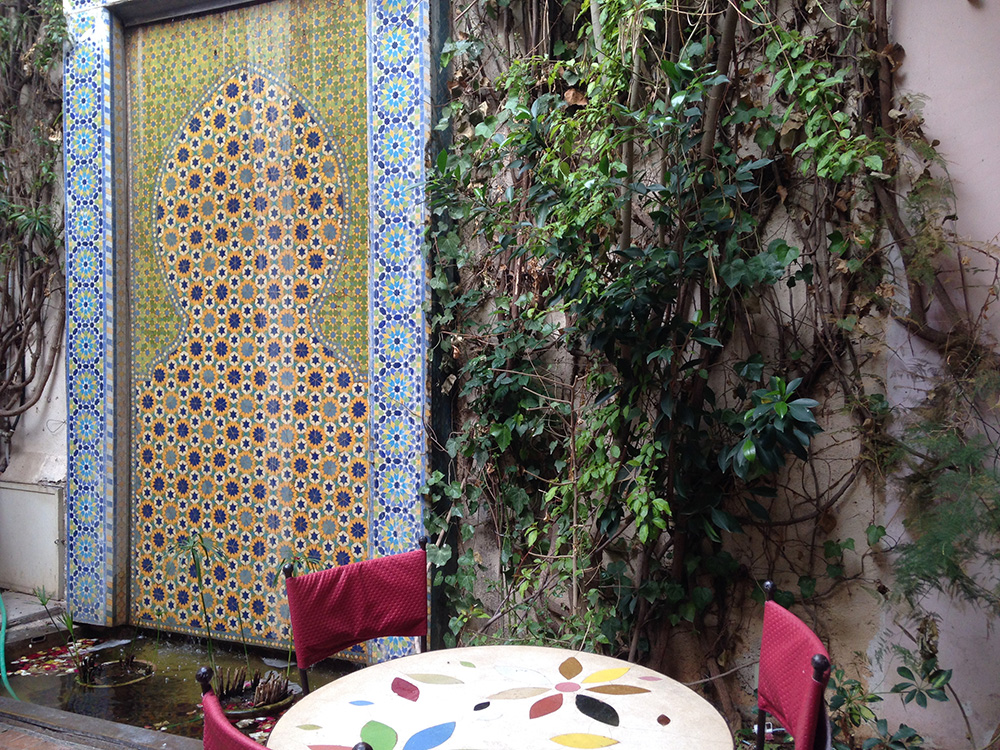 From Marrakesh to Chefchaouen through Ifrane
The second day of our trip found us on the road. We were on our way to Chefchaouen, known as Morocco's blue city. I was beyond excited to visit the city though the rest of the group didn't think of it as a must-see.
It is an 8-hour ride with some of the most fascinating changes of scenery we've ever encountered. From Marrakesh's tropical weather to snowy mountaintops and deserted provinces, we photographed everything with amazing excitement!
Our stop at Ifrane, "Morocco's Switzerland" as called by the locals, was one of the most interesting parts of the road trip. The small city is Morocco's Alpine village with lots of snow – great for skiing and winter activities. We enjoyed a cup of hot chocolate at the chalet and took some pictures of the town's only landmark, the lion statue, before hitting the road again.
Chefchaouen is the ultimate honeymoon destination. The city's full with amazing, affordable 4 or 5-star hotels, the most instagrammable corners and a romantic vibe that will make you melt. Every house in Chefchaouen is painted blue and the city could only be described as the Moroccan Santorini – minus the sea. Even if you're not a romantic soul, I guarantee you that after exploring the magical blue alleys, you'll swear to return back with your other half one day!
Two days are more than enough to explore the city. If you're staying at a ¾ or 5-star hotel, choose a full-board accommodation so that you can enjoy your meals at the hotel too. Since alcohol is not served at any hotel or restaurant in Chefchaouen, we went 'undercover' and headed to the only hotel in town where we could enjoy a drink as suggested by a local. I can't name the hotel but you can message me for details if interested.
https://www.instagram.com/p/BDQcX9Mk1MR
P.S. For tea or coffee, head to Glacier!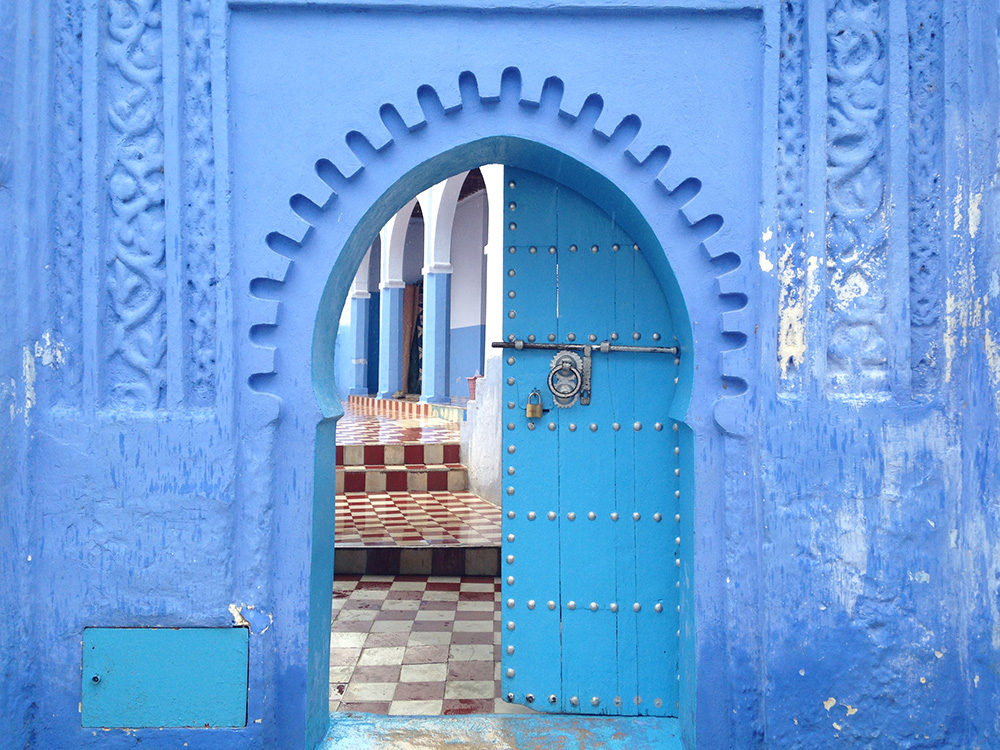 Fez
Our next destination was Fez, Morocco's capital city until 1912. Fez is said to have the first ever Medina in the Arab world, one of the most beautiful and the largest in the world featuring 9.000 alleys.
Both our driver and the people on our riad suggested that we shouldn't walk around in Fez after sunset- at least not without having a local with us. Although we took a small walk, I suggest you follow the locals advice.
Besides being known for its Medina, Fez is popular for its good quality leather items. A visit at the Chouwara tanneries is a must. Make sure you've equipped with a face mask or lots of scented tissues to stand the smell of bird droppings – a main ingredient in leather processing.
We stayed 2 days in Fez and it was enough for us to check out the city's most important monuments and places of interest such as the al-Qarawiyyin mosque, the Bou Inania Madrasa and the Jewish quarter, Mellah. The royal palace, Dar El Makhzen, is the oldest in Morocco and its spectacular doors are picture-perfect!
https://www.instagram.com/p/BDStcWVk1Ec/?utm_source=ig_embed
Numero 7 is one of the best restaurants in the city while Clock Cafe and Mama Africa are great coffee shops.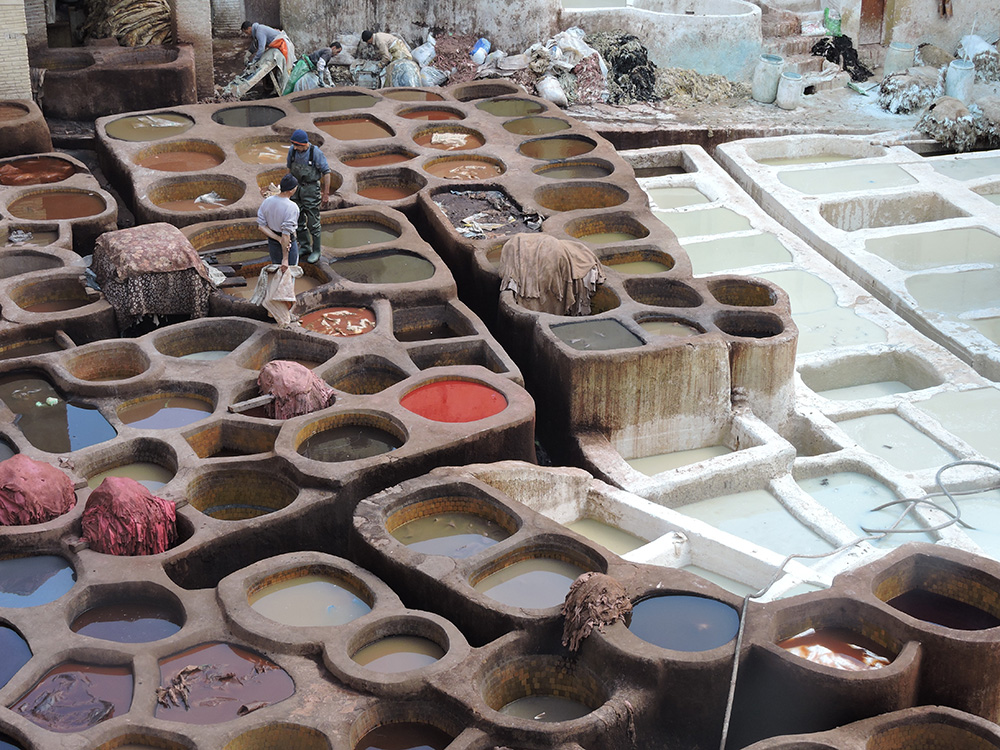 USEFUL INFO
The route:

Preparation: You will need a passport but not a visa. There are no mandatory vaccinations. If you're planning to use a car, you will need your driver's license. You won't need international driving license but make sure you have an updated license with your personal information in english.
How to get there: I did a small research for inexpensive airplane tickets and keeping in mind that we had 11 days for ourselves, I decided that we would travel to Milan with Ryanair and from there to Marrakesh with Ryanair again. All four flights cost us 230 euros whereas flying with Lufthansa would cost over 320 euros.
Airport to the city: If your riad/hotel doesn't provide transport from/to the airport, you have two choices: get a taxi for 50 dirham/5euros or take the bus which will cost you 35 dirham/3.5 euros.
Accommodation: We stayed at wonderful hotels/riads in Morocco which you can checkout below. Iwould not recommend staying in a hostel since accommodation in a traditional riad is affordable and well-worth it.
Marrakesh: Riad Marana, Chefchaouen: Riad Dar Chaouen, Fes: Riad al Makan, Merzouga: Desert Camp with real beds and toilet, Ouarzazate: Riad Bouchedor
Must-try traditional food: Start with zaalook (smoked eggplant dip), then continue with b'stilla, a traditional stuffed meat pie and couscous. For the main dish try meat tagine – one of the most popular dishes in Morocco. It is actually casserole meat, slow-cooked, served with vegetables and various nuts.
To  be continued…
Comments
comments