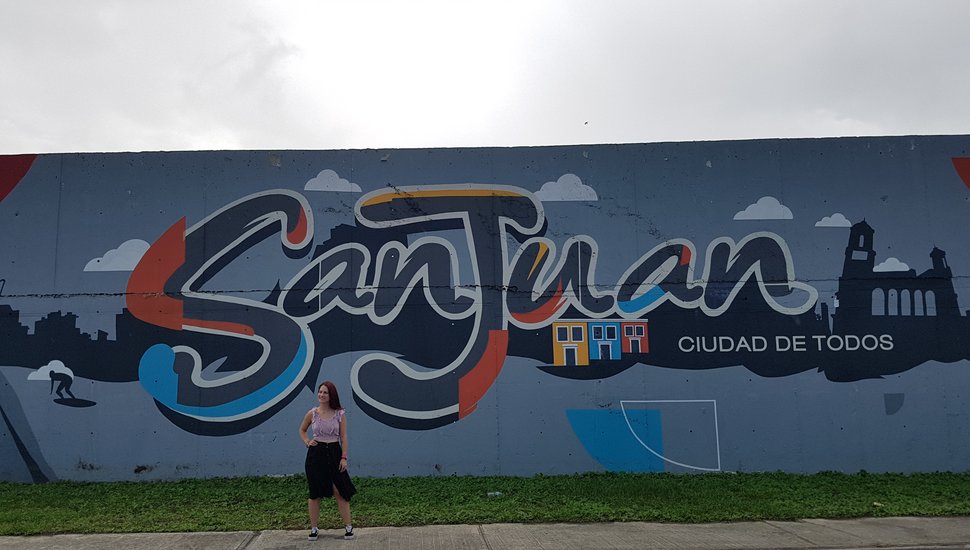 It's been a week since I am back in Athens from the Caribbean paradise of Puerto Rico and I can't even put into words the fascinating adventure this trip was.
The feeling of wearing a swimsuit in December, during Christmas and swimming into the sea was so new to me and I was more than excited to have finally taken the trip I was planning for the past two years – the bonds we've created with many Boricuas over the years were reason enough to make me super-enthusiastic to be there!
https://www.instagram.com/p/BdFj8O_Hliy/
Apart from that, visiting a hurricane-battered Puerto Rico after Hurricane Maria hit the country back in September, was the first time traveling to a place hit by a natural disaster as destructive as this storm.
Since the storm wreaked havoc on the island almost three months ago, the signs of destruction are still pretty clear despite having the power restored in almost every part of the island and all the efforts to go back to normal after such a catastrophe. Another blog post will follow with details and images of the island after Hurricane Maria.
On this post I will be sharing my top moments and experiences I had while in Puerto Rico, showing you what really makes this island unique.
Diving into the Caribbean blue
What I enjoyed mostwhile in Puerto Rico was wearing my swimsuit, just three days before Christmas and diving into the exotic waters of the Caribbean! This was part of a day trip to Culebra, a charming island a few miles off Puerto Rico that included snorkeling, local delicacies and lots of piña coladas with friends!
2. Exploring the Santurce District
Santurce is one of the districts of San Juan in Puerto Rico – the equal of Psyrri district in Athens. A formerly unsafe and deteriorating neighborhood that made a big comeback with the help of local street artists. The Santurce es Ley project gave life to this neglected part of San Juan with vibrant graffiti in old walls and hip restaurants and bars popping into deserted buildings. I spent the day exploring, looking for the coolest graffiti and the uniquest corners to capture, had a cold juice at El Patio de Solé  and a late drink at Esquina Watusi.
3. Christmas with local friends
I might reconsider this as my top moment in Puerto Rico since I had an amazing Christmas Eve at my friend's Jennifer's house, starting the night with an amazing party with local drinks and tunes. A"parranda" group showed up at midnight and swept us off our feet! Parrandas are groups of friends going from house to house during Christmas,playing music, singing and joking around. Before leaving, they take a person from each house they visit – the group of 4 quickly turns into a group of 30 at the end of the night. How cool is that?
4. Walking around the famous Despacito neighborhood
I guess you know Despacito and you might know that the song's videoclip was shot in Puerto Rico. What you don't know is that the shots featured in the videoclip were taken in one of the sketchiest neighborhoods of San Juan! The Perla district was off the tourist radar before the videoclip as it was known for drug dealing and generally being unsafe for tourists and visitors. There is no police there but there's a good chance now that you will have a nice walk around – sometimes even guided by the local showing the spots where the videoclip was shot!
5. Birthday by the sea
Who would have known! After years of celebrating my birthday dressed in layer over layer, I would eat cake by the beach in the Caribbean wearing shorts and a tshirt! I headed at La Parguera, on the west side of the island with a few friends and enjoyed a night of salsa and bomba. The highlight of the night was swimming in the bioluminescent bay – a beach with glowing water caused by Noctiluca Scintillans, a species that exhibits bioluminescence when disturbed.
6. Mallorca, coffee and sangria
Mallorca is a traditional Puerto Rican sweet bread and not just the Spanish island – don't get confused. Trying out new flavors and traditional, local food is a huge part of my trips now and I couldn't help but include the amazing breakfast I had at Cafe Negro and the most delicious coffee I had there! At El Patio de Sam I tasted the best sangria I've ever had that same day – a little more fruity than the Spanish.
7. Exploring Old San Juan
Strolling around the old towns of every country I visit, reveals a lot about its history and past and that's why I love it so much. When in Puerto Rico, I explored the little alleys of Old San Juan, the island's capital. The colours, the sounds from the open windows and the smells reminded of Casco Viejo in Panama and the colourful historic centre of Cartagena in Colombia. I loved the houses with the vibrant colours and the wooden windows while the little stores with the loud salsa music playing were my favorite!
8. Lechoneando and chinchonrreando with friends
I bet you've never heard these two words before – even if you speak Spanish. They are exclusively used in Puerto Rico and they refer to two things: the first one to a group of friends visiting local restaurants (yeap, all on the same day) with grilled meat and the second one is the Puerto Rican version of bar hopping. It is a fun morning-to-day kind of experience!
9. Walking on pink water
That's not a photoshopped photo – the water at Las Salinas de Cabo Rojo is pink. The spectacular colour is created from a certain species of plankton living in the water.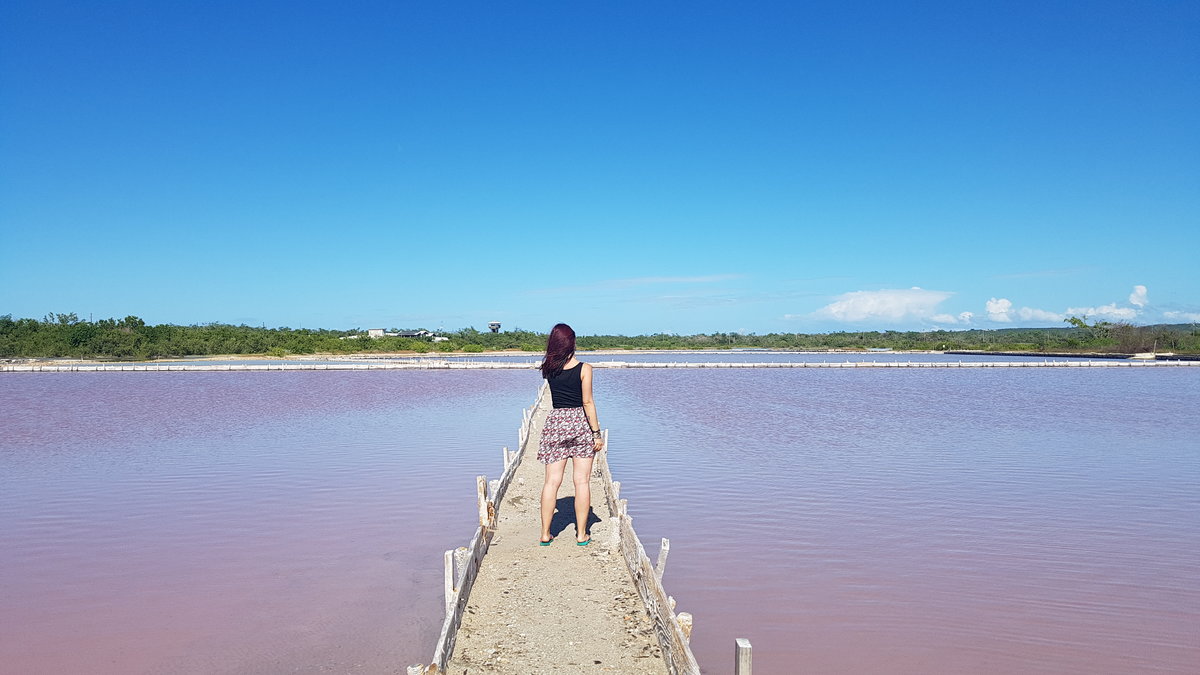 10. Meeting the Puerto Rican travel community
If you've been reading my blog for the past year, you should know about my collaboration with Arnaldo from Diaryoftrips.com, a Puerto Rican travel blogger, I've been working with organizing trips to Europe and Asia for some of his groups (read the blog post here). That was how I got to meet many Puerto Ricans! On this trip, I had the chance to speak to a group of 30 people about my blog, my trips and the lifestyle I've chosen for the past few years. I was also more than happy to attend a radio and a TV show where I shared my thoughts and insights on female solo traveling and low-budget trips.
Watch the video
P.S: Muchas gracias a la grande familia de Diaryoftrips que cada uno de ustedes me regalaron un poco de su tiempo libre y muchas mas gracias a los grupos "Vodka train", "Camiluki crew" and " Opa group". Nos vemos por alli!
It was a trip of colourful images and unique moments. Stay tuned for an in-depth Puerto Rico travel guide and how you can combine it with a 2-day trip to New York!
Comments
comments