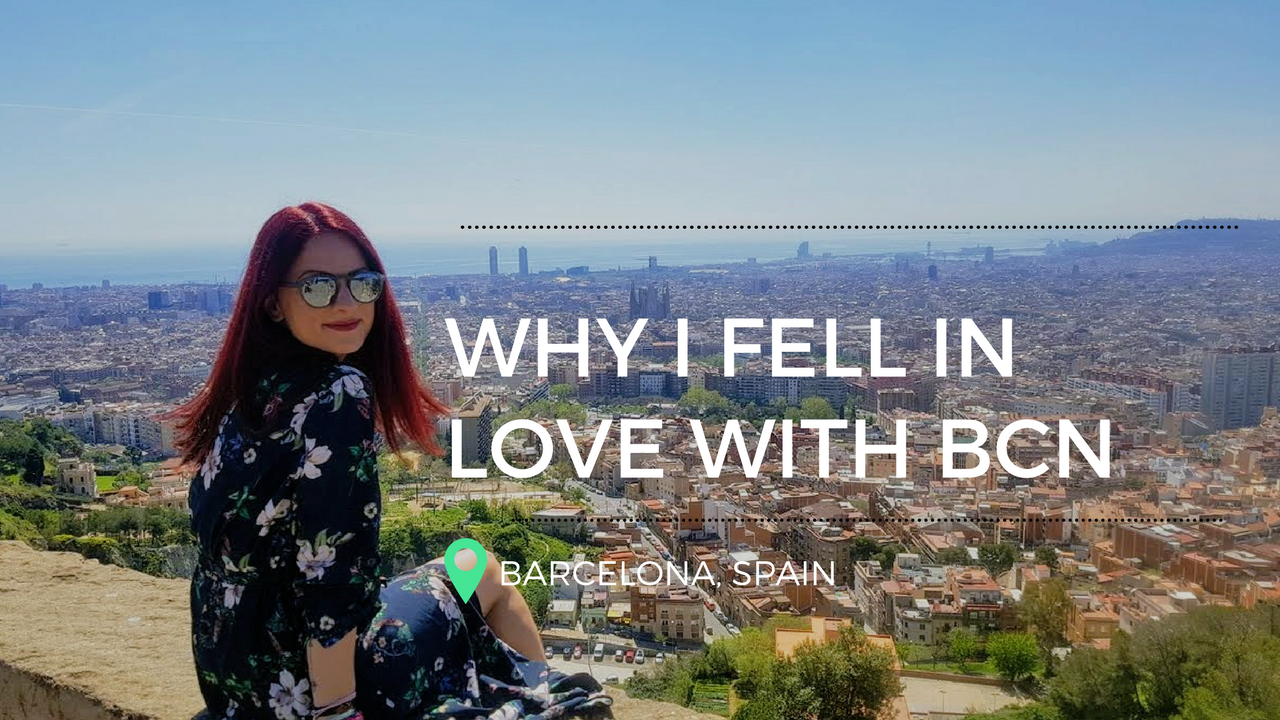 I don't know where to start from! I would like to write not only 10, but 30 reason why someone should visit Barcelona. You probably know how much I love the city, you might don't know that I have already visited it more than 5 times, during my Erasmus studies in a small town close to it, but have I told you that I revisited it after 10 years and I fell in love with it anew?
Since 1995 and after having hosted the Olympic Games, Barcelona became the ideal city for someone to live in. Its buildings, its streets, its life quality, everything changed and developed, and, besides having gone through rather critical times, it has managed to turn into one the brightest, most promising, most creative and most youth-attracting cities in Europe.  
So, I was there a few weeks ago and, once again, I came to realize how much I love this city and why I wish to return. Again, and again.
La Sagrada Familia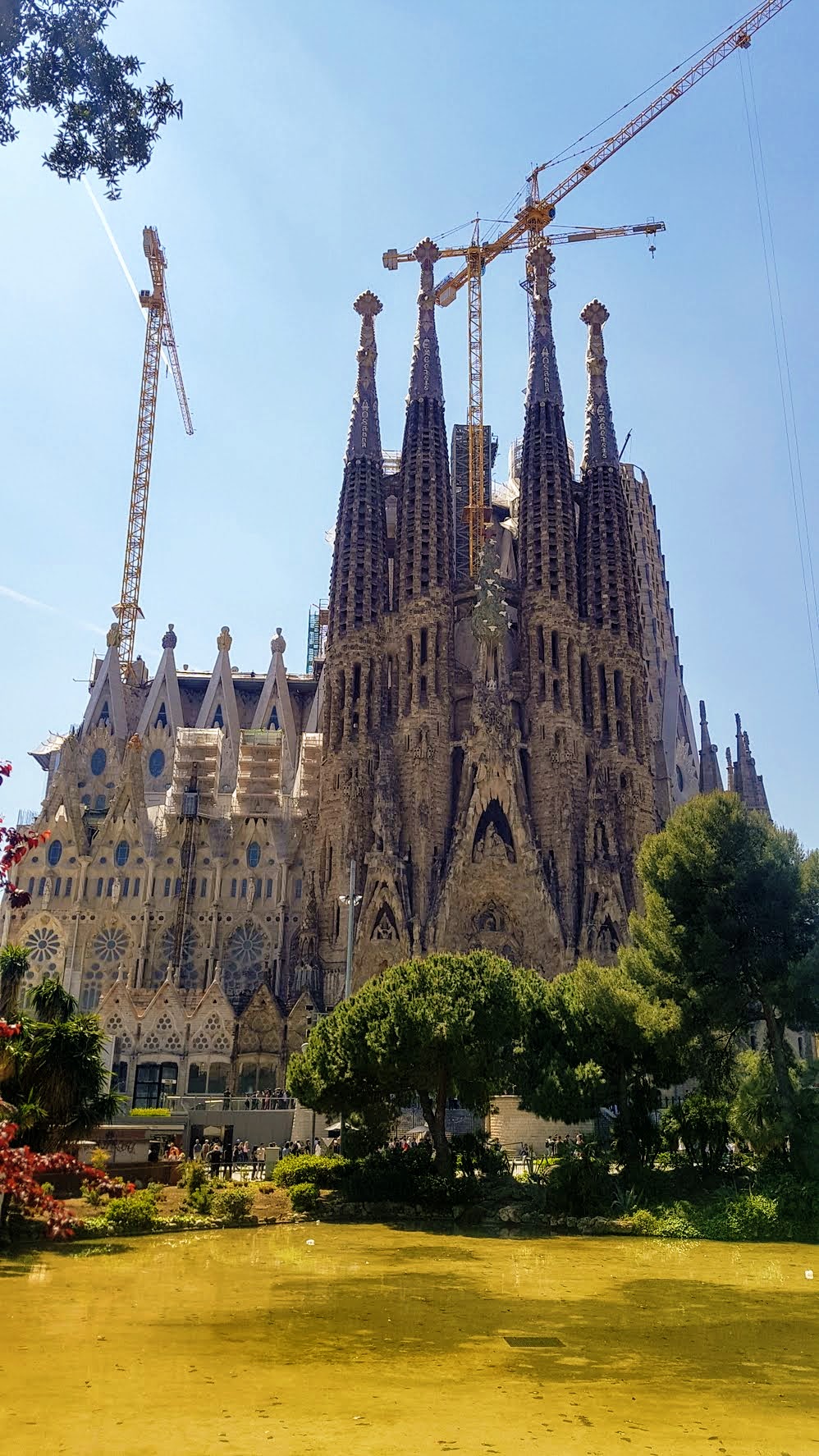 As expected, you'll say. Gaudi's La Sagrada Familia is one of the first things that the visitor gets to see once he arrives in Barcelona. This impressively enormous Basilica construction began in 1882, and one year later the architect Gaudi took charge of it, with his famous phrase ''my client is not in a hurry''(by client he meant God) proving to be rather insightful, as after 130 years later, the church still remains under construction, and actually without any rush.
Having already visited La Sagrada Familia, I felt curious about its progress 10 years after my return in Barcelona. I stepped into the church once again, and I must confess that the sight was spectacular. I recalled all those scaffoldings on the church's internal space, and now it is almost finished. Of course, another 8 years will be needed to integrate it internally and externally, but the difference is significant so far! The dome is astonishing by far, you get the idea that you are walking inside a forest and the ray lights entering through the multicolored stained glass create a magical atmosphere on the Sagrada Familia's internal.
Take your time, have a sit on one of its marble benches to process the light's play and once you' re out of it, head for the Placa de Gaudi park to take some photos with view of the lake and the church in depth of the scenery.
La casa Vicens 
Here's something that you haven't seen for sure, since this specific house opened its doors to the audience only a few months ago. It's the first house that was designed and built by Barcelona's favorite, Antoni Gaudi. You will find it in the Gracia neighborhood, on the address Carrer de les Carolines,24. If you still haven't visited neither of the most popular buildings, ''touched'' by his talent, then you should begin with Casa di Battlo. Be prepared though, since the entrance fee for every building you visit costs almost 20 euros. Ouch!
The view from Bunkers de Carmel
If you intend to be in the city only for 3 days, leave behind you the Tibidabo mountain and the cliched Montjuïc and enjoy the city view from the Bunkers de Carmel, on the Turό hill, an old military base, which is abandoned for years, but has recently become an Instagram hotspot. Try to be there early in the morning, because when I went there at noon, and I was roasting.  A nice alternative would be to visit the place in the afternoon, during sunset time, but it's going to be crowdy then.
A tip for a few: Before you ascend to the last ladder that will lead you towards the abandoned base, turn right at Park de Guinardό, have a sit and enjoy the city view also from there. The place is full in green, full of trees, completely the opposite site from the full in concrete Bankers de Camel.
(Transportation: Bus V17 or Metro L4, station AlfonsX or L5 El Carmel).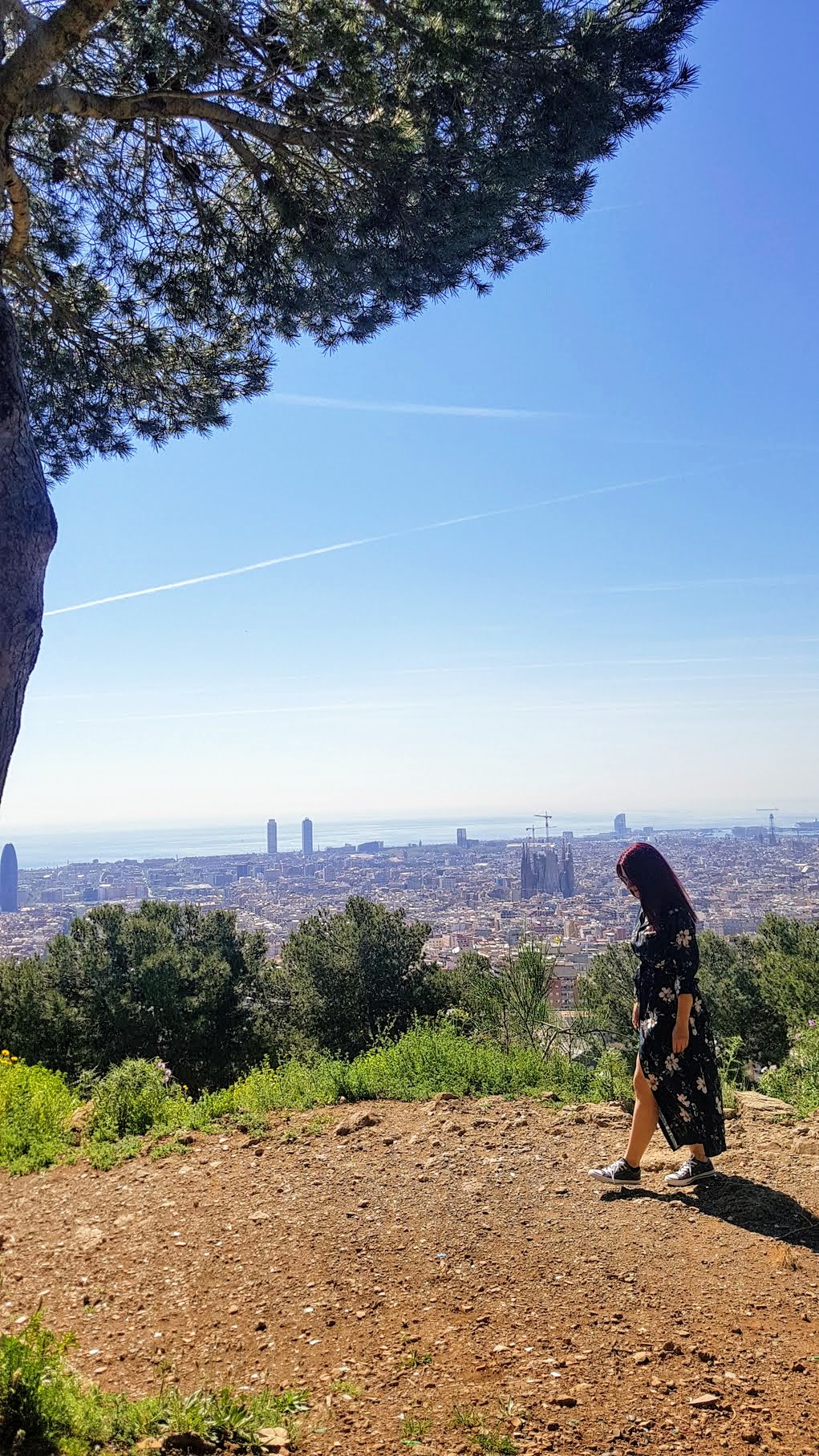 The graffiti at the Gracia region
If you are aware how mad am I about graffiti, then you must also know that I look for the most beautiful graffities in every city I go. It goes without saying that Barcelona has many of them scattered around the city's neighborhoods. Nevertheless, I was told that I will come across the prettiest graffities in the Gracia neighborhood, the ''bohemian'' neighborhood of Barcelona. And yes! They were right! Wander around without a map and hold your head up mostly!
La Nena shop
You will find this shop in the previously referred neighborhood (Gracia) and it really worths your while to pay a visit. Here there will be neither alcohol nor a wide range of plates, but everything you will find is made with the best quality products. It is also recommended for vegetarians, and it's the best option for lunch, when you really feel like eating but not that much to slow you down from wandering. You will also taste here the best chocolate drink in Barcelona.

(Address: Carrer de Ramón y Cajal, 36 )
Breakfast and brunch at Satan's coffee corner
Just a few steps away from Barcelona's cathedral… the Satan's coffee corner is the new trend for Barcelona's citizens. Totally industrial, simple and modern, it serves splendid coffee and wonderful breakfast. Don't expect a wide variety though. 
(Address: Carrer de l'Arc de Sant Ramon del Call)
Espai Mescladís for lunch and coffee
This place has its own story to tell. It is in the el Born region (my favorite) and all its workers are refuges and immigrants. Always with smiles on their faces and full of such kindness (something I have personally met nowhere else in Barcelona), you will be served exquisite food, nice coffee and the finest drinks! Their hummus is outstanding! 
(Address: Carrer dels Carders, 3 )
Palau de la Musica Catalana
I had neglected this during all my previous visits, because I thought that the entrance fee was rather expensive, no matter how beautiful its internal could be. This time, my friend accompanying me came with the smart idea to go to the opera. At the price of one ticket, we had the opportunity to go inside, one hour before the opera began, and walk around Palau's internal, then to watch the opera we desired, La Traviata, in this magical place.
Bars and speak easy shops
Alright! The best night life is found in the neighborhood El Born, but you can discover small hidden shops also in Barri Gotic. Start your walk from Barceloneta, though, and continue upwards later! I honestly was amazed by the wide range of options I had! I was out every single night! Go to Rebelot for tapas and beer, and then to Bar Ke, almost aside, to continue with some cool sangria, as for a stronger drink or
both at Placa Poeta Bosca in Barceloneta (Metro Barceloneta). In the El Born region I loved the speak easy bar Paradiso/ Pastrami and, also the Numero Nueve, while a few steps further from those 2 bars I loved the Passeig del Born, some type of square, where the locals gather and fill in all those shops and bars of this neighborhood. Moving upwards you will find the awarded Dr. Stravinski. If you 're lucky enough and don't waste your time waiting to go in, as it's usually full, try its fantastic cocktails. For a more relaxing or more alternative option try the underground bar Nevermind.
A few steps behind the Boqueria in Las Ramblas, on the Carrer de Notariat road there's a bar-cellar with a surprising variety of beers to choose, along with vermouth. The bar is called Notariat No1.
Street art from orangeade cans
  Something like a hidden treasure on the street corners of El Born neighborhood. The artists' name are not known, the only information we have is that they are a couple. They get around, filling the city with song or poem phrases by coloring used Fanta cans. Look for them around the city. They have something to tell you…
Comments
comments