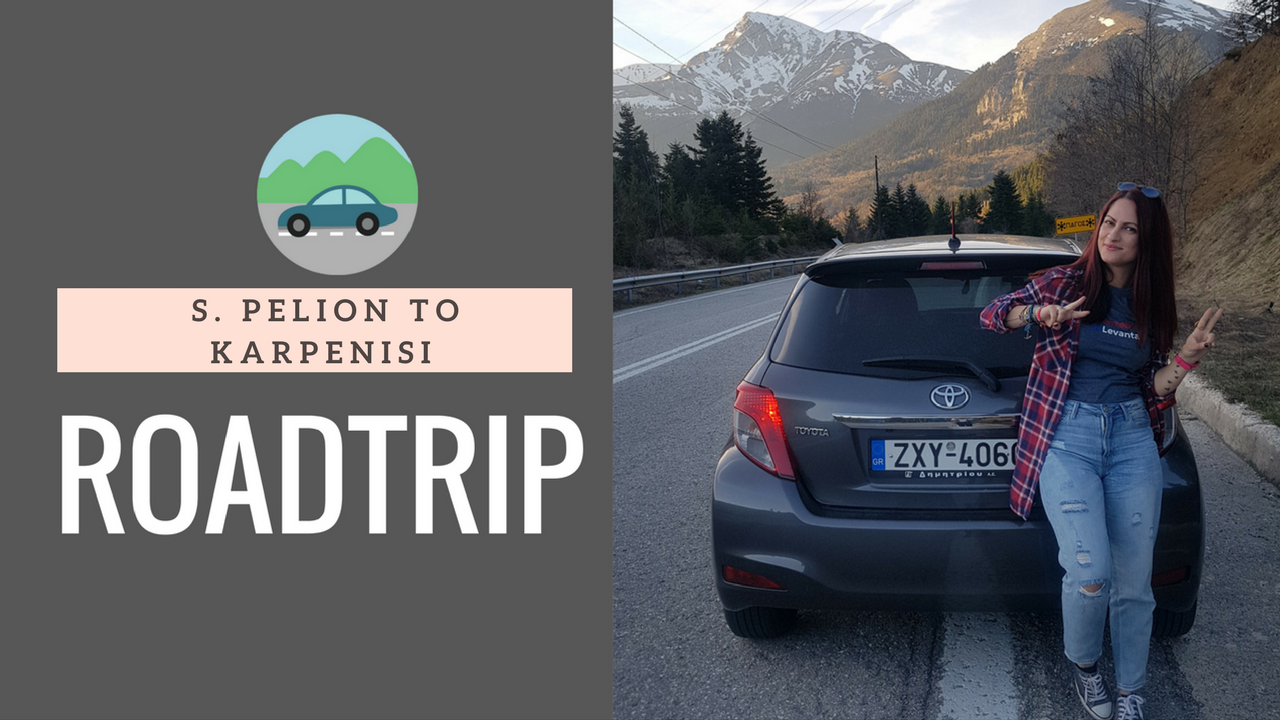 Spring is here and these perfect,  sunny days are ideal for exploring the incredible corners of this country with roadtrips around Greece.
While I do enjoy more going on train trips, neither the country's railway system encourages long trips, nor does it offer the independence to visit remote towns and villages far from major cities due to lack of connections and insufficient stops along the route.
This year's first roadtrip would be a 4-day one with the departure date set at the 8th of March, on International Women's Day. What a better excuse to bring along my best friends, drive around Greece and have lots of fun together?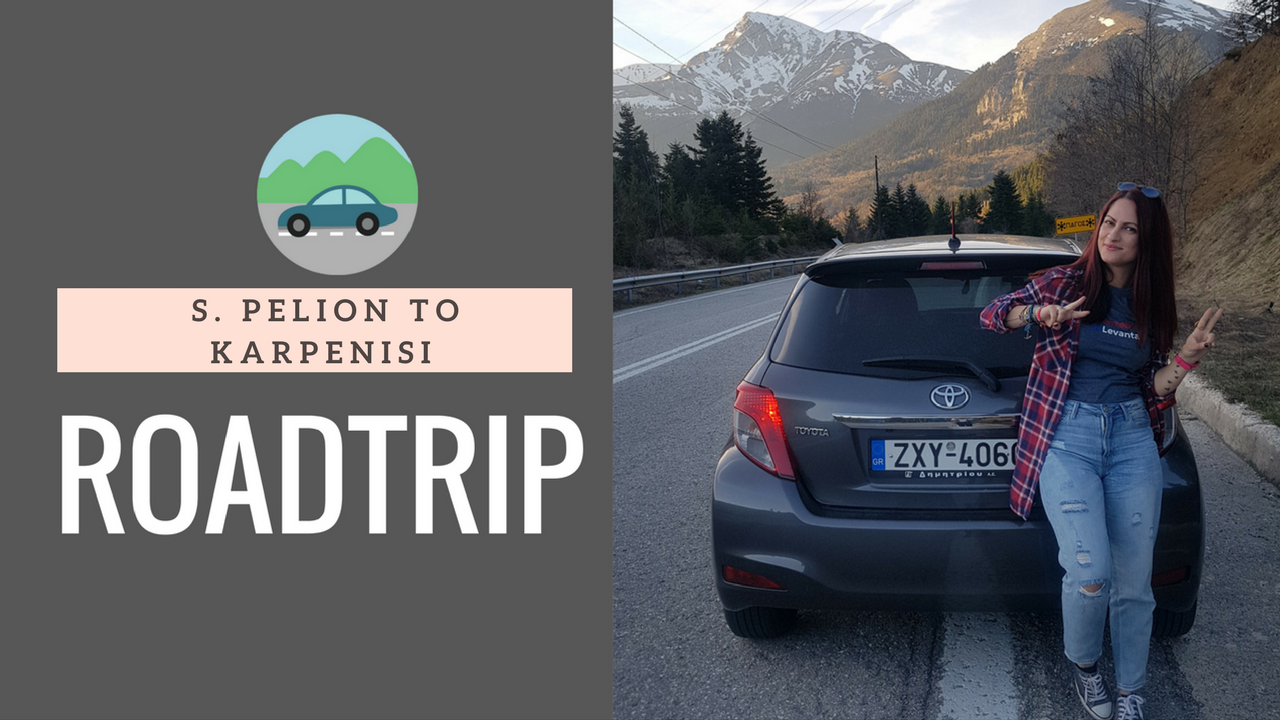 Since it was four of us – Loukia (thefashionreporter.gr) and the incredible duo of 2girls1map, Elpida and Leda – my trusted 10-year old Toyota Aygo was too small to fit us girls and all our baggage. So, I picked up the latest Toyota Yaris model from Carousel Rent a Car, a new car rental at the heart of Athens to enjoy a safe, comfortable trip and more importantly, drive as long as we like, taking full advantage of the unlimited mileage Carousel offers!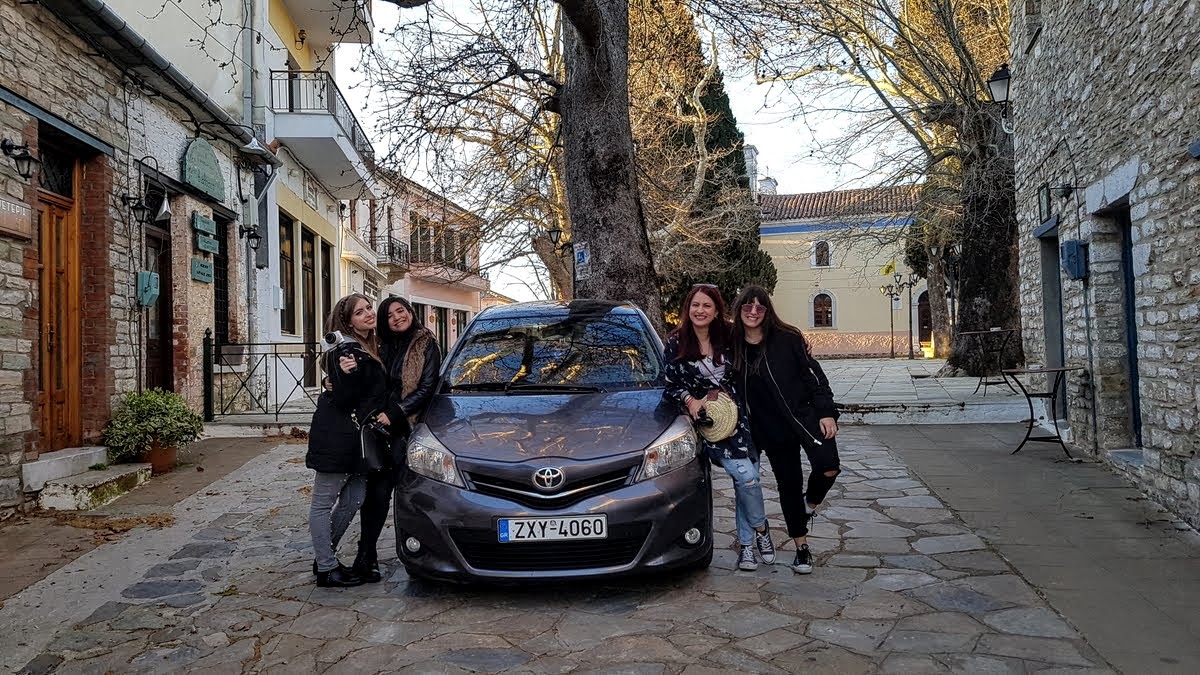 The Route
Two days in Southern Pelion (with day trip to the Pelion region)
Two days in Karpenisi (with day trip to the Karpenisi region)
Our plan was to head to Magnesia with final destination Lafkos village in Southern Pelion where we would spend two nights and have a day trip to the villages in Pelion region and then hit the road again to visit Mikro Horio just outside Karprenisi in Evrytania.
On the road
After grabbing coffee and some snacks, we were ready to go. Leaving on a working day and not during the weekend was the best choice; minimal traffic made driving fun and our first 214 kms till our first stop in Lamia went by quickly.
With some music and lots of chit chatting, we arrived in Volos. Quick stop for photos and off to Lafkos and our accommodation at Fyloma Guesthouse. Volos is popular for its many seaside restaurants and taverns and makes a great choice for an evening out. If you're visiting the Magnesia region, make sure you adjust your itinerary accordingly to pay a visit to the city of Volos.
Less than hour and we were in Lafkos.
Lafkos – Southern Pelion
The village of Lafkos lies at 310 meters altitude overlooking Pagassitikos bay and the waters of the Aegean Sea. It is the ideal choice for those looking to enjoy the best of both mountains and the sea, making it a great all-year round destination. Lafkos is easily accessible, only 48 kms away from the city of Volos. You can't drive around Lafkos, so park your car in one of the three parking lots and walk around the village.
The large square is the heart of the village featuring the town hall, a basilica, traditional taverns, one of the oldest cafes in Greece operating since 1785, the Michail-Athanasios grocery, the oldest – and sadly closed – barber shop in Greece and many streets leading to its traditional, small alleys.
A few meters away, you will find more traditional taverns and an old wooden oven located inside an old train station that was built but never used. There is another grocery store and a mini market on the other side of the square, right next to mrs. Maria's lovely gift shop with delicious traditional products.
We left the car and walked around the paved streets to Fyloma Guesthouse where Anthi, the manager, was waiting for us. She is literally the heart and the soul of the guesthouse!
It was International Women's Day and Aphrodite, one of the village taverns hosted a special celebration so, we decided to join.
The next day, we were out and about exploring the village and the surrounding area.
What to do in Lafkos:
If you are a museum lover, make sure to check out the Thanasis Fabas museum with sculptures of white marble from Pelion, as well as, the "Antonis Tavanis" Radio Museum.
Wander around the narrow streets to admire the old traditional stone drinking fountains – there are four of them around the village. Follow the old cobbled path to Milina to enjoy one of the most magical sunsets in Greece!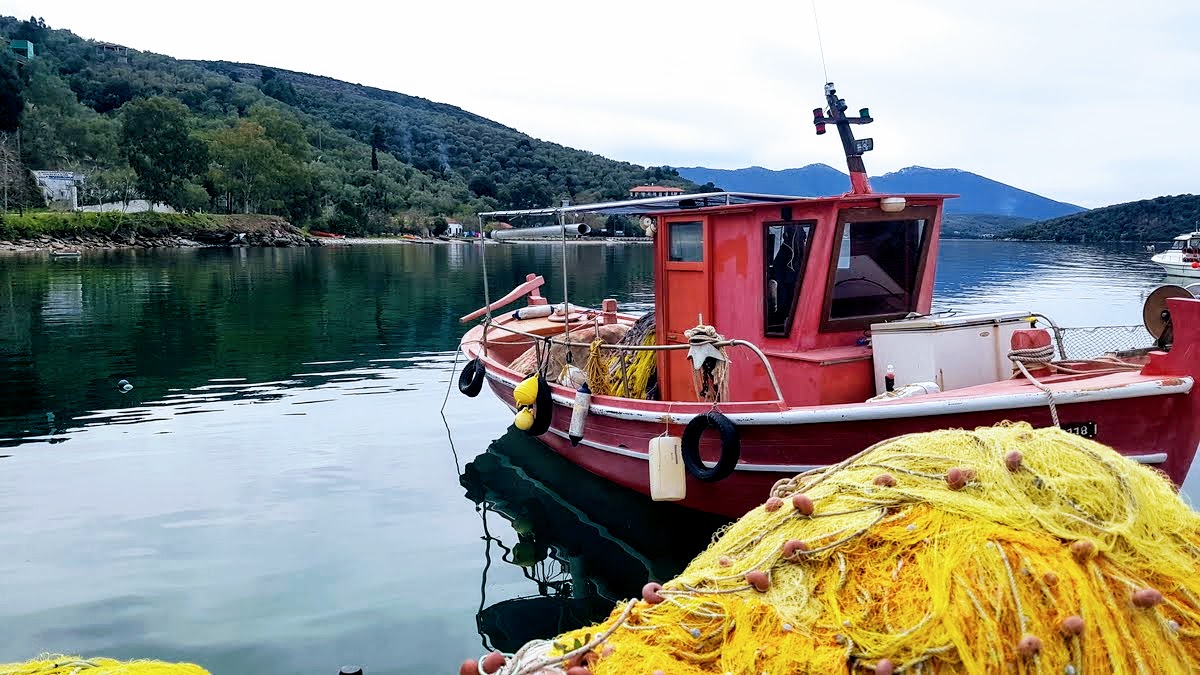 There are several Greek festivals all year round: Agios Athanasios' (2/5), Agios Nikolaos' (8/5), Profitis Ilias' (20/7), Agia Paraskevi's (25-26/7) and Virgin Mary's (8-10/9).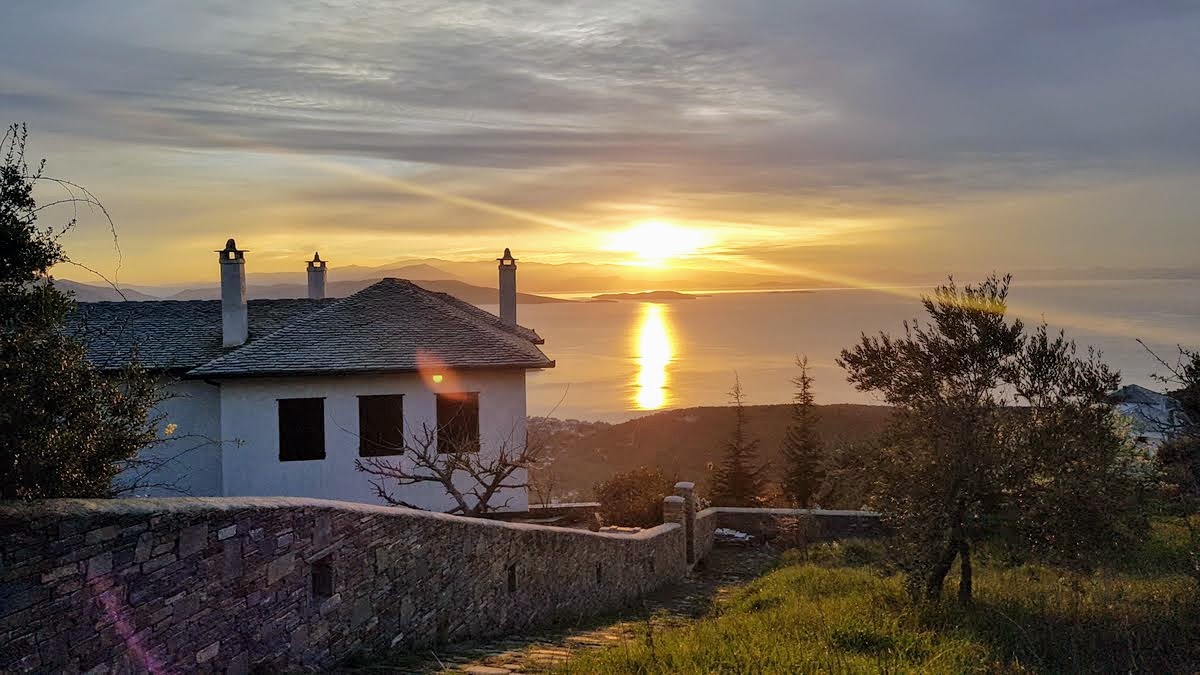 Alternatively, you can participate in one of the Botany and Agriculture seminars offered in the village and take a guided walking tour. We found Nature Seminars through Panda Adventures and booked a botany workshop to learn how we can use herbs in gastronomy to add incredible taste to our dishes!
There is only a handful of restaurants, cafes and bars at the village but each one of them is of the highest quality: Mylos Cafe – Bar, Em. Forlidas traditional cafe, Magda's tavern with the most amazing appetizers and a collection of aprons from all around the world, Aphrodite Cafe – which is a restaurant actually – and Pegasos and Drosia restaurants.
Great day trips with car:
Lafkos' ideal location is perfect for day trips to nearby villages, beaches and other points of interest. We strolled around Milina's cute little harbour, explored Platanias and Mikro beach, enjoyed a cup of coffee at Argalasti and took great photos at Potistika area. If you're visiting during summer, don't skip a visit to the island of Skiathos and the picturesque Old Trikeri.
Back to Volos and before heading to our next destination, Karpenisi, we decided to take a detour and visit Northern Pelion. We enjoyed a cup of coffee and pancakes in Portaria and Makrynitsa – best decision ever!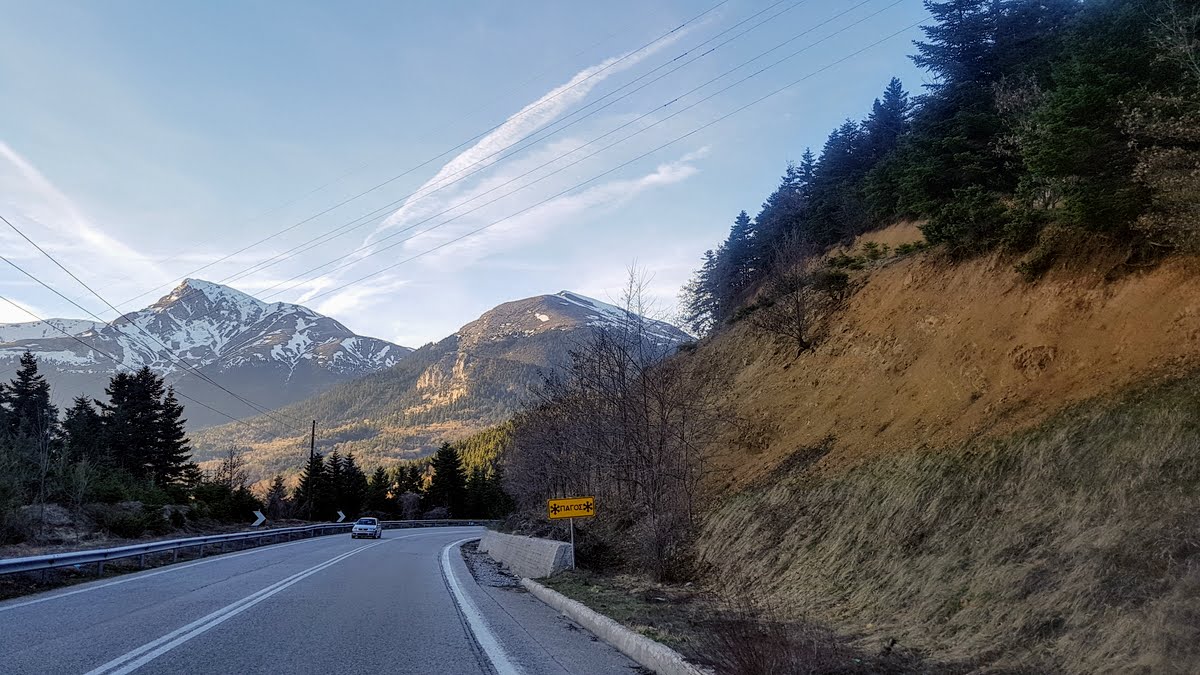 If you are visiting the Pelion area, you should definitely check out the Northern Pelion villages: Tsagarada, Zagora, Chania – where the Pelion Ski Center is located – and Milies village to take a ride on the mythical route of the Pelion Train!
Mikro Horio – Karpenisi
We left Pelion and the Magnesia region and after a quick stop at Lamia, we hit the road again to our final destination: Evrytania region and its capital Karpenisi which we visited on our way back to Athens for lunch.
We finally reached Mikro Khorio and our accommodation for the next days, Gonia Guesthouse, managed by Konstantina and Fotini whom i met last year when I was in the area to cross the Panta Vrexei Canyon.
Mikro Horio actually consists of two settlements, the Old and the New Mikro Horio. The Old settlement is located at 950 meters altitude on the foot of Mount Chelidona. On January 1963, a landslide carried the slope where Mikro Horio was built a few miles away where the new settlement is located today.
What to do in Mikro Horio:
Truth is that, Mikro Horio is mainly a destination to spend a few relaxing days. If you are after exciting new adventures and activities, you will find them outside the village. On the road to the Old Mikro Horio, the landscape around the little lake was magical while at the village, after strolling around a bit, you have to take a visit to the Historical – Folklore Museum housed in the building of the old Primary School of the village.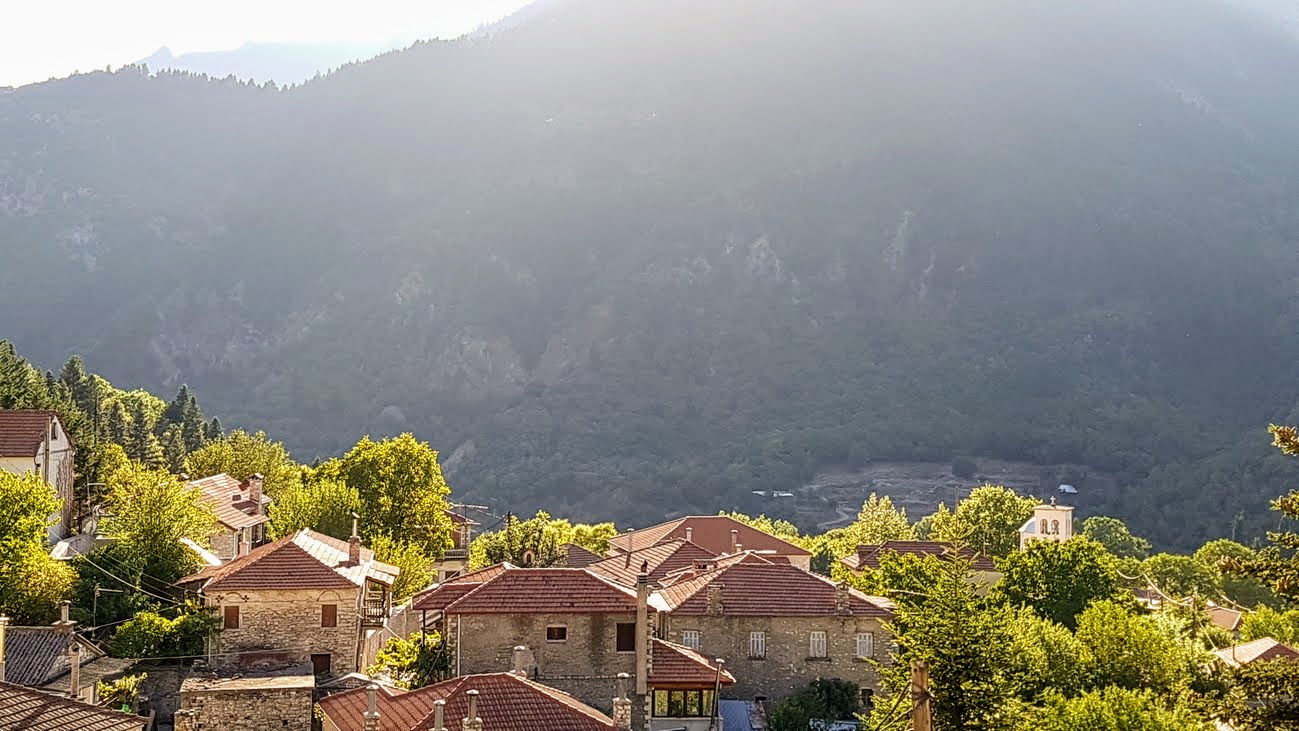 Next destination is Megalo Horio: stroll around the main street, visit the traditional products shops and then, head to "Paramythi" to taste its incredible pastries (I loved the cheesecake there) or to "Karveli" for a taste of the traditional Greek galaktoboureko!
There are many activities for nature lovers from rafting in Tavropos and Trikeriotis Rivers, to River Trekking at Panta Vrexei Canyon, horse riding in the forest, Canyoning at Vothonas, climbing, archery, trekking and hiking and of course skiing at the Velouchi Ski Center.
Scenic Car Rides:
Mikro Horio is a great base for you to explore the entire Karpenisi region. A great day trip is to Koryschades village, a historical village with traditional buildings, to Gorgianades where we had lunch at Agnadi restaurant, Klafsi village and Voutiro village with its pebbled square and Agia Paraskevi cathedral. The dining options there are just two; "Spithas" and "To Steki tou Australou".
An alternative route you can take is from Krikellos to Domnitsa. Krikello is set at 1.120 meters altitude in Mount Kaliakouda near Krikellopotamos River where the path to Panta Vrexei Canyon begins.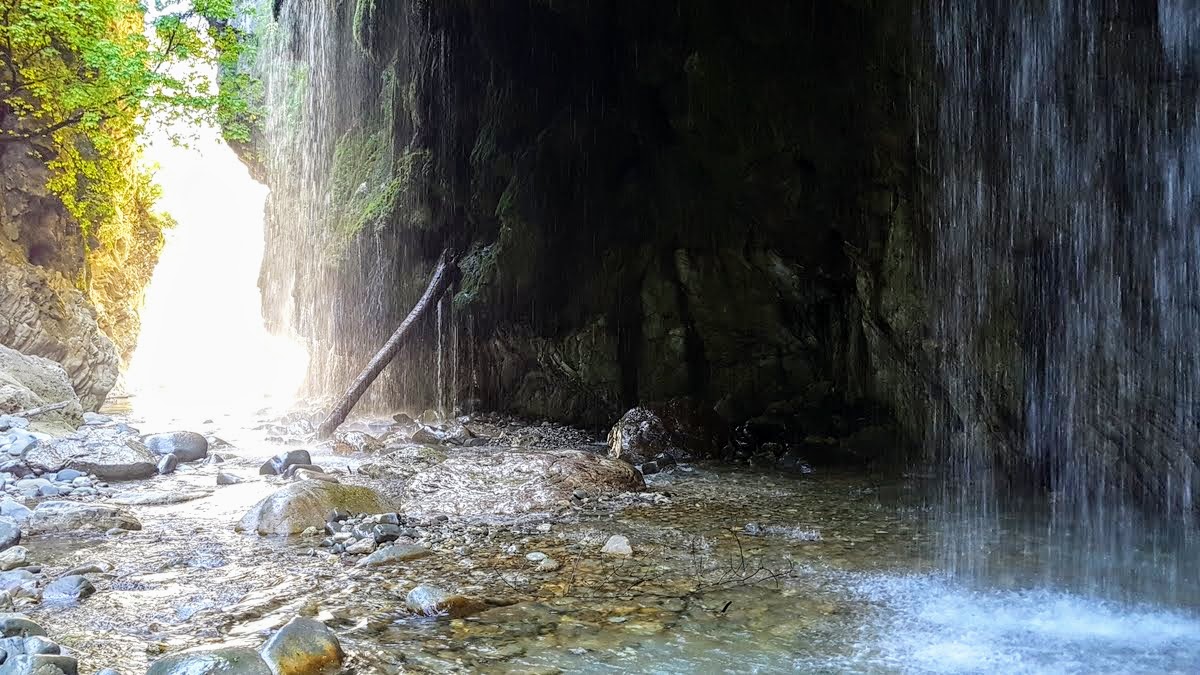 A third choice would be from Proussos village to Kastania and the Canyon of Mavri Spilia with the amazing waterfall.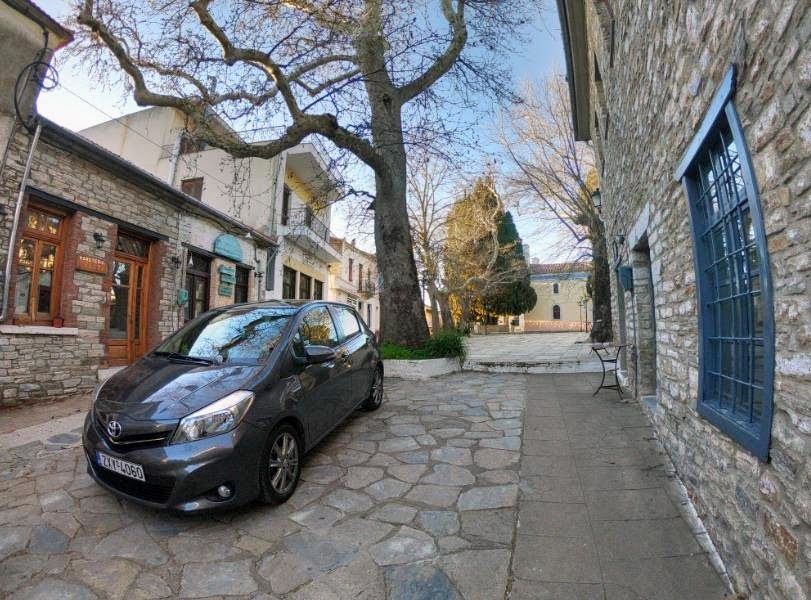 Roadmap
Athens – Lafkos: 4h 48mins, 378 kms
Lafkos – Mikro Horio: 4h, 256 kms
Mikro Horio – Athens: 3h 51mins, 297 kms
Total kilometers: 932 – an average of 12 hours driving without the stops in between destinations/villages.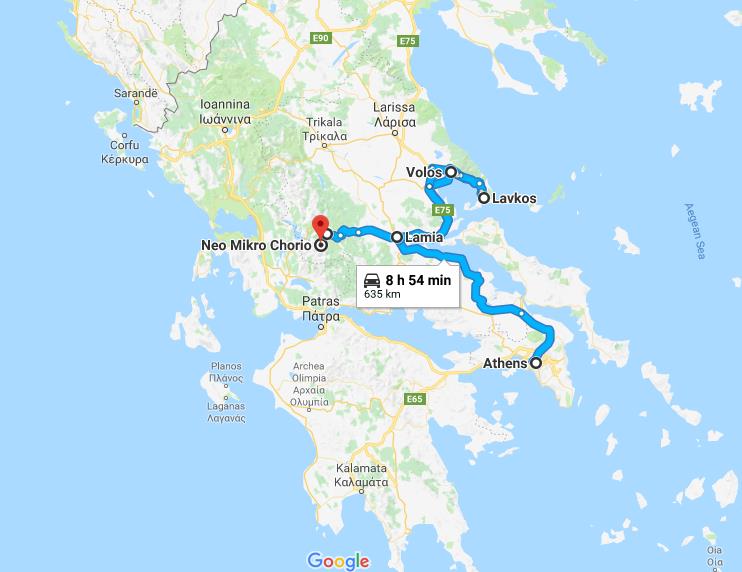 –> Carousel Car Rental offers a 20% off discount until 04/26 for car rentals – Check it out and hit the road!
Comments
comments