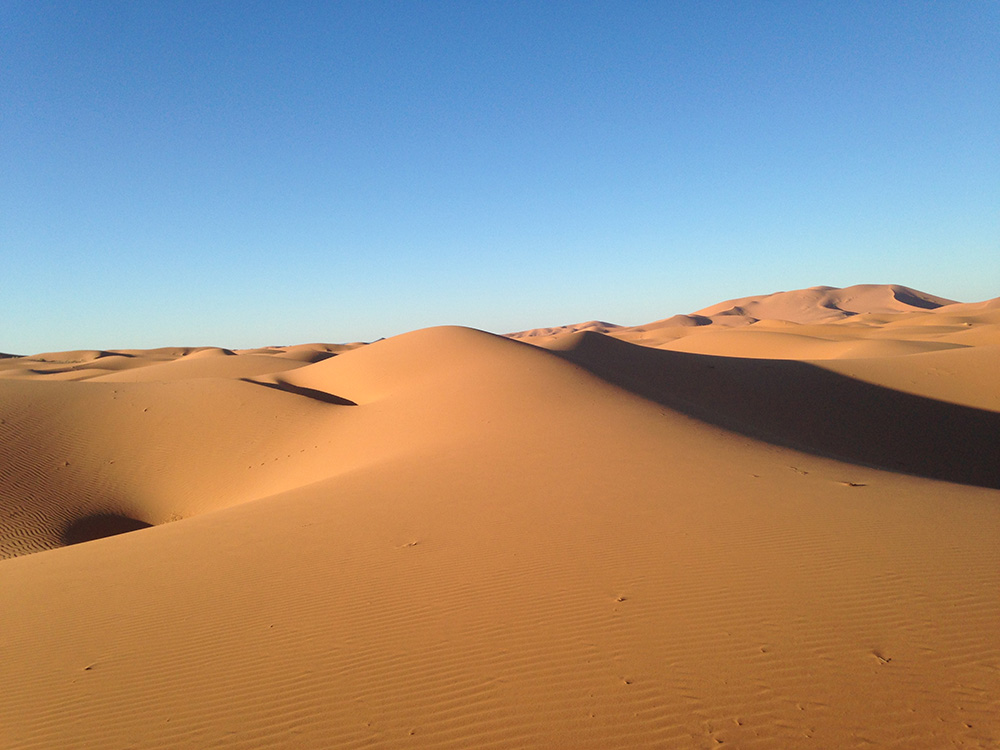 This is the second part of my roadtrip in Morocco, as promised.
My Moroccan adventure continues and, after visiting the town of Fez, we are on our way back to Marrakesh.
Next Stop: Sahara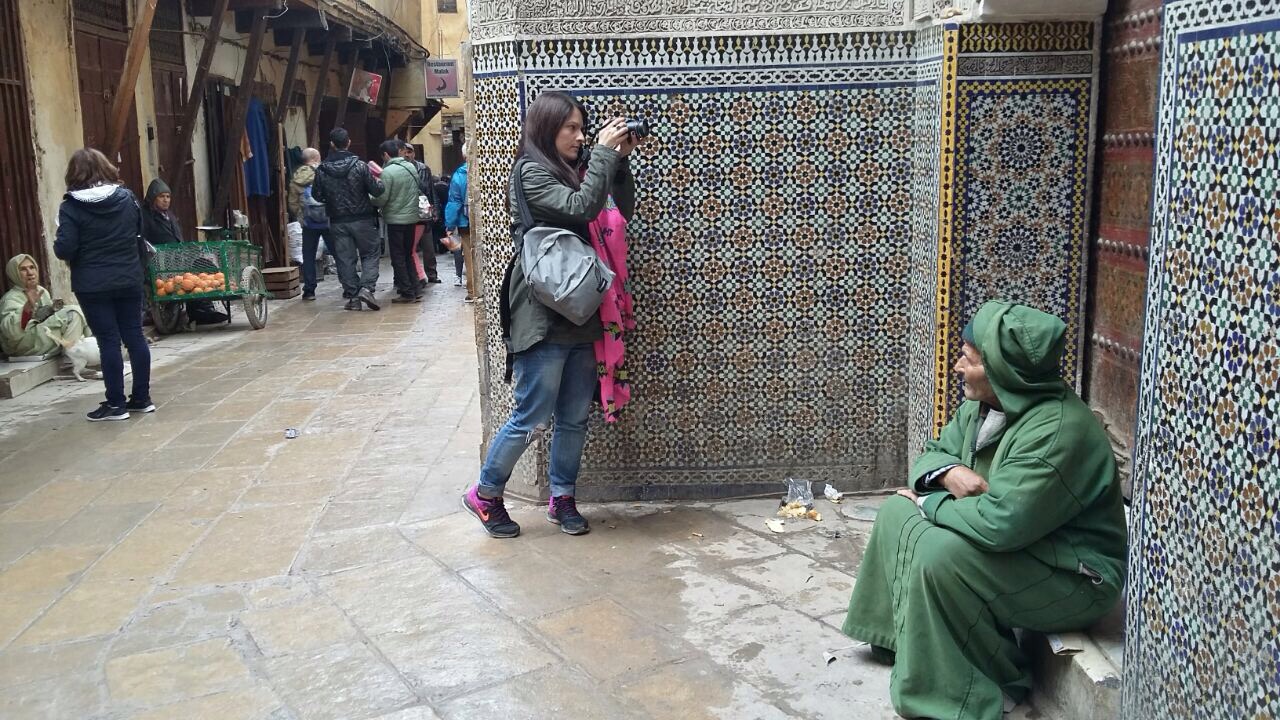 Merzouga – Sahara Desert
A trip to Morocco wouldn't be complete without experiencing the beauty of the Sahara desert. You wouldn't want to miss the magical feeling of watching the sun set and rise over the dunes.
https://www.instagram.com/p/BDcwjwmk1Jt/?utm_source=ig_embed
We all agreed that it was an experience not to be missed and headed to the Merzouga Oasis soon after Fez.
The 7-hour drive to Merzouga, following the caravan routes was exciting; we stopped several times to visit traditional Berber settlements, sleep, listen to music, have a meal and then take a little nap before reaching Merzouga at noon.
Merzouga is a small town near the dunes, named after the Merzouga desert, part of the great Sahara desert inhabited by local Berber families working in tourism – they organize desert tours and camps, camel treks and wonderful nights under the starry desert sky as we later found out!
We checked in to a small hotel and quickly packed our backpacks for a night in the desert. We rode a camel into the desert and after almost an hour, we set up camp to watch the sunset.
It was breathtaking; just us on the camels and the silence of the desert. The orange dunes were painted golden as the sun was setting and we were in awe, trying to capture the once-in-a-lifetime moment.
After we've set camp and had dinner while listening – and playing ourselves – traditional music, our group leader, Hassan suggested we should have a camp fire in the desert!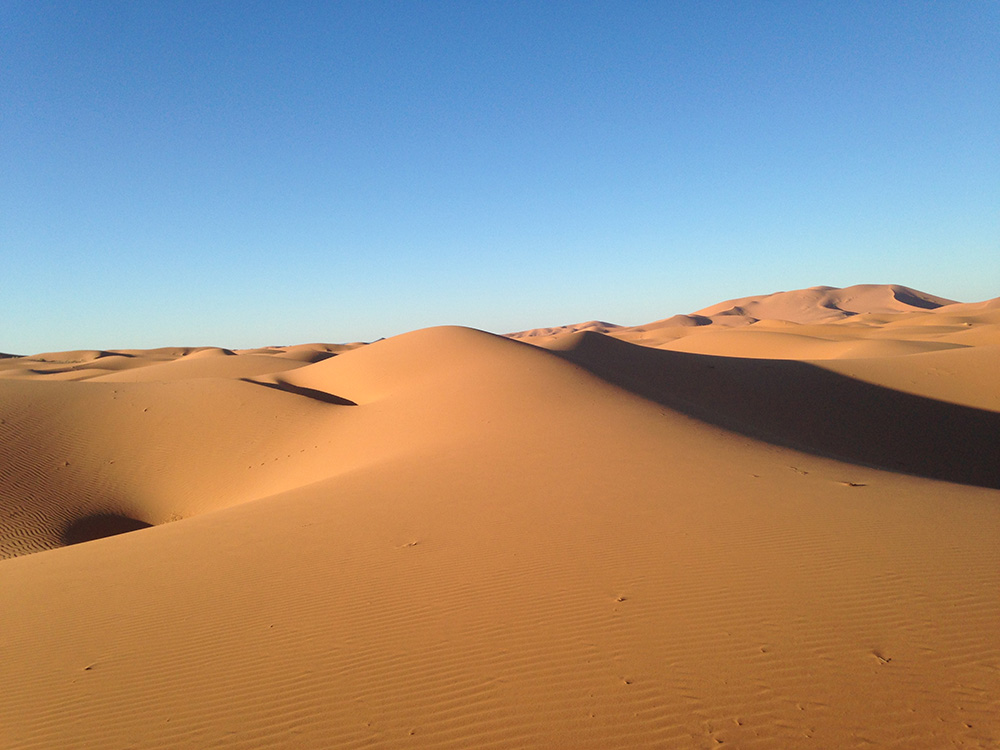 We were so excited to even had the chance to enjoy a small feast in the middle of the desert, we all screamed yes and headed to our 4×4. We had a blast! Our group of 4 Greeks and 3 Moroccanslit a big fire and danced our hearts out that night! It was a spectacular and oh-so-different night. We constantly had to remind ourselves that we weren't on a beach in Greece but in the middle of the Sahara desert somewhere in Africa!
With 4 hours of sleep, we had to convince ourselves to wake up to watch the sunrise. We simply couldn't miss that! The mesmerizing sight of the sun rising over the desert dunes was jaw-dropping. Shortly after, we  made our way back to the village to take a shower and grab our suitcases to leave.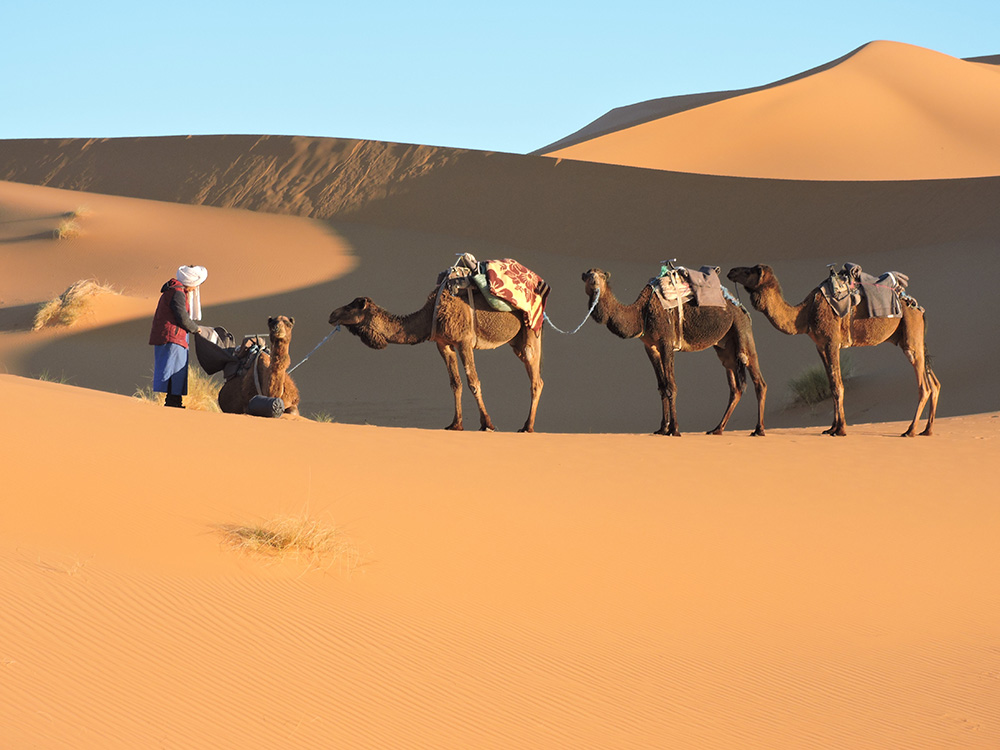 Well, let me say that after a night in the desert, only one shower is hardly enough to wash the sand of your body and clothes! Just to let you know!
Side Note: If you are interested in a Sahara tour, I would highly recommend you spending at least 2 nights in the desert. Just one night is not enough in my opinion.
https://www.instagram.com/p/BDXzqjkE1Nl/?utm_source=ig_embed
Todra Gorge
On the first part of my Moroccan roadtrip diary, I mentioned the plethora of different landscapes we encountered while we made our way across the country. The Todra Gorge was part of those jaw-dropping landscapes we explored in one of our stops!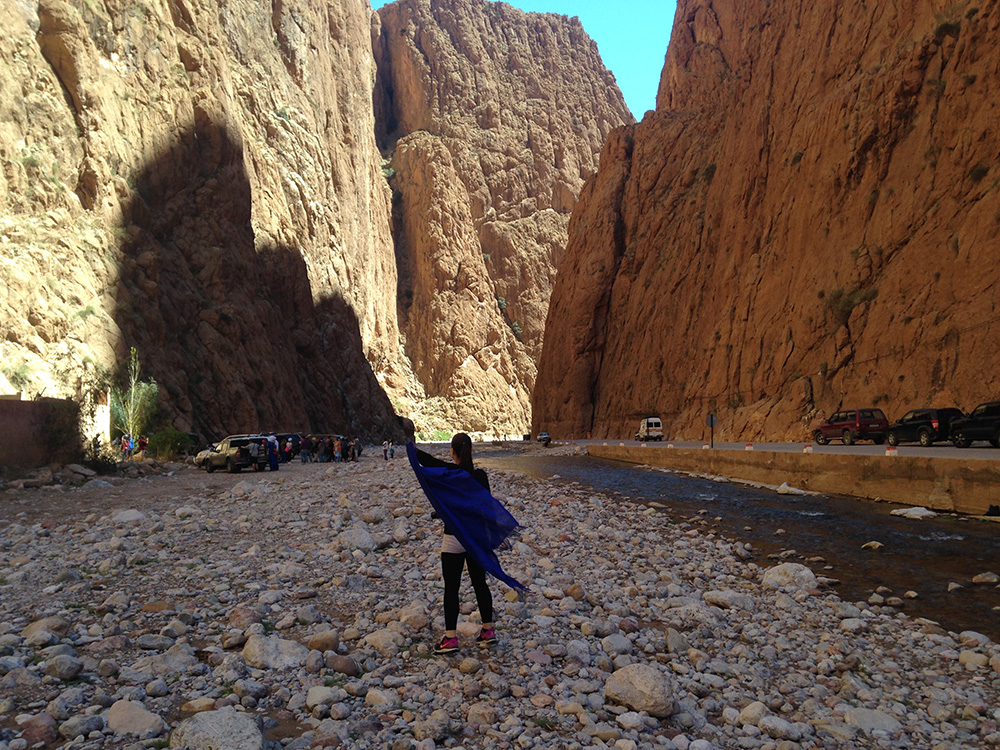 After a thrilling few kilometers in the Todra palm grove, we were at the place you can see in the picture above. 300m-deep rocks and a crystal-clear river in the middle! We were looking one another with excitement. If we had stayed in Marrakesh we would have missed a huge part of this country's stunning beauty.
Ouarzazate & Ait-Ben-Haddou
Our trip continues in Ouarzazate, "Morocco's Hollywood", 200km away from Marrakesh. We reached the city after crossing the steep High Atlas Mountains – an interesting change of scenery from the exotic desert.
The city is a great one-night stop to visit the ancient kasbah of Ait-Ben-Haddou – a kasbah is a type of medina in Morocco.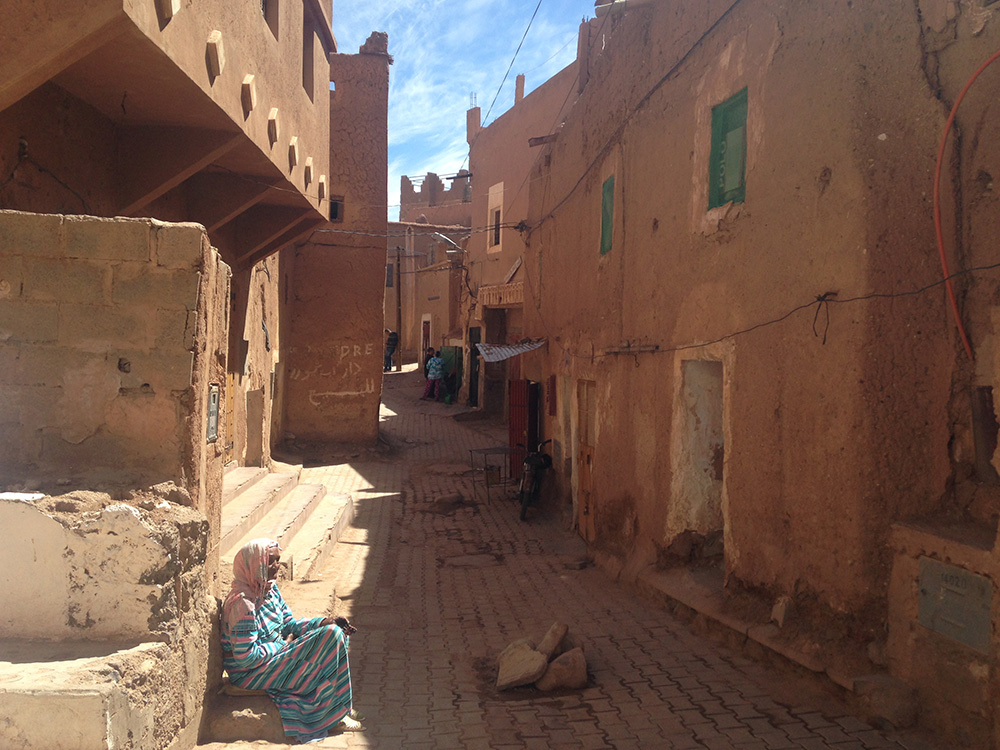 Ait-Ben-Haddou is a UNESCO World Heritage Site since 1987 – a fortified village situated by the river with 10 families being its current inhabitants. The village was used as a film set several times, making it famous all over the world: "Lawrence of Arabia", "The Gladiator" and "Jesus of Nazareth" were all filmed there.
Last stop before Marrakesh – the Atlas Film Studios. Much like the Warner Bros Studios in the US or the Cinecitta in Italy, the Atlas Film Studios were used as the film set of worldwide blockbusters like "Asterix & Obelix", "Prince of Persia", "Babel" and "Game of Thrones" most recently.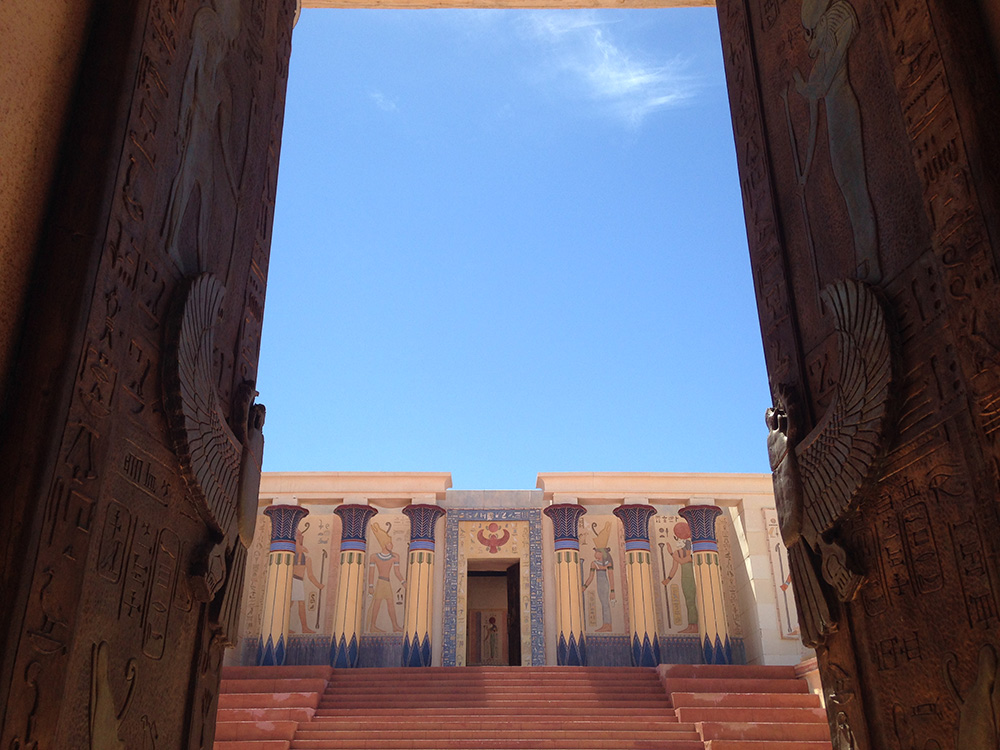 Back to Marrakesh after a week and all we needed was a good meal and a moment to relax. A great trip came to an end and I couldn't feel more happier, relaxed and filled with incredible memories, images, feelings and a great breakthrough moment:
Some trips are best enjoyed with the company of good friends.
https://www.instagram.com/p/BDVBAMUE1Eg/?utm_source=ig_embed
USEFUL INFO
The total cost of the trip was approximately 1200 euros for 11 days including our flights, accommodation, transports in Morocco and a 2-day stay in Milan, Italy.
If you're still hesitant, check out the following video from my trip and the hashtag #TstoriesMorocco on Instagram.
This wasn't a sponsored trip but if you're in Morocco and you're interested in a day trip or a roadtrip, then I highly recommend Hassan from www.morocco-excursion.com – he is an incredible guide, a local with a passion for his country, ready to lead you to the most amazing adventures you've ever imagined!
Comments
comments