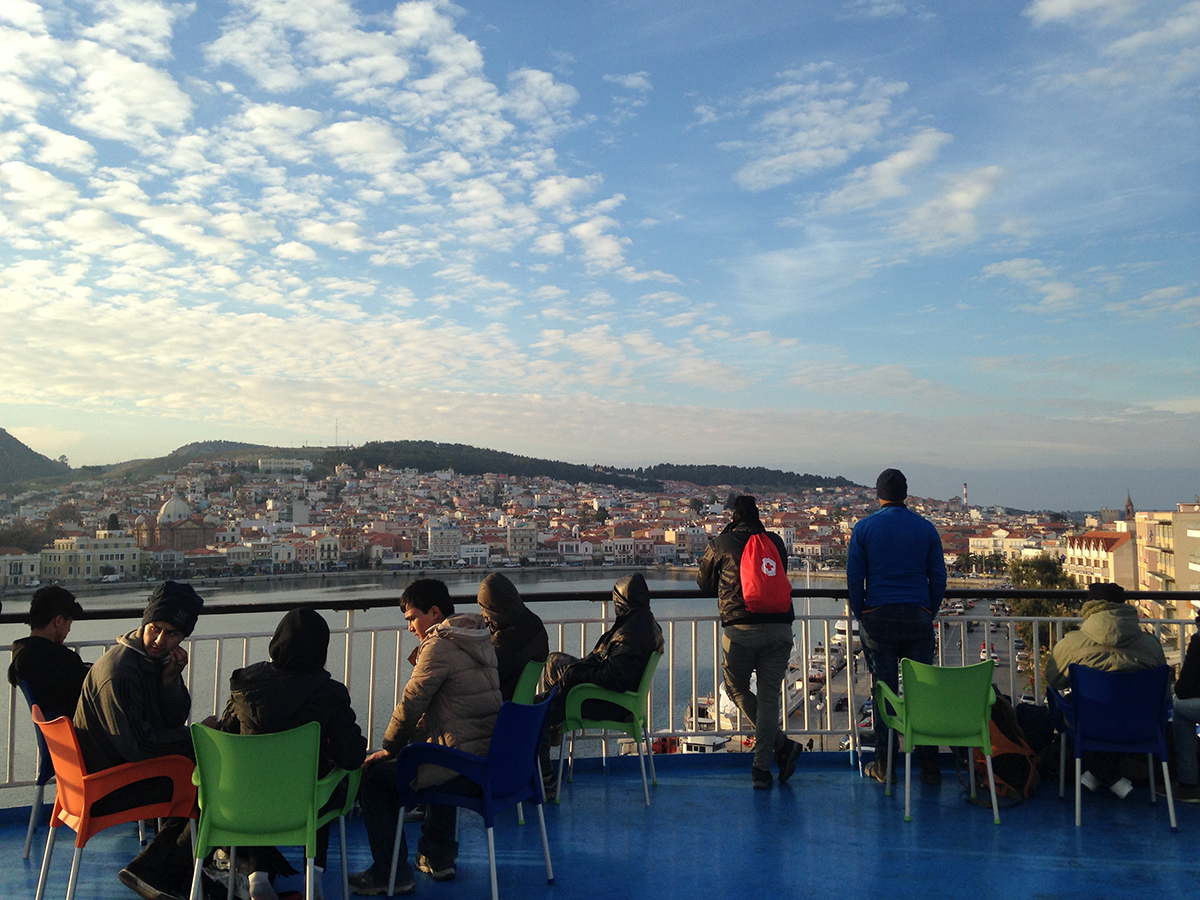 Part I here
It was my 4th day (Sunday) in Molyvos and the volunteers' team chat was literally on fire. Though there were no incoming boats, what everyone's been talking about was last night's arrival of several boats at Mytilini's harbor and around the airport area. What had happened? Why did they boats head towards these areas? What was their starting point in Turkey?
In the morning, A. and I waited for the car to take us to the OXY camp where we would have our first shift. The car that picked us up was exclusively used by the volunteers to carry supplies or other volunteers to their assigned shifts.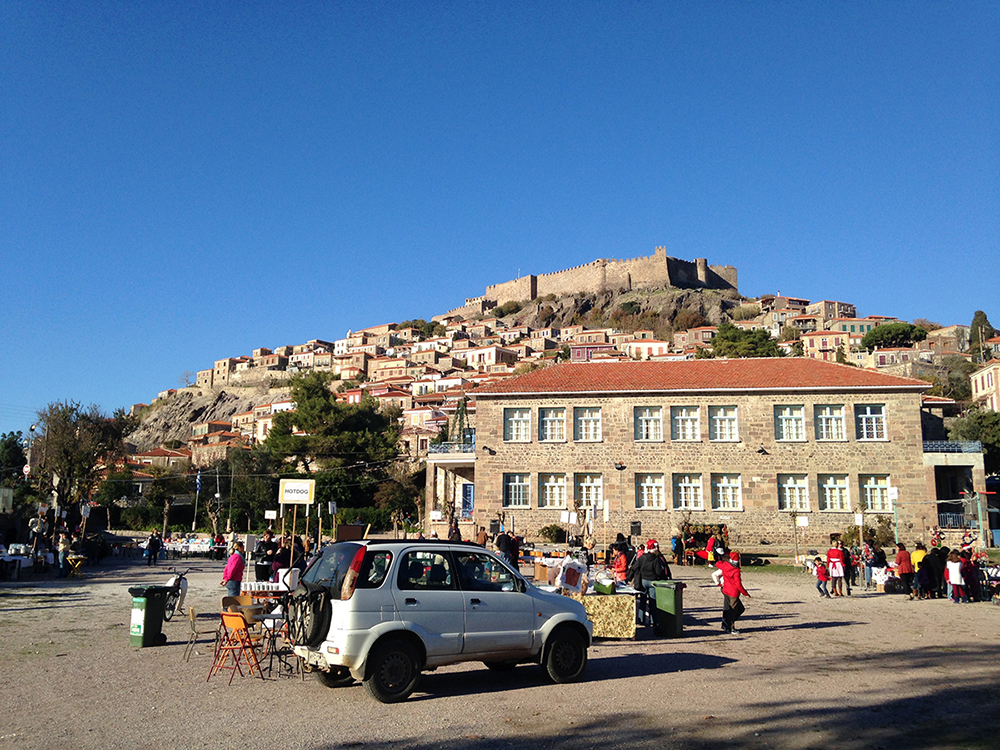 At this point, I should mention the shift locations assigned to volunteers by the Starfish Foundation in Molyvos:
a)Molyvos' port
b)The OXY transit camp
c)The Anastasia, used for storage and food preparation
d)Eftalou beach
e)The mip, the volunteers and supplies car
After a 10-minute ride, we arrived at OXY. It is the very ride the refugees who arrive at Molyvos port have to make in order to reach the transit camp. It was a great, sunny day. OXY is actually a club in Molyvos – its car park was kindly allocated by its owner so that the Foundation could built a transit camp. Be it not a legal camp, it hosts refugees for a few hours until they're relocated to a camp at a nearby village called Moria.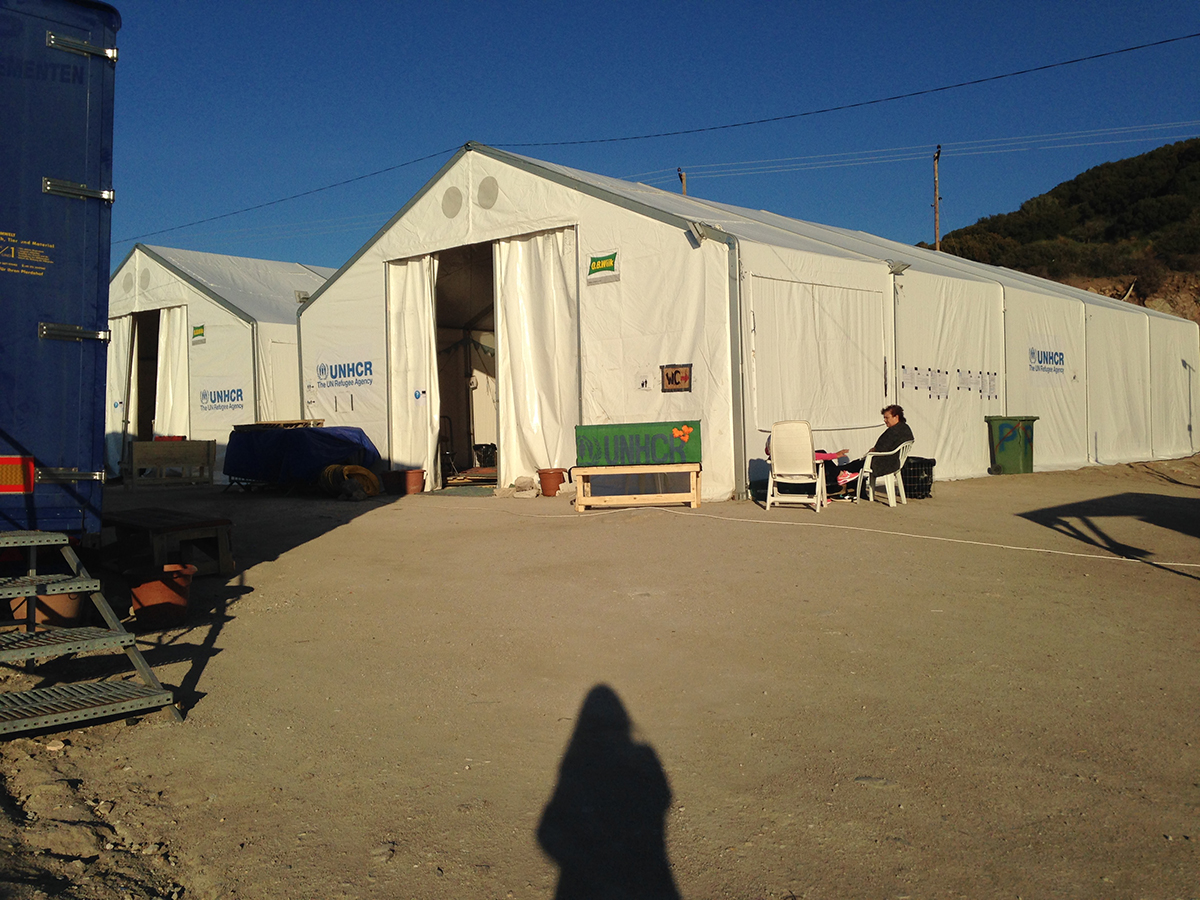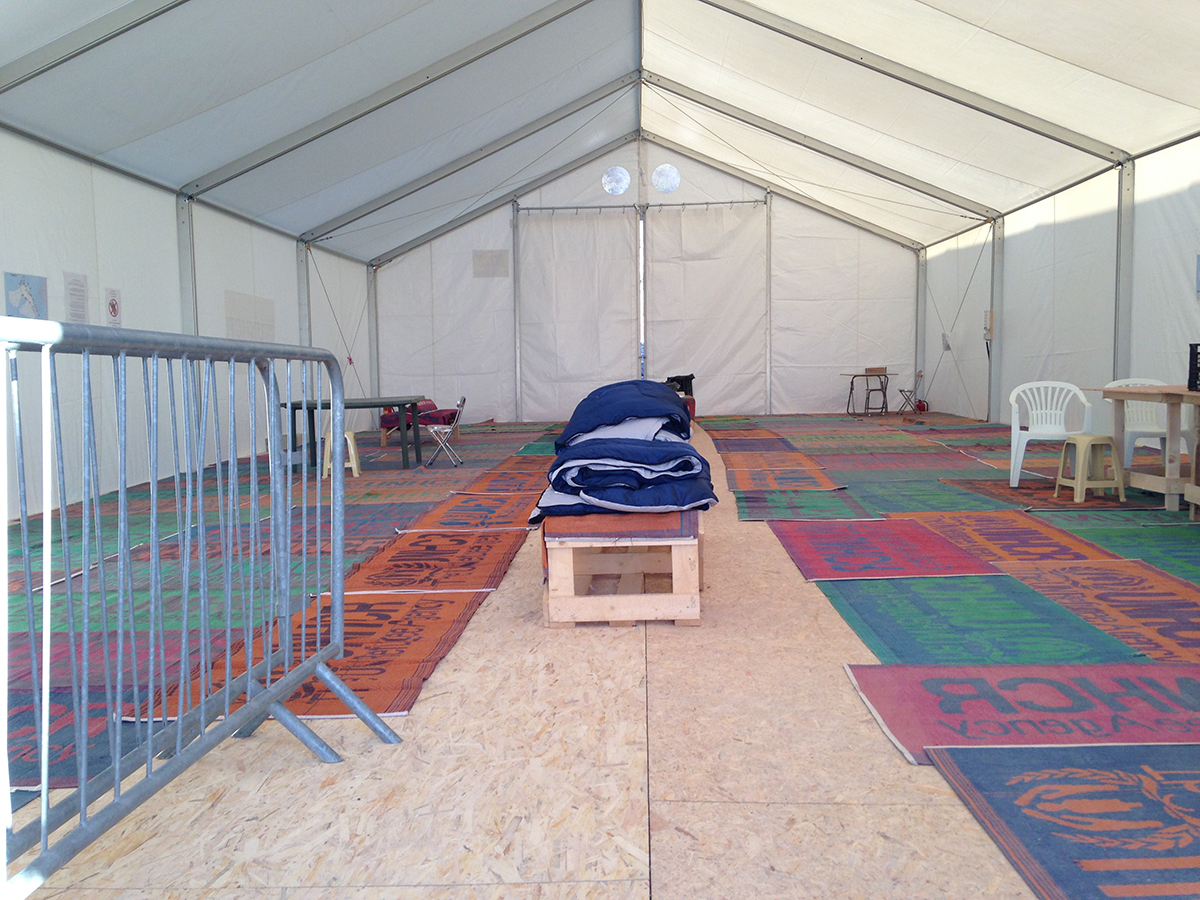 I had a glimpse of the camp thanks to a Swiss volunteer who has been visiting our country for the last 40 years. The camp was separated in four large tents; One for the kitchen, two for clothing supplies and one providing information and bus tickets to the refugees. There were also two huge tents provided for the refugees to sleep for a few hours, charge their phones, change clothes or have the kids play in a makeshift playground. The toilets were a few steps away, regularly cleaned by two kind ladies while a huge container was housing the main kitchen facility and the cook.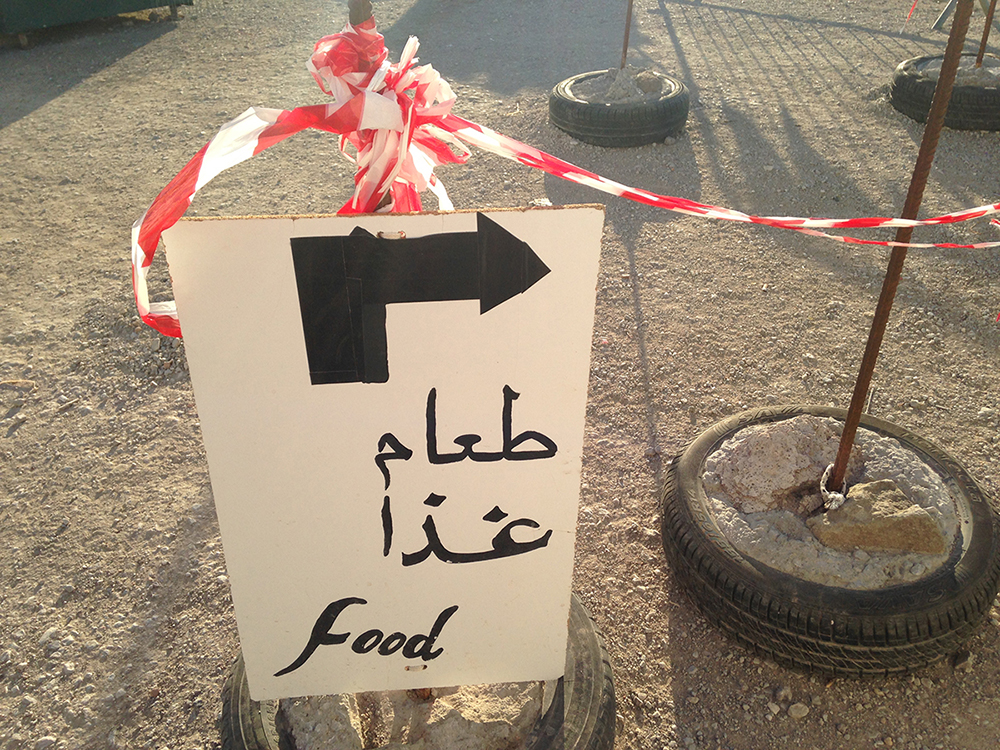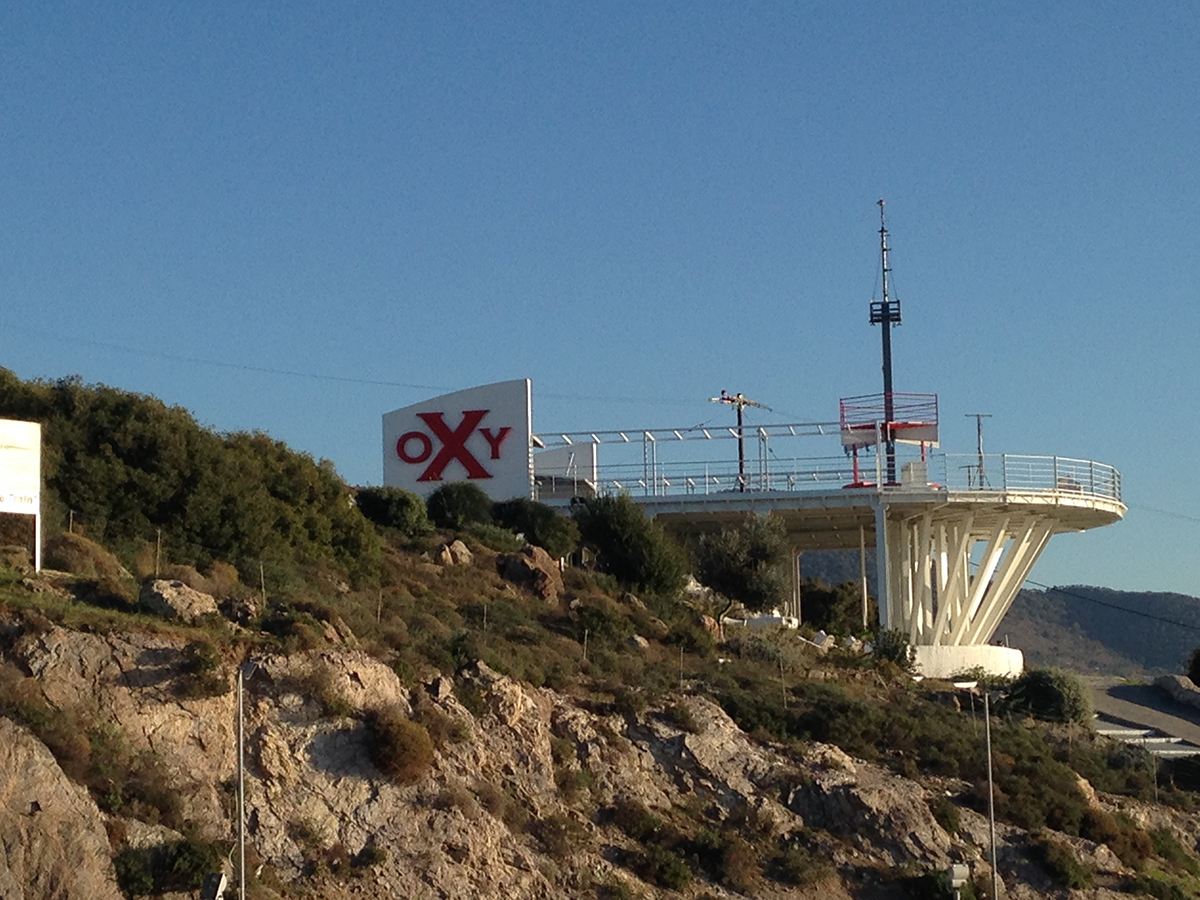 My shift was at the kitchen and A.'s at the clothing supplies but due to the fact that there were no boats arriving, we both helped in building makeshift benches, chairs and tables. The last days' tranquility offered the volunteers more time to better organise the camp as better as they could. Omar from Spain put on some music and a sweet, melancholic melody filled up the air through the camp's speakers.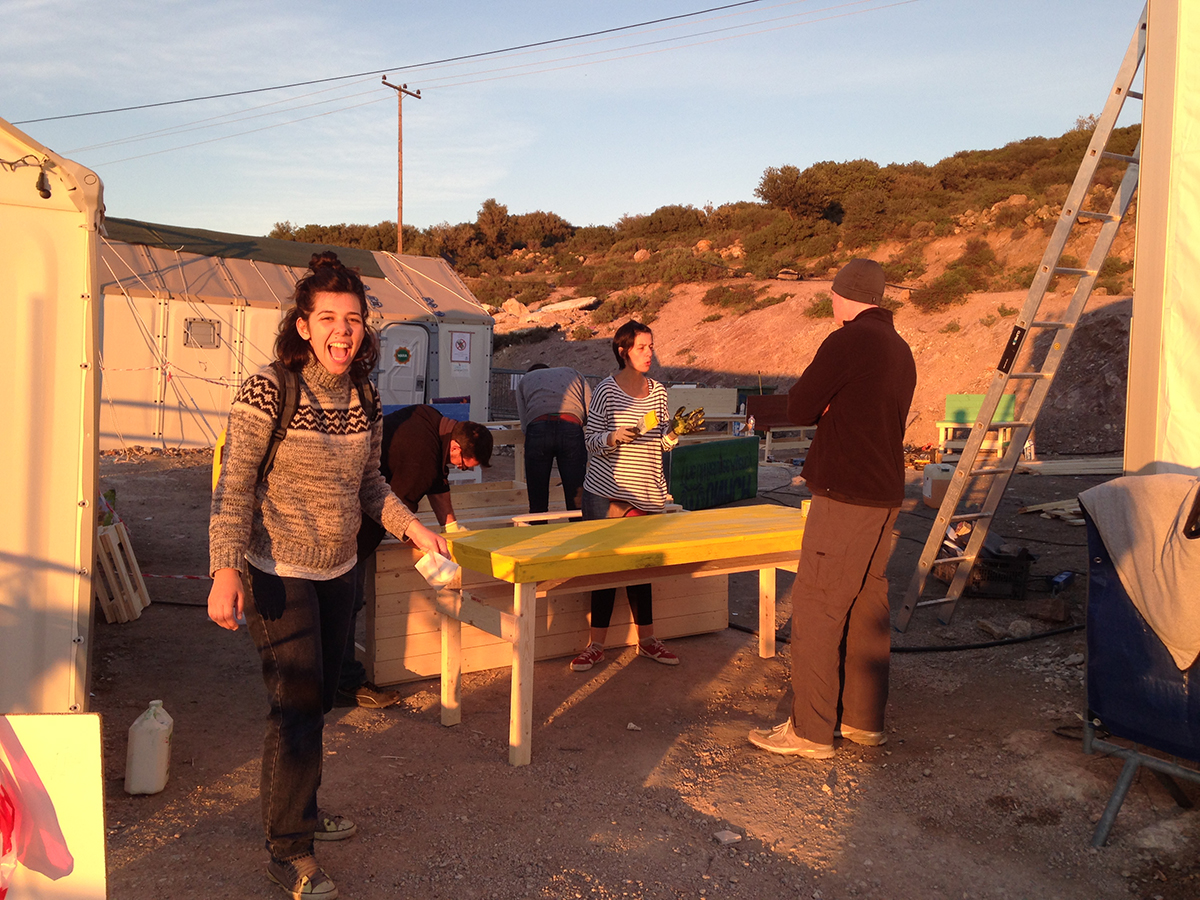 The day was over yet and we left long before our shift ended, walking the 20-minute distance to Molyvos with A., taking pictures of the mesmerizing sunset and chatting.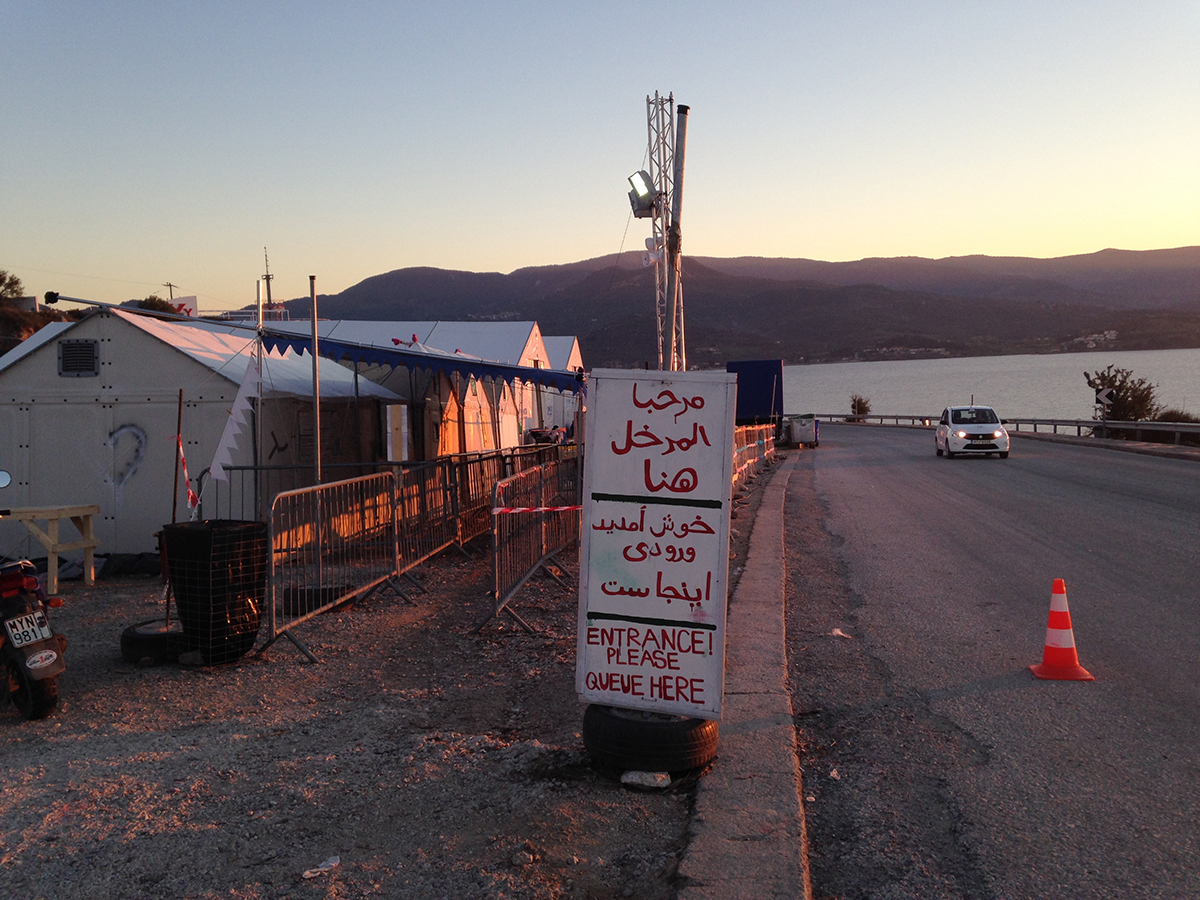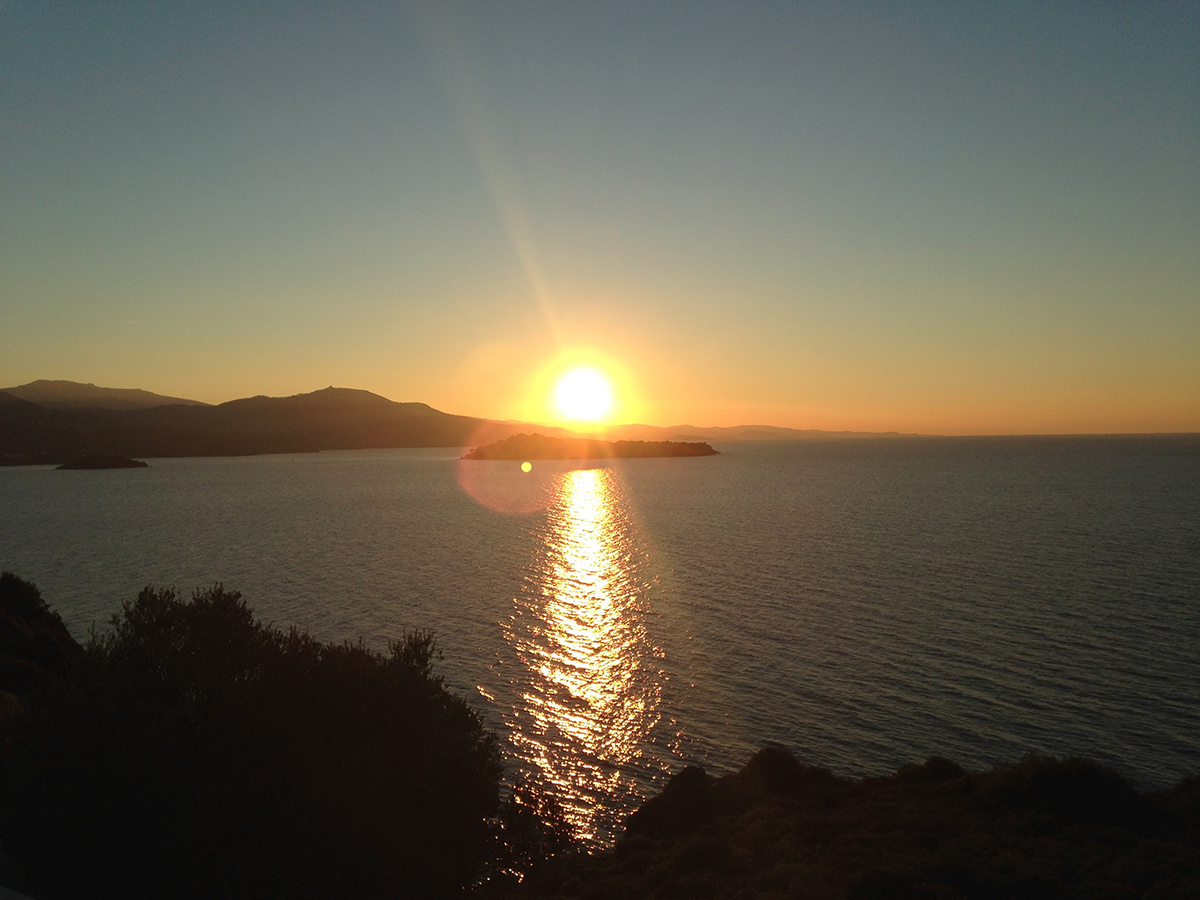 The 5th day (Monday) in Molyvos found us rushing to leave our room in the morning, as the night before a boat had arrived at Eftalou and the 100 refugees who where aboard spent the night at OXY, waiting for the buses to take them to the other camp at Moria. Moments before I reachedthe camp I was quite nervous. I was petrified in the possibility I would not be able to help or that I would do something wrong – or even cry (I'm rather sensitive even though I won't show).
We arrived at the camp at 7 sharp. My shift was right at the camp's entrance in order to guide the refugees where they would provide them with bus tickets and informations concerning the rest of their trip. Part two of my job there was to enter the informations tent with another volunteer in order to welcome the refugees, ask them where they were from, offer them information on where they were and what they could do at the camp and finally, hand them the bus tickets to Moria where they would be provided with the paperwork to continue their trip.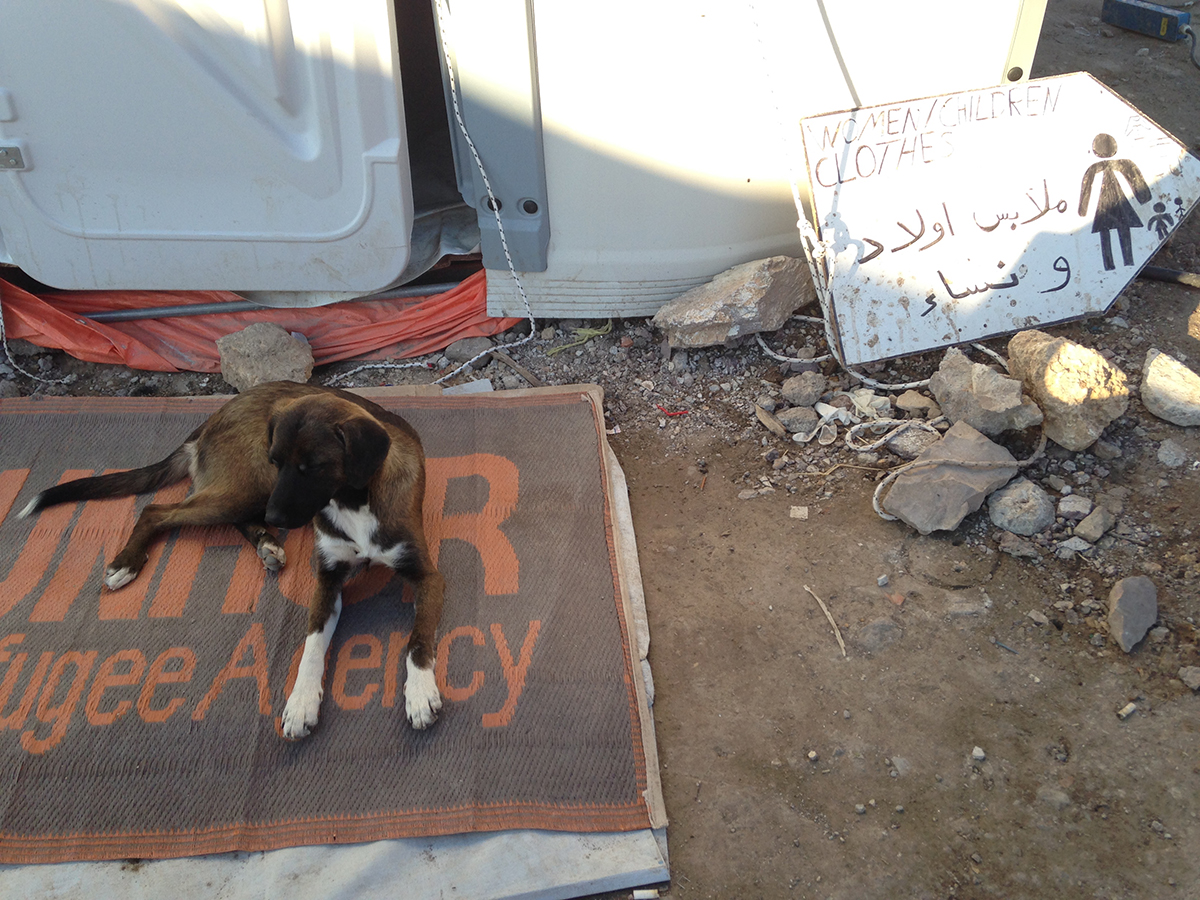 There were no signs for further boats arriving just yet, so I left my assigned point to help other volunteers – the refugees were slowly beginning to wake up at that time. A. was providing clothes to everyone needed a clean change of clothes, shoes or underwear. Sounds quite simple but it was really not – it was actually one of the most difficult jobs at the camp.
The first to wake up were children – 3 to 10 year old kids rushed out of the tents, looking around carefully, examining the place. For over an hour we were playing football with them, their screams and laughs filled my heart with joy and positive vibes. Their 20-day trip to reach Turkey was over but these little fellas still had a long trip ahead them for their adventure to be over. I couldn't help but feel worried and furious; Why? What was their fault?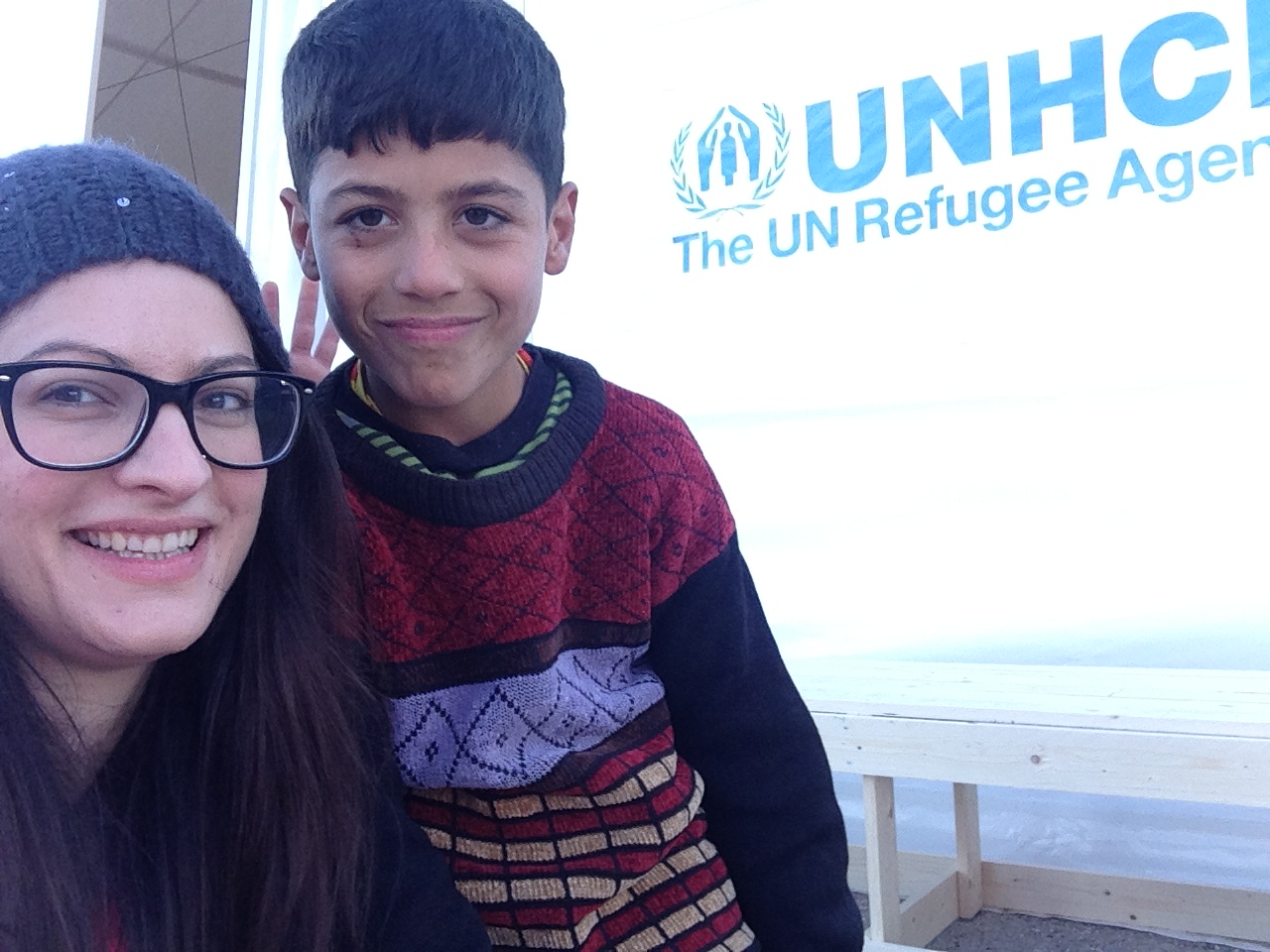 I was lost in my thoughts when a ball hit me right in my head – a callback to earth. There he was, a small boy staring me in the eye. "Hani" he introduced, asking me if I wanted to play voleyball with him. We didn't speak the same language but we found a way to communicate. He was really good at it while I kept messing everything up, making him burst into laughs.
From that time on, Hani didn't left my side at all. He helped me offer to the kids of the camp backpacks full of toys and sesame bars while he offered a hand to pick a few garbage here and there at the camp. I showed him where he could get some soup and he even offered me his bread. He was my shadow, my mini precious assistant – without me even asking him to.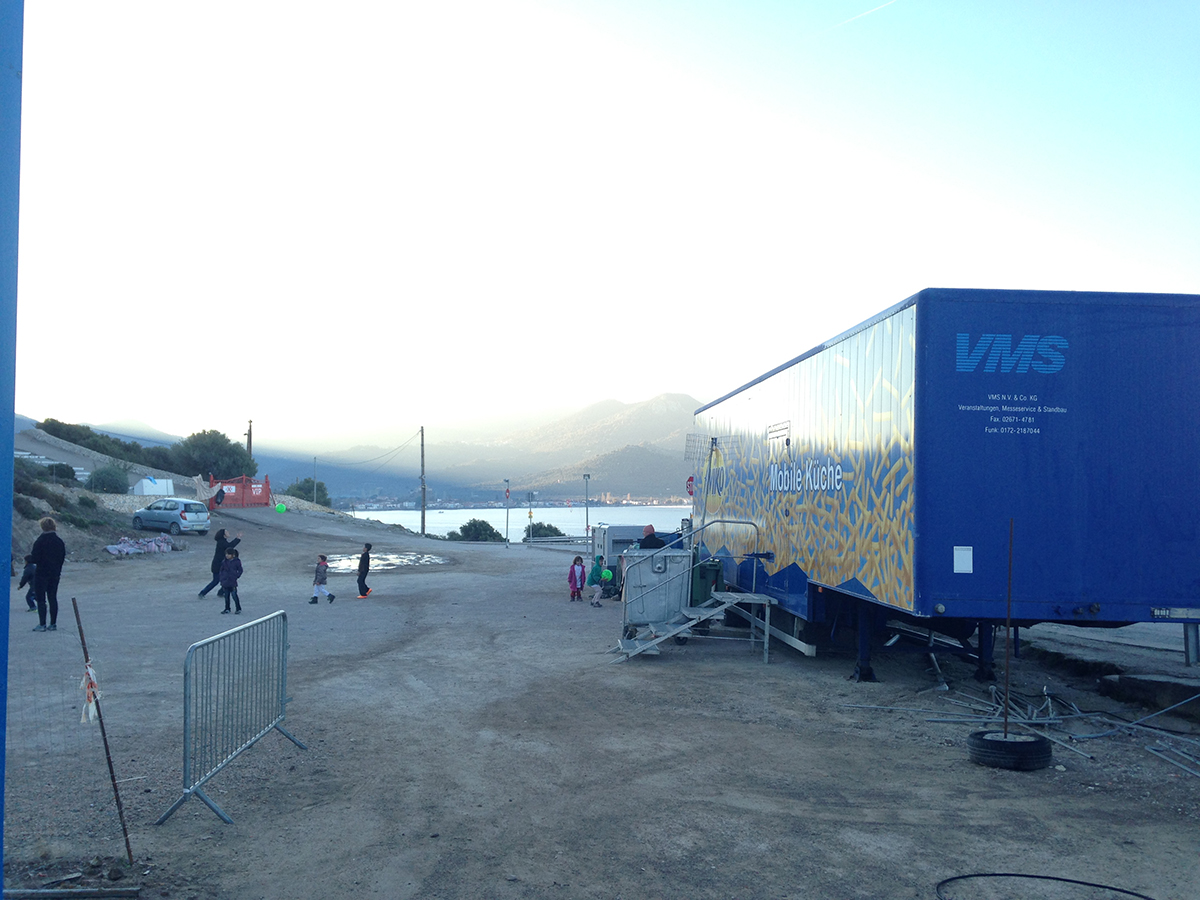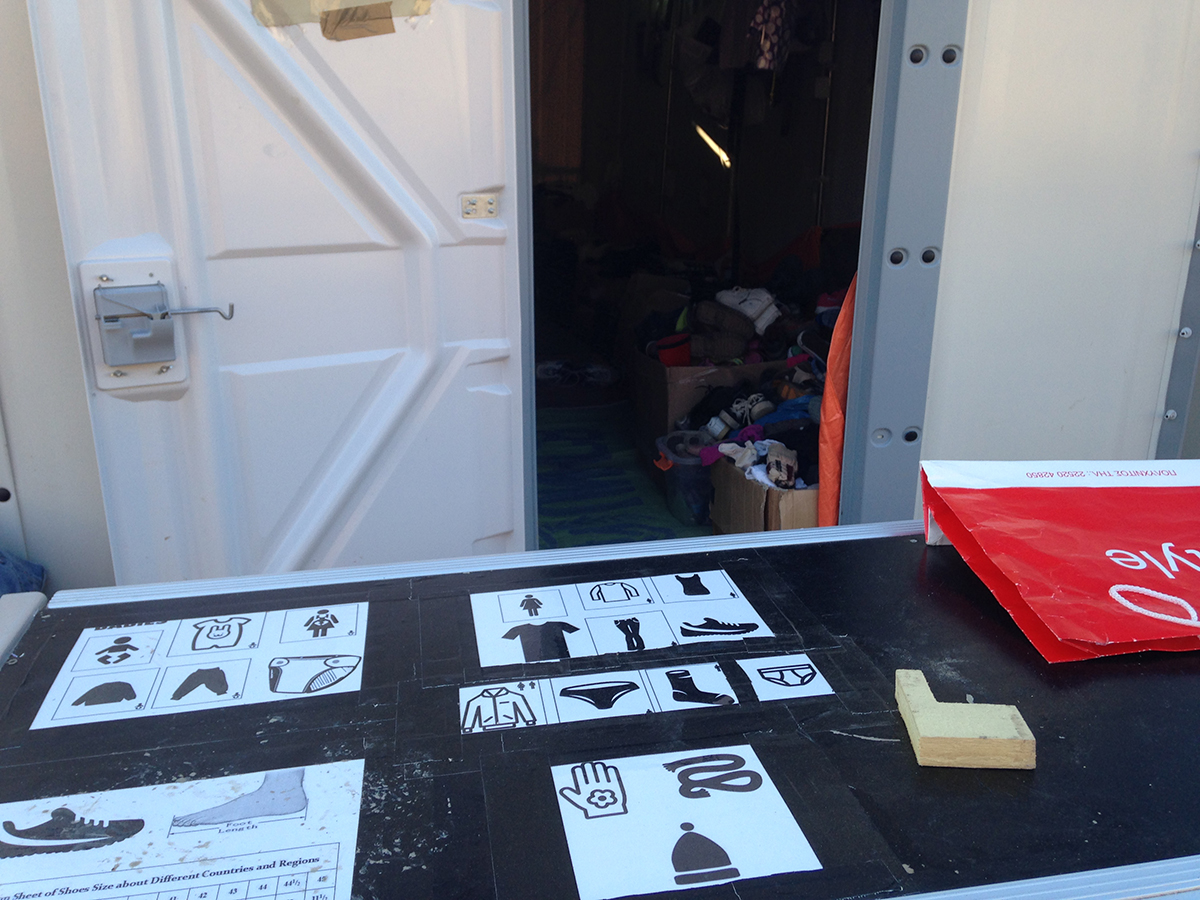 Shortly after, we received a message that two boats with 200 refugees were coming our way from Eftalou and Molyvos. I took position at the entrance of the camp to have an eye at the buses which were transfering them to Moria. Along came little Hani who thanked me while there. I nodded that I didn't get to do anything to be thanked for but he showed me that in Turkey they were hitting them while here, everyone was friendly.
I tried so hard not to cry and I hugged him. He was happy, showing me his new watch – he even carried his bag to offer me his pencils. Instead, I suggested he could draw me something with them. Right before the buses came and before advising him to join his family, he told me had 7 siblings and that they were from Iraq, heading to Germany. He offered to teach me a few words in his language, by showing me a few objects around and pronouncing their name. All I can remember is something like, "whara" that means "come".
I kissed him on the cheek and told him he should join his mother. He grabbed my hand, squeezed it like a grown-up and thanked me. A 7-year-old boy thanked me. Once more, I tried hard not to cry. The buses had arrived.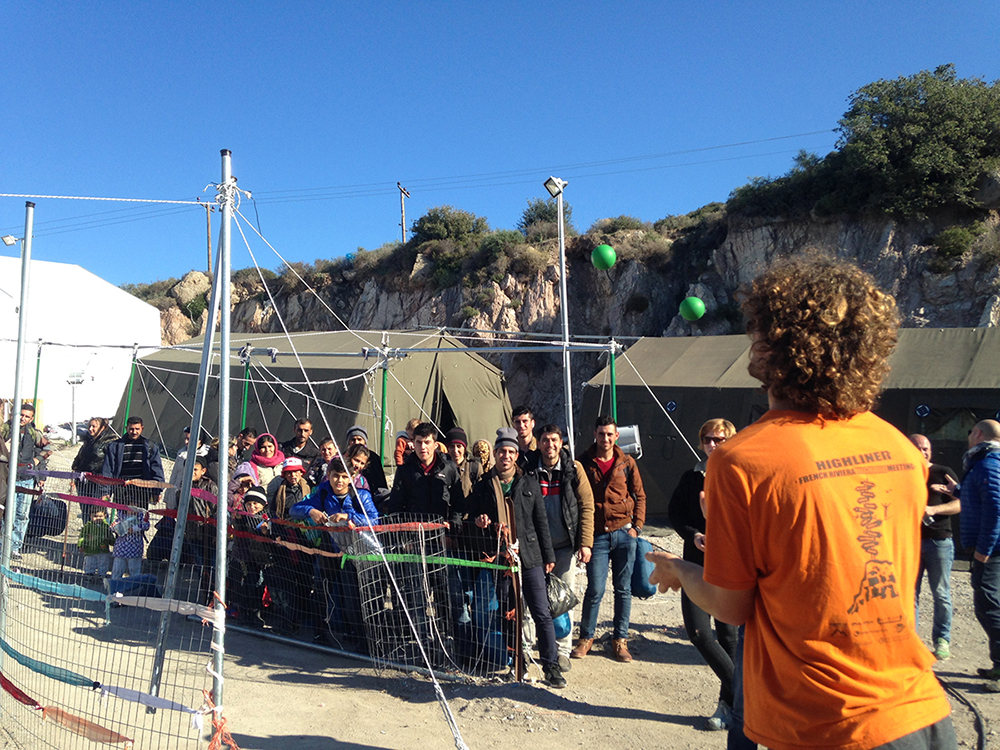 Approximately 200 people arrived and without knowing if anyone was speaking English, I started welcoming them and guiding them to the tent where they would be provided with a bus ticket to Moria. At these few seconds, I looked in their eyes recognizing their exhaustion, fear, their despair and a few smiles here and there. However, two questions came that literally shook me up; "Are we in Greece? How far away Athens is?" and "Another bus? Are we not there yet?".
After that, I entered the informations tent alongside with an English volunteer to help her with the tickets. The refugees one by one stood in front of us and we asked them where they came from, if they traveled alone while we offered information on how they would continue their journey. All Syrian refugees were granted with a separate ticket than those from Iraq and Afghanistan – they were taken to different camps and destinations. Using a few English words they wanted to inform them how they would continue their trip while we added that in the camp they would find food, water and medical help.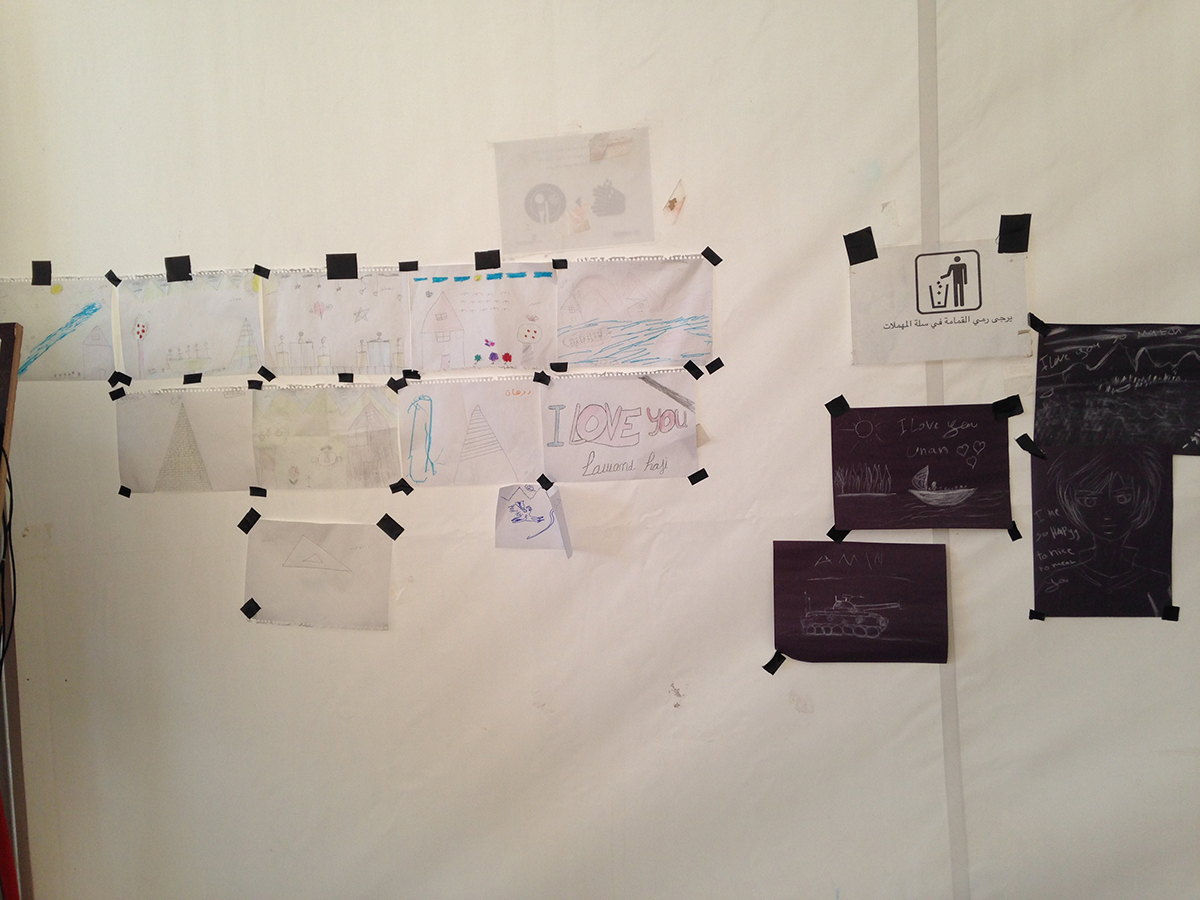 A girl from Somalia was next in line. That was the most difficult part of our assignment as we had to explain to all the non-Syrian refugees that the borders were closed for them. Her eyes went completely blank when she heard that and I was shocked with the calmness of the volunteer next to me. Up next were three 25-year-old men also from Somalia. It was my turn to deliver the bad news. They asked me what I suggested and I completely froze. I told them not to trust anyone in Athens that would offer in exchange for money to transfer them to Idomeni – at the borders. They had to stay in Athens, I explained and stay informed via the web. After that, I left the tent and cried my heart out alone. I couldn't handle it.
Time flied while at the camp. We were busy talking to everyone, playing with the kids, cleaning, helping make their stay a bit more pleasant while waiting for the buses to arrive. That was when I noticed that most of the people were young men and women aged between 20 and 30 years old – mostly students looking to go to Germany or Sweden to continue their studies.  A lot of famlies with babies and small kids too.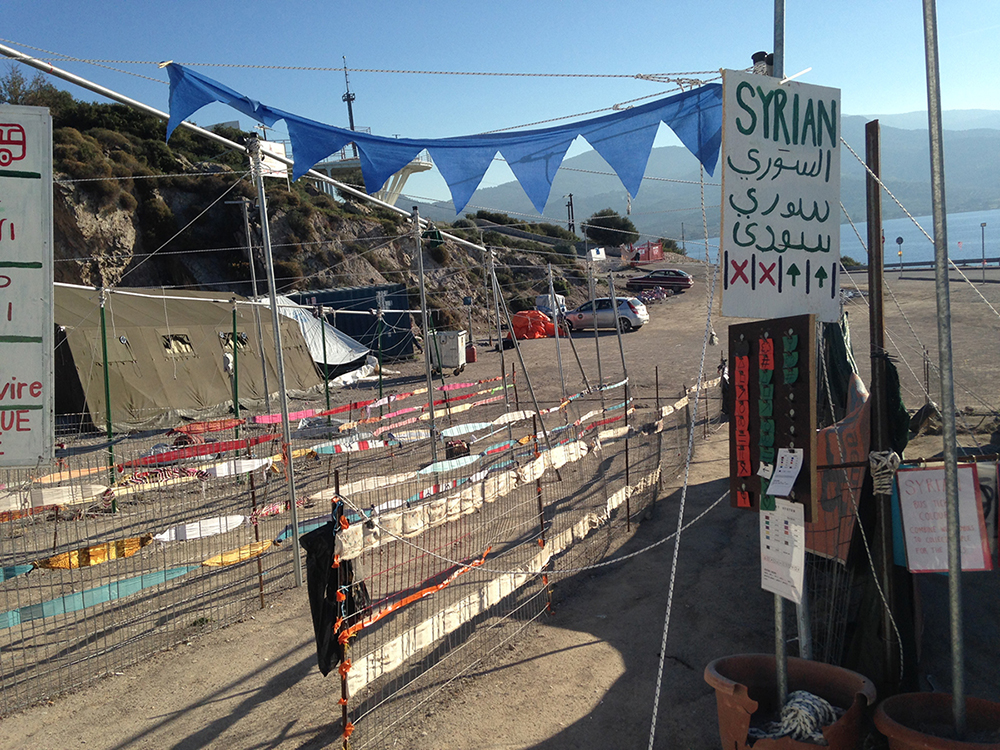 A boy around 20 years old asked for my name and whether I was a Muslim or not. "He wants to marry you" his friend told me and we laughed together. A girl from Syria was traveling alone to find her sister in Germany – she had to pay a thousand euros to get aboard the rubber boat. The buses arrived and everyone took their seats. Little Hani showed up and hugged me once again. Everyone was waving goodbye and thank you. It was them wishing us good luck instead of us.
My shift was over at 15:30. A. and I returned to our room. On the road back neither of us was talking much. I was skeptical, feeling weird and sad. I don't know about A.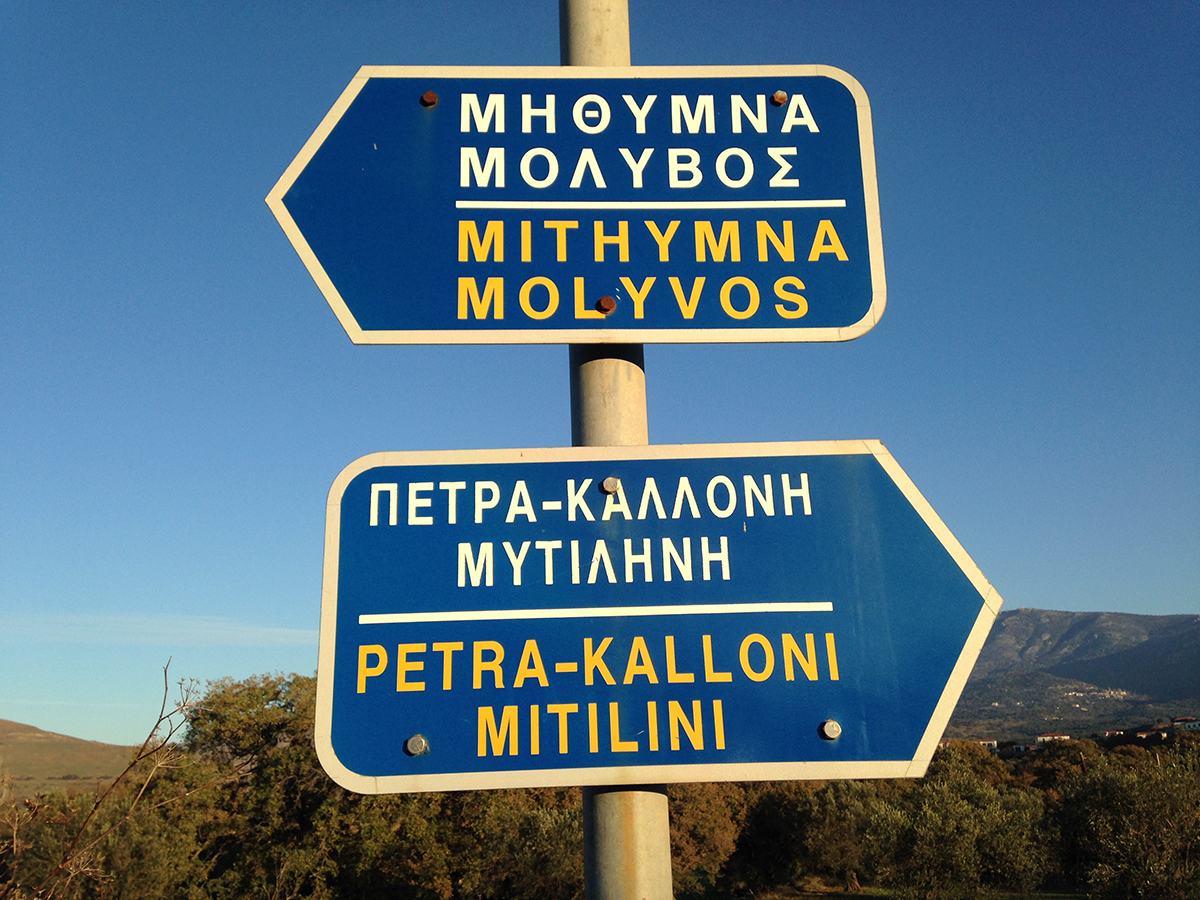 On the sixth day, I was strolling around Molyvos waiting for the bus that would take F. and I back to the port of Mytiline. A. left a few hours before and there I was with an incredible lady, Maritsa, talking and drinking coffee. She owned a mini market for the last 40 years.
She made me promise that I would return soon. Easy. I had already promised the same to myself – the day before when leaving the camp at OXY. That is the hard part when leaving; Knowing that you could have offered so much more if given more time. Knowing that people are going to keep coming, needing your help – needing everyone's help. That there are people who stay at the camp for months. And finally, the hardest part is knowing that nothing is going to be the same again.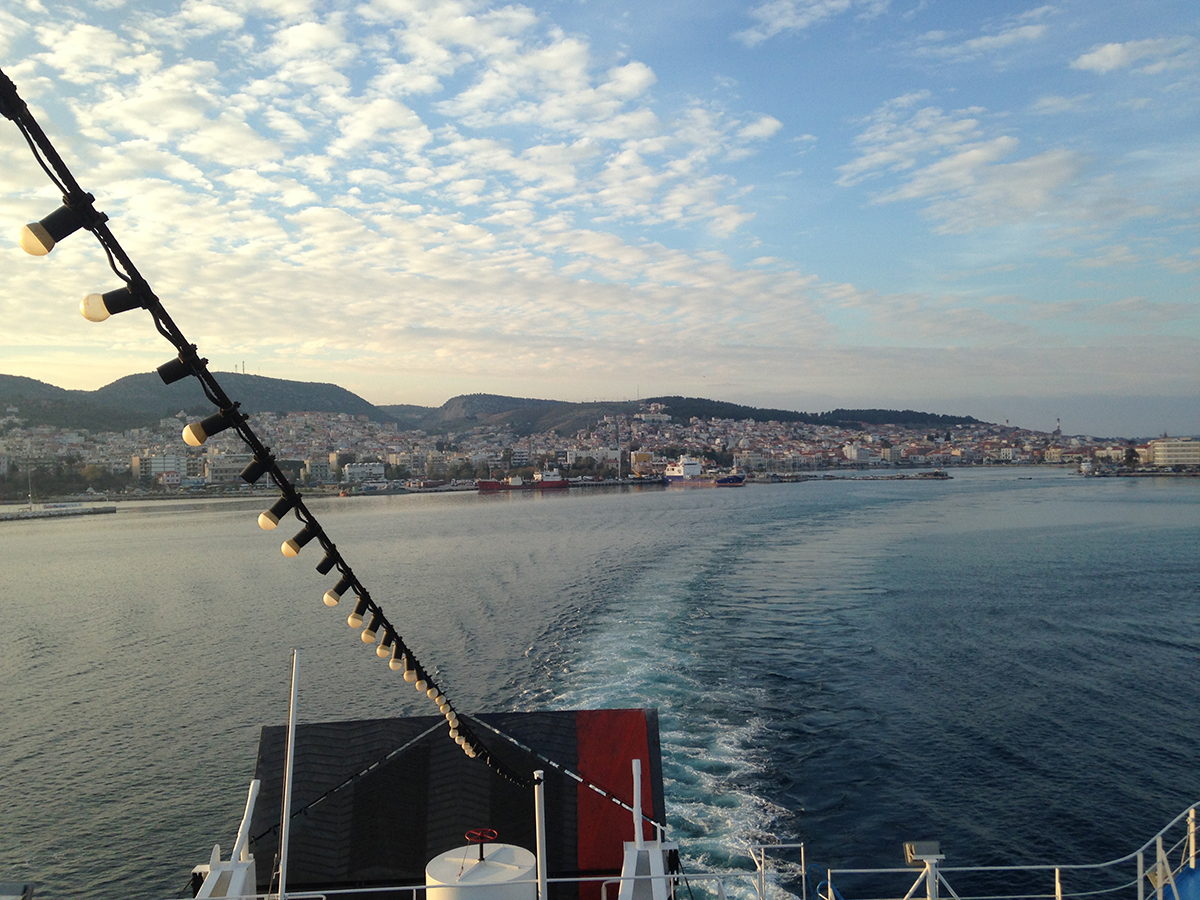 For everyone asking for more info on how to help and volunteer, I will prepare a separate post explaining everything.
http://www.youtube.com/watch?v=sWUx-5sLNXU
Translation from Greek to English: Elena Ageorgiti
Comments
comments