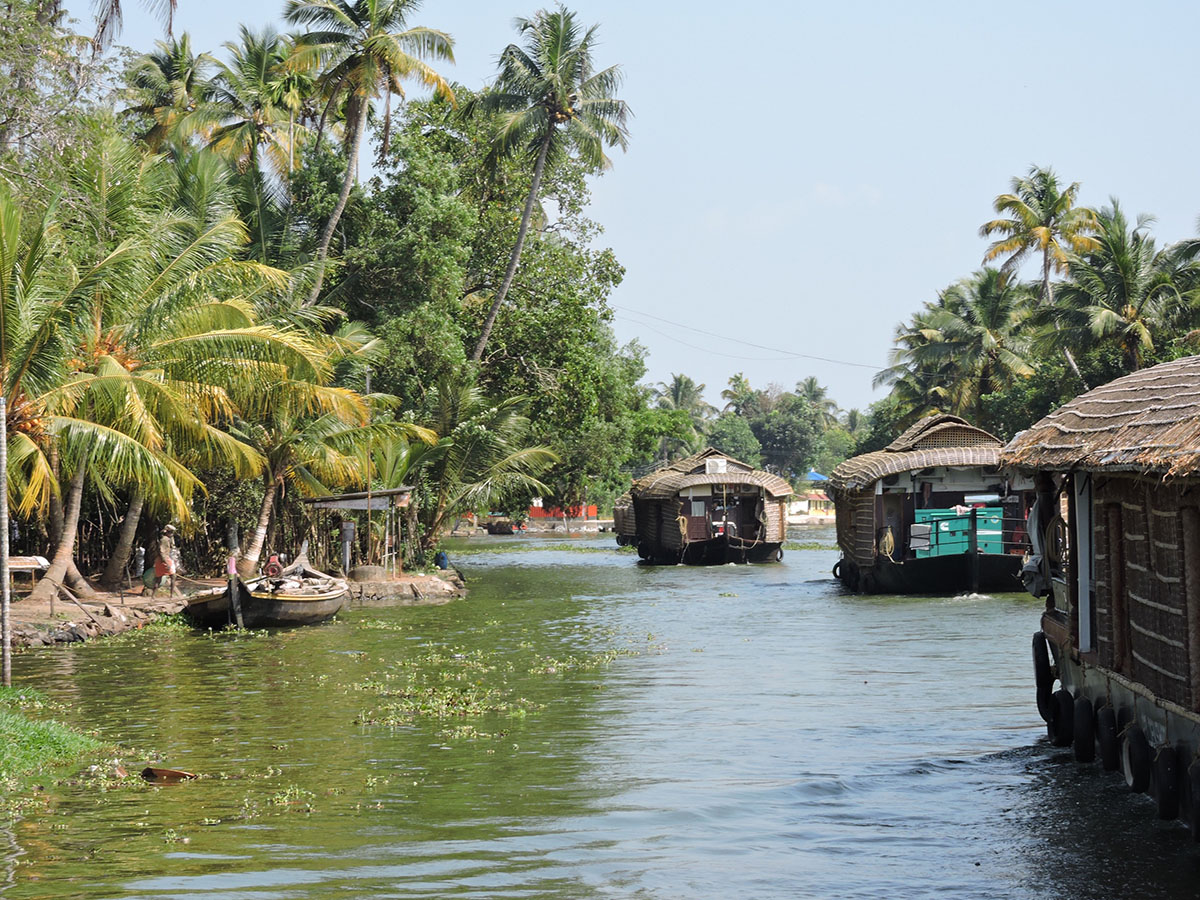 It's about time I share with you the most beautiful part of Kerala!
Disclaimer; everything you're about to read along with every photo you're about to see, is nothing compared to what you would experience and see if you were to visit this place.
Follow my adventures for now, to get a taste from this green paradise on earth till you get to plan your own trip to India – really soon hopefully.
Our day started rather early on that Wednesday morning – around 6 o'clock. I wouldn't have done otherwise, since our hotel (The Quilon Beach Hotel) offered such a magical view calling for an early start – just to watch the sunrise on the beach.
So, there I was at sunrise in Kollam beach walking by a few local fishermen who had just returned ashore. At this extremely early and different stroll at the beach, I had a Spanish-speaking friend with whom I had a 20-minutes long chat – in these few minutes we analyzed our whole lives!
We watched in awe the sun rising and returned to the hotel in order to pack for our upcoming visit to the Kerala backwaters. Before we left, we took a short cruise along the coastline in Kollam and watched the colorful landscape – smelling the sea and feeling the sun on our cheeks.
And at this point, the trip to Paradise is about to begin! Backwaters of Kerala here we come! The plan was to reach Alleppey, switch into little noisy tuk-tuks to get to one of the countless backwater canals.
The Kerala backwaters are 900 km canals running through the entire Kerala state in the shape of aquatic arteries, rivers and lakes flowing down to the Indian Ocean. Imagine palm trees, all kinds of greens, colorful houses and careless locals – and then there's you in the midst of this dreamy landscape bedazzled aboard a houseboat.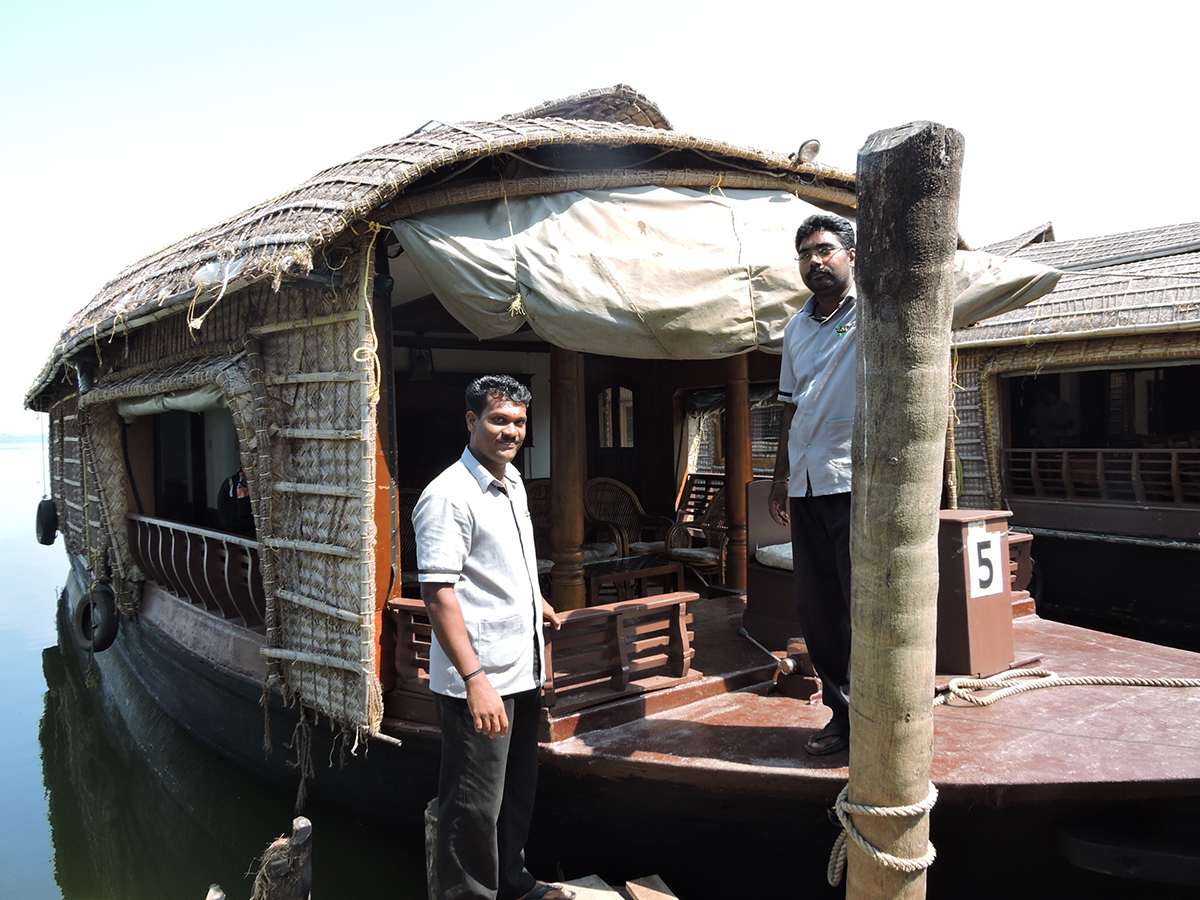 Our Kerala Blog Express managers informed us that in order to experience the backwaters to the fullest, we would cruise around the canals aboard a Rainbow Cruises houseboat for a whole day. So, we split into small teams of 3; me and 2 of my fellow travel bloggers – who became my neighbors for the day – Mica and Marky (that's right, the 3 M's on a boat!) boarded the houseboat. There, the captain and his assistant along with the chef and his sous-chef, welcomed us.
After the boat began its journey, it was time for us to start looking around our rooms. Each room featured a personal bathroom and a double bed.  We quickly left our bags and took our place on the deck – right where we would spent most of our journey.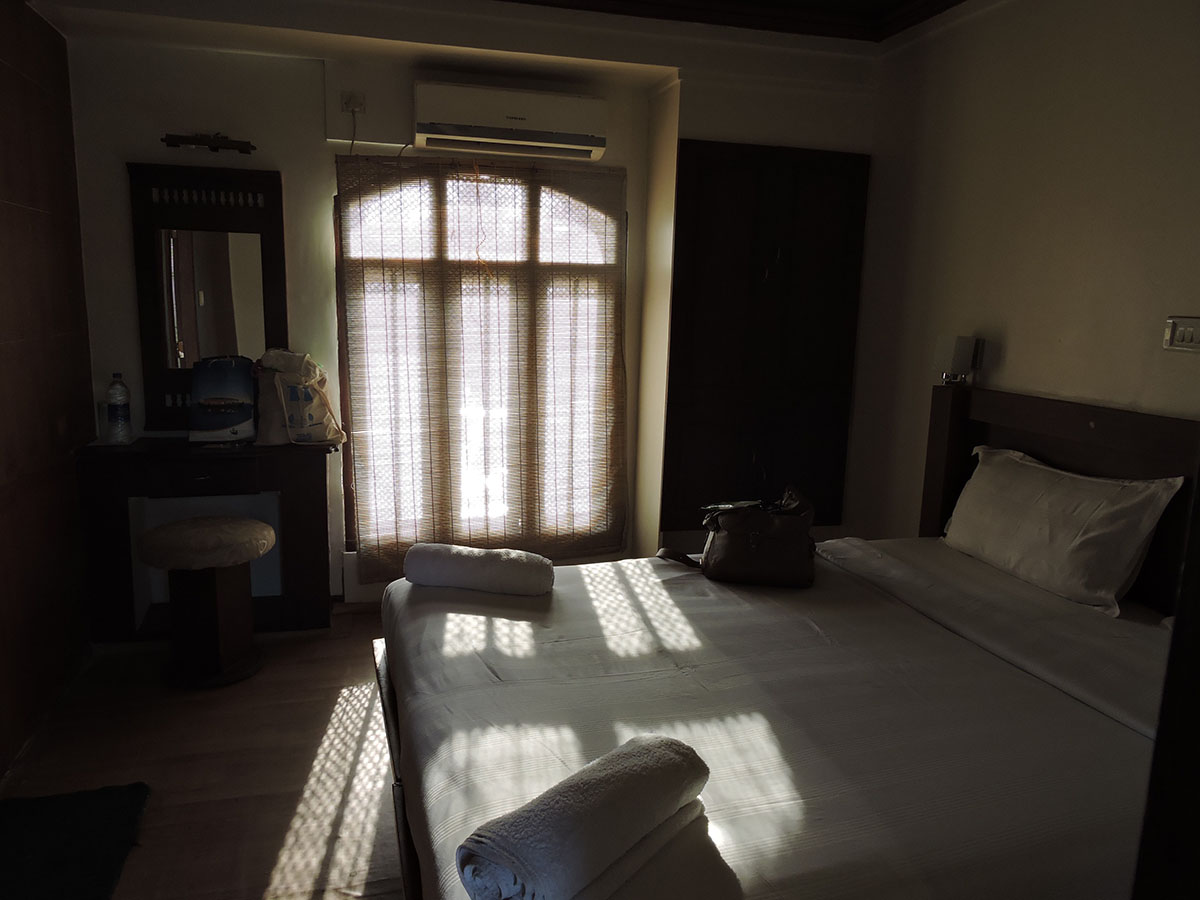 The table had been set and hungry as we were, we tasted our delicious fish and all 4 different kinds of sauce that came as an accompaniment – each spicier than the other! After lunch, we moved to the four comfy wooden chairs awaiting, to enjoy our coffee.
Until dusk, we had pretty much analyzed everything there was to know for the life at the canals with the captain and his crew and had taken almost a hundred photos each.
I kept my eyes open and tried to memorize these mind-blowing images to save them to the back of my mind – such a well-hidden watery world in Northern India, both bizarre and beautiful.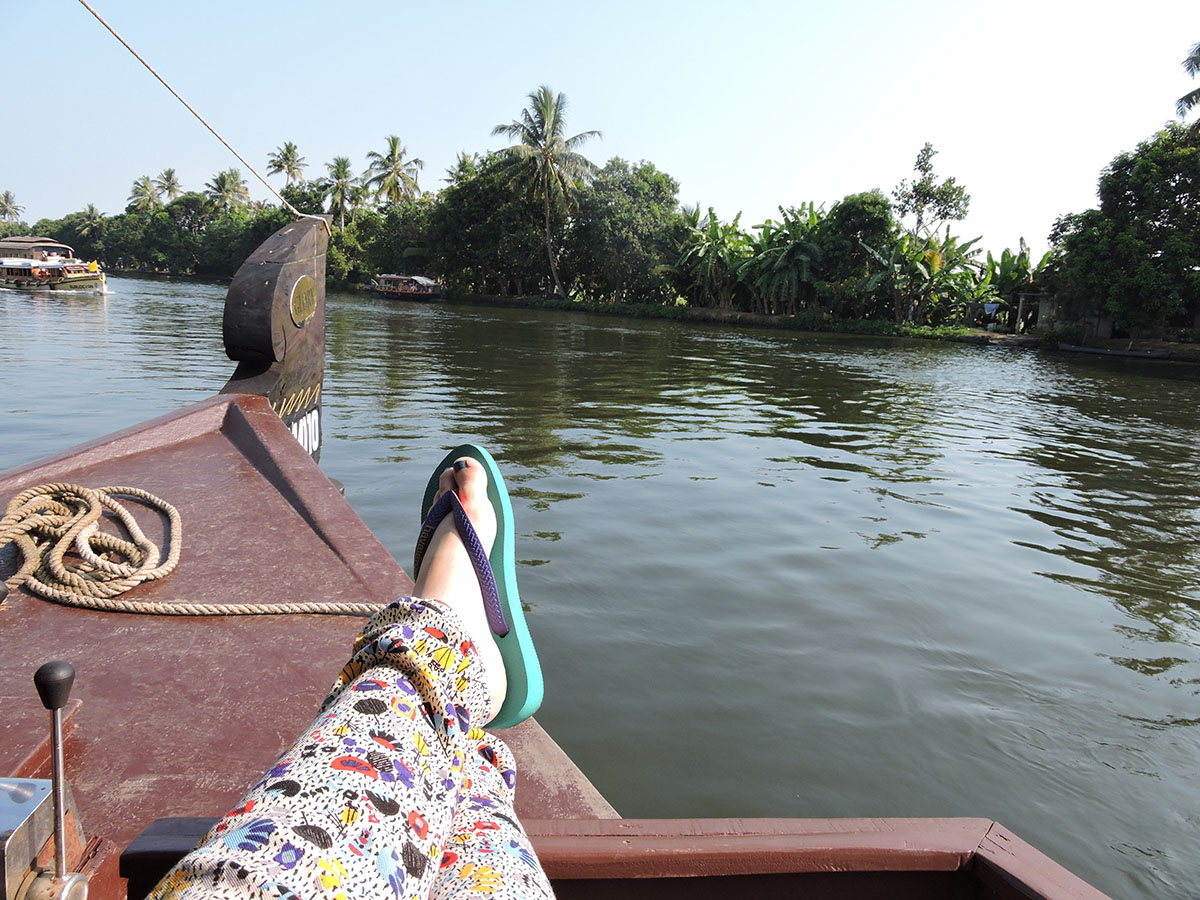 As our floating home lazily moved along the backwaters, waterside life followed its natural course; children with messy hair ran around happily, men farmed while women washed their clothes at the riverside and birds joined us aboard the boat. Through half-open doors we peeped into the houses' interior – nothing more than 4 walls, colorful drapery and vintage pictures hanging on the wall.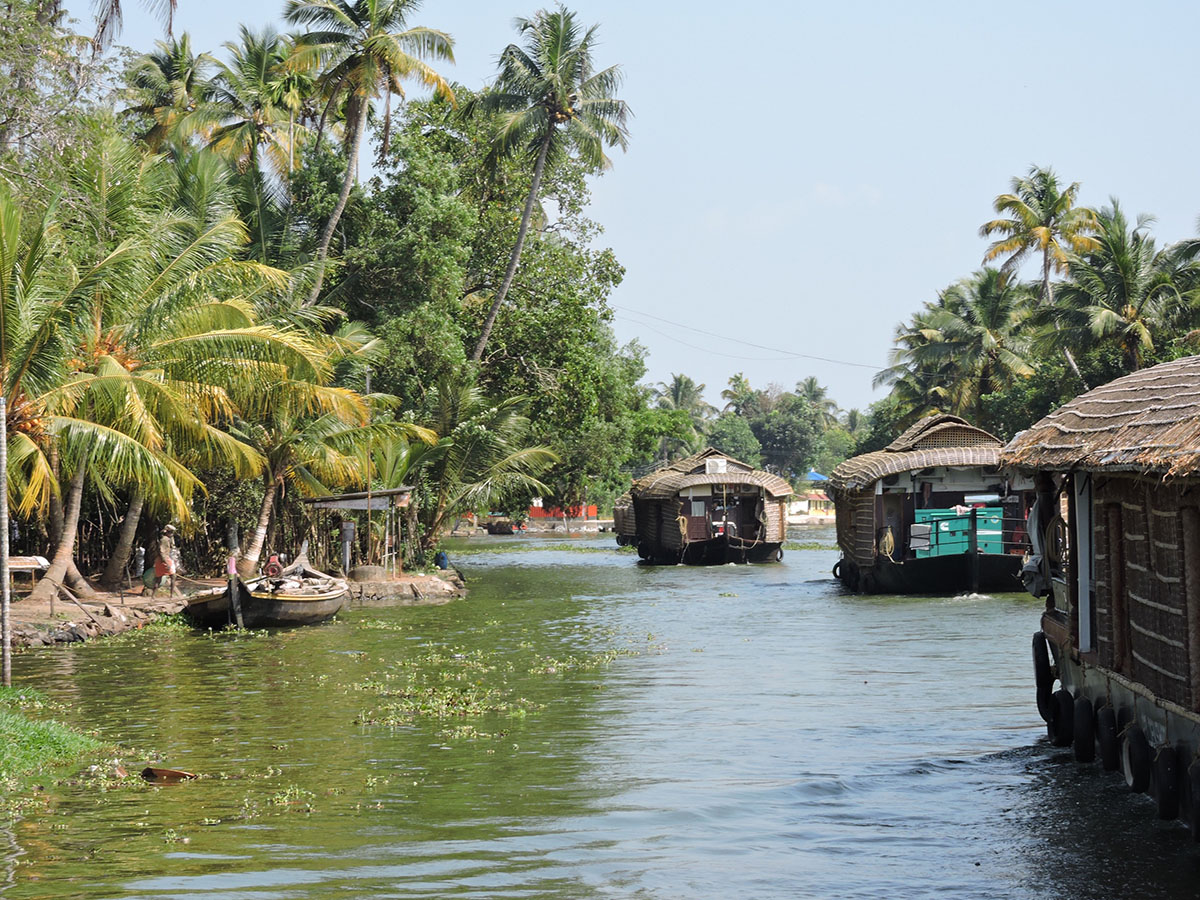 As the boat kept moving, a green world unveiled beyond our eyes. Canoes delivering food and essentials from canal to canal, big weird-looking eyes staring at our happy faces, waving welcome. Rich vegetation, huge palm trees, coconut juice; we were on heaven, there was no doubt.
Just before nightfall, we were certain we had seen everything there was to see. Until sunset that was. It was the beginning of another miraculous part of our trip; nighttime.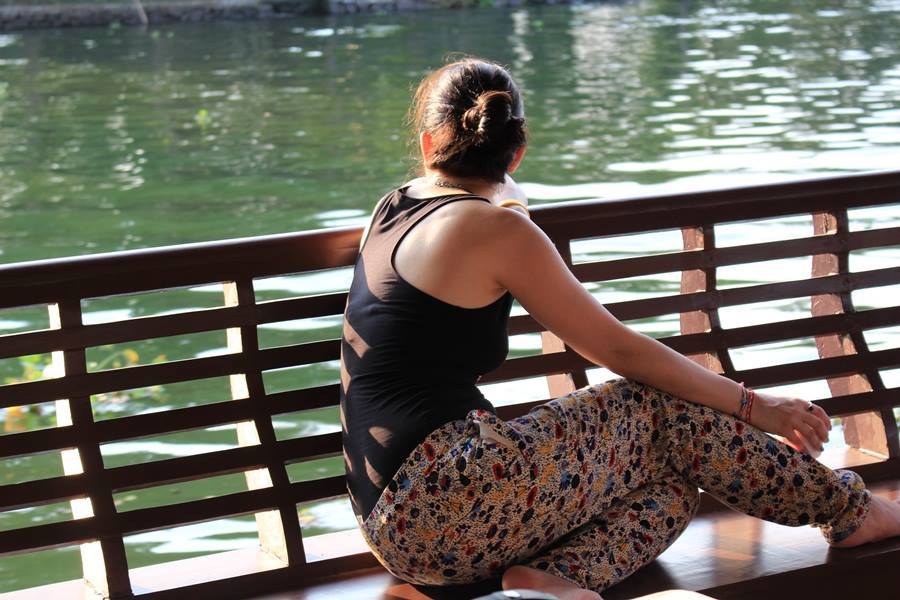 The sunset was all about seeing the sun painting the palm trees with its deep orange shade, slowly going down into the water, creating an amazing red, orange and yellow canvas. We took a zillion pictures. This was the perfect opportunity to get lost in our thoughts for a while; thinking, dreaming, traveling with our minds. We came back to reality just in time for dinner; lobster, wine, vegetables and spicy Indian sauces. Fruit and relaxation followed.
We would spend our night moored among other boats and continue our trip first thing in the morning. Before heading to bed though, we reached out to a few of our fellow travel bloggers to share a few moments of relaxation in the dark with the company of good wine, warm conversation and songs from everyone's country.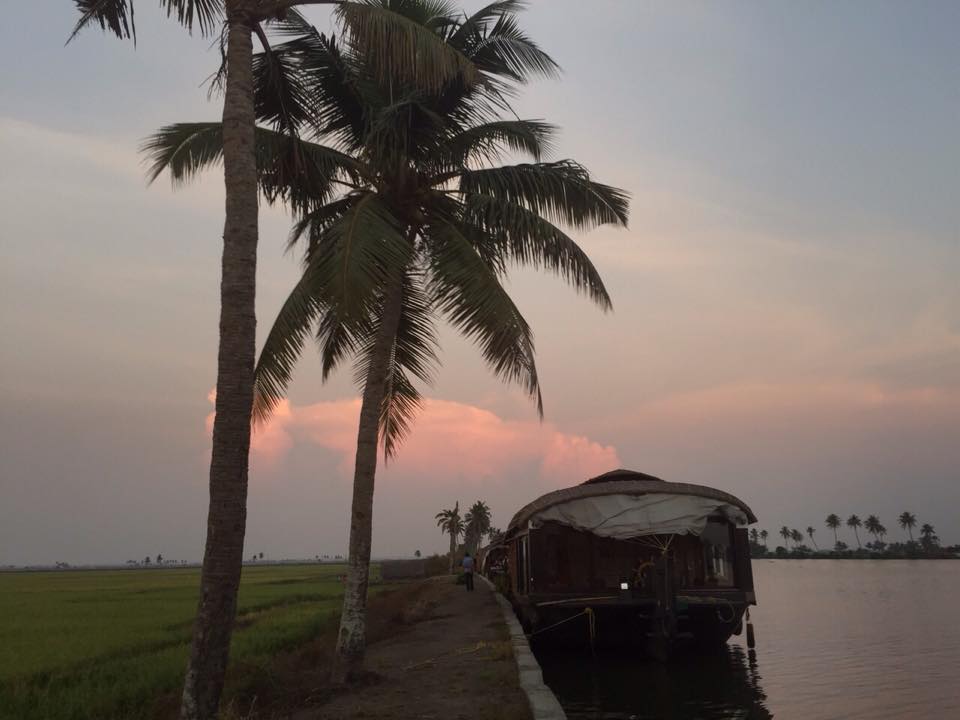 This wraps up what turned out to be the best day – and night – of my 28 years on this earth!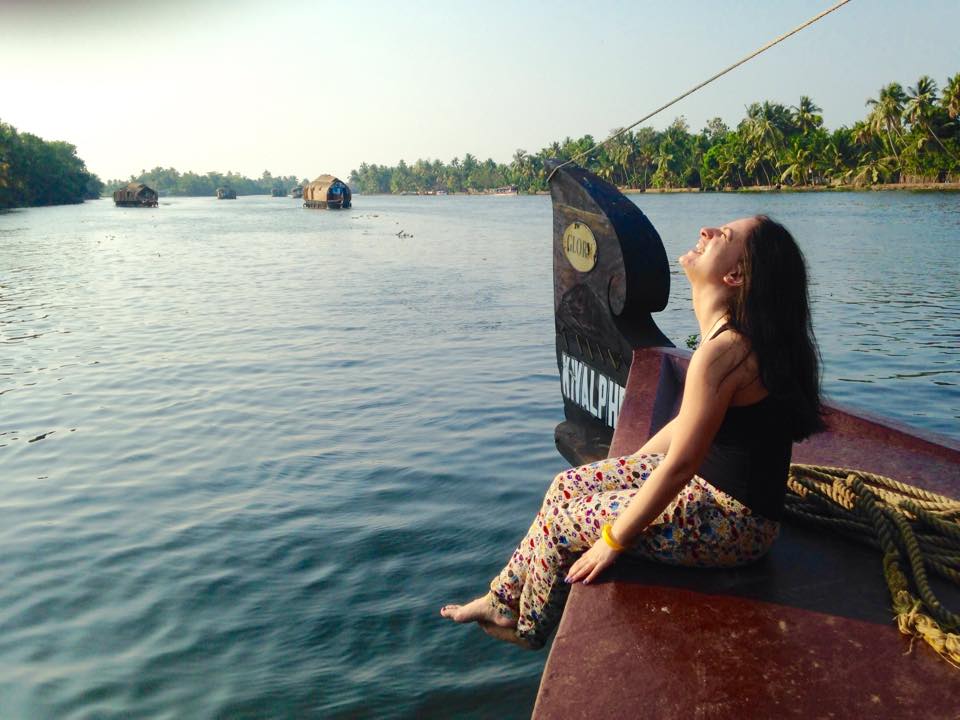 Comments
comments